Ground beef phyllo pie. Ground beef (or veal) layered in phyllo sheets softened with butter, then baked until golden. Much pie. No fuss.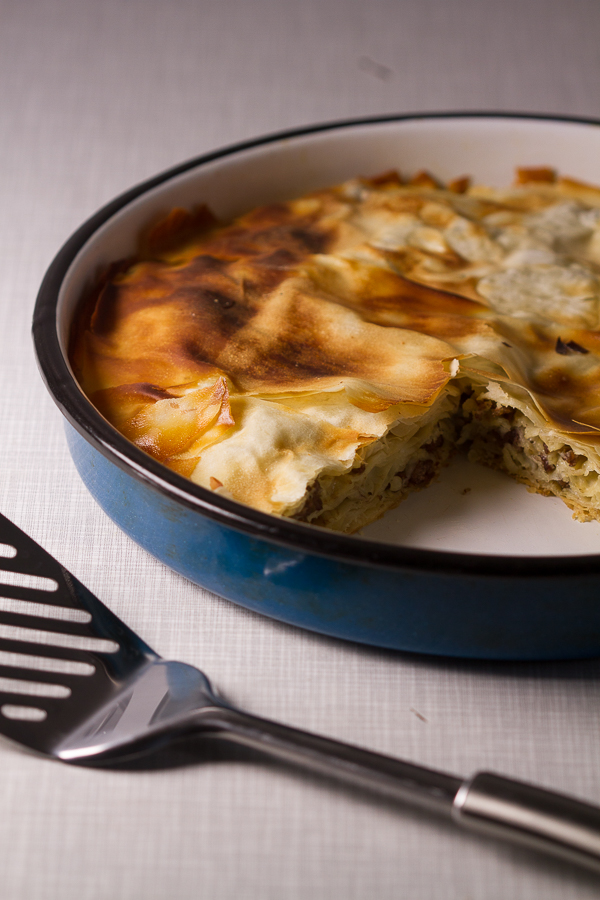 Ever since I learned to make pie rounds with store phyllo, that's usually what I do when I'm making a quick one. Sometimes I line them up like cigars. (Unless I'm making the cheese pie.) So it occurred to me that we've never done a meat phyllo pie layered horizontally.
Pita (pie), as you may know, is one of the first dishes you'll encounter in the Balkans. How is it made? Well, first the thin dough is made (or in our case taken out of the box), it's filled with different fillings (meat, cheese, vegetables), and baked.
Every culture has a similar recipe for some type of flour+filling concoction.
Pita is sold everywhere in the bakeries but don't buy it there. Regional bakeries are great for breads and crescents, but most produce subpar pies. Instead, go to one of the many places called 'Buregdžinica', as they specifically make just pie in all shapes and forms.
What I love about pies is their malleability. They are the kind of food handy to take to work for lunch, and quick to make and put on the table at home for dinner. It's compact. It doesn't leave crumbs (trust me you'll eat even the crumbs). And it tastes significantly better than most things you'll whip up in less than an hour. (I'm underselling here.)
I like to dip my pita yogurt (fluid, European kind) or kefir, and make a simple salad to go with. Like most meals, I pregame pitas with soup.
Here we continue with a refresher of recently translated recipes. As mentioned, all recipes have been translated into Bosnian. While it may not benefit you directly, here's a quick review of some of those dishes with a description. Maybe you'll want to make some of them soon.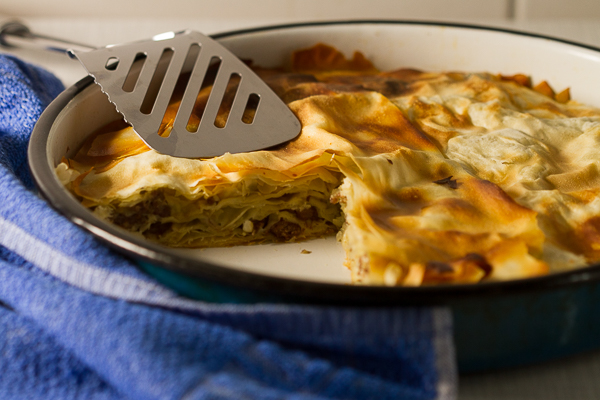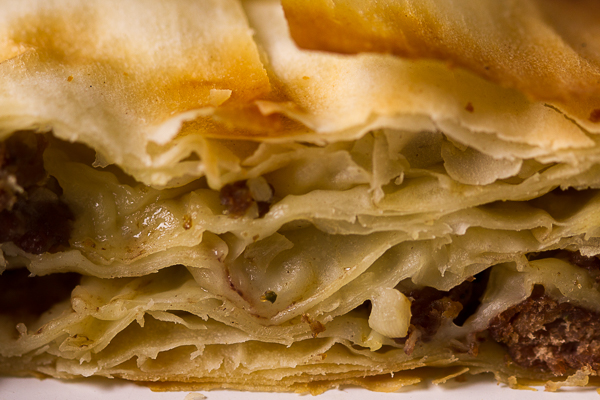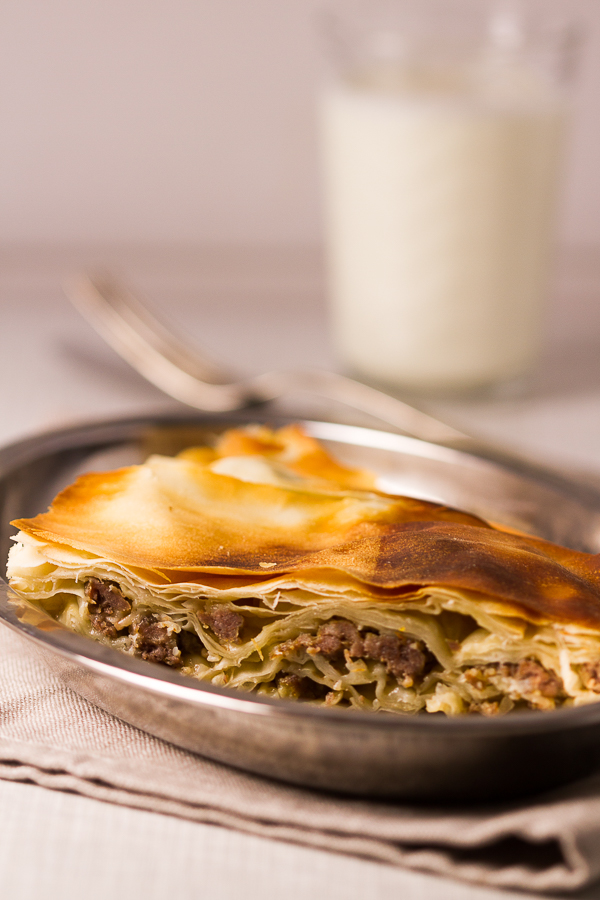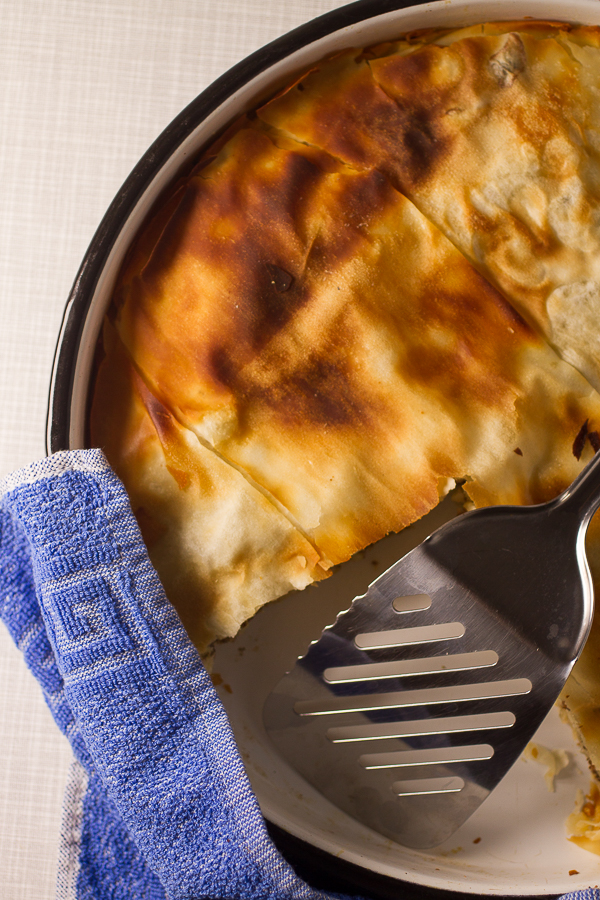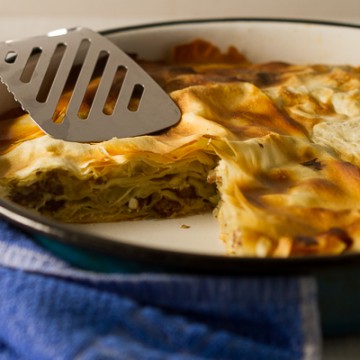 Ground Beef Phyllo Pie
Ingredients
Filling

16

ounces

ground beef

or veal

1

onion

small, minced

1

teaspoon

seasoned salt

or vegeta

½

teaspoon

ground pepper

⅛

teaspoon

salt

1

teaspoon

oil

Phyllo coating

4

ounces

butter

4

tablespoons

oil plus a little more

1 16

ounce

phyllo box

about 16-18 sheets or so

Glaze

1-2

ounce

butter
Instructions
Make the filling by combining meat, onion, oil and seasonings in a large bowl. Mix well with your hands until integrated.

In a small pot, combine oil and butter and heat on low until the butter melts.

Oil a pan (12 inches, preferably round), and layer two to three layers on the bottom of the pan painting each with butter and oil. (If your phyllo sheets are larger than the pan, cut them so they fit. One sheet may end up being more than one layer for you.) Take two handfuls of the filling and spread over the top in small chunks. Top this with two layers of phyllo, painting each layer with butter and oil. Again take two handfuls of the filling and spread over the top in chunks. Repeat until you run out of materials, making sure to keep three layers of phyllo for the top. Heat oven to 480°F.

Layer the final three layers, painting each with oil. If you can, make sure the top layer is in one piece. (For example, you can put a whole phyllo sheet on top and tuck the ends in on the sides.)

Place the pan in the oven and bake 5 minutes. Lower to 390°F and bake 10 more minutes. Lower to 350°F and bake final 10 to 15 minutes. Rotate the pan once or twice during baking, and if the phyllo starts to blush, cover with foil.

Turn the oven off, and spray the top of the pie with melted butter. Leave in warm oven for a few more minutes. (If the phyllo blushed too much during baking, remove the top phyllo layer and discard, then spray with butter.)

Serve warm with yogurt or a salad.