"Why didn't I hear about this salad before?" fresh shredded cabbage and tomato salad with a lemon vinaigrette.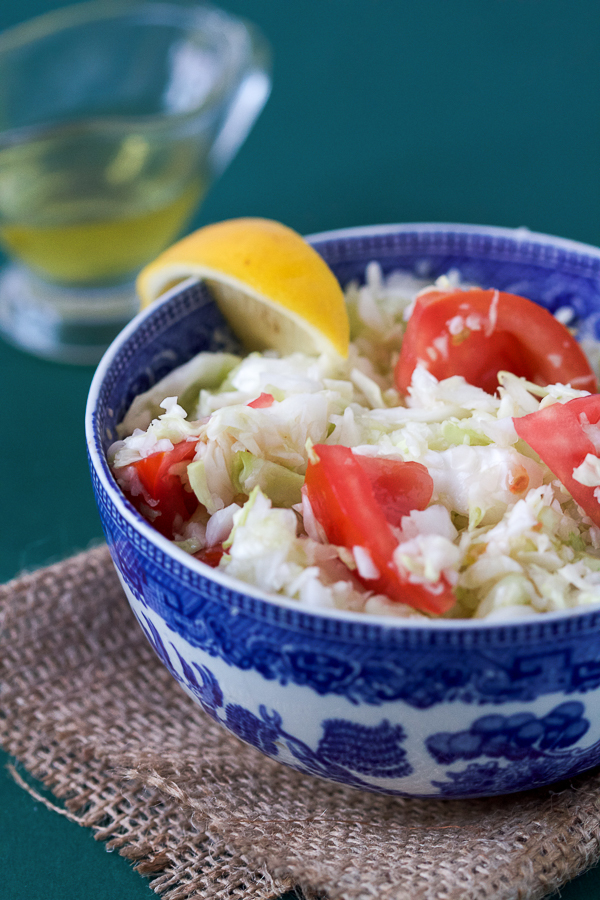 We've done a similar shredded cabbage salad to the one we'll be making today. I decided to do an almost identical one as tis the season of fresh cabbage, and it inspired me to spread some cabbage love.
Why I love this salad (and I'm notorious for not loving salads except maybe the Russian and Shopska salads), is the freshness, the kick from lemon vinaigrette, and the chunky tomatoes that top it off. As it is, after all, a shredded cabbage salad, it falls under the dreaded cole slaw, but I assure you it's nothing like your average one.
For one, there's no mayo or sour cream topping that make it into a slab of disgustingness. Secondly, this type of preparation - waiting a period after it's shredded so its juices seep to the bottom of the bowl, and then mixing it with the vinaigrette and its own juices - introduces a whole new taste of this seemingly plain plant.
This one doesn't take a lot of time, but there is a waiting period of about 30-45 minutes after shredding. It will pass quickly if you start by shredding it before prepping other dinner items, and then returning to it to mix and add vinaigrette at the end.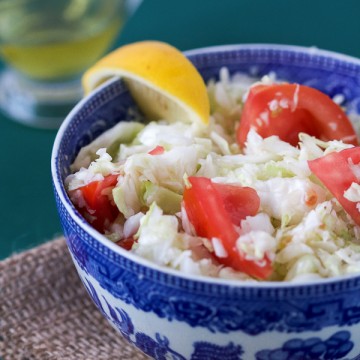 Cabbage and Tomato Salad (Salata od Kupusa i Paradajza)
Ingredients
1

green cabbage head

large

1-2

tablespoons

salt

2 to

matoes

1

lemon

juiced

2.5-3

ounces

oil

1

tablespoon

parsley

1

teaspoon

pepper
Instructions
Wash cabbage, discard 2-3 outer leaves. Quarter it, and then grate coarsely (cut out the thick root in the middle and discard) and place in a larger bowl. Pour salt over it and mix well. Leave for 30-45 minutes until cabbage sweats out its liquid.

Chop tomatoes into medium chunks. Add to the cabbage, and mix everything well together with the liquid the cabbage sweated out.

Make a vinaigrette by mixing juice from one lemon, oil, parsley, salt and pepper. Pour evenly over the salad and mix well.