Silky apricot cheesecake based on whipped cream and curd cheese filling plus just the right amount of not-overly-crunchy crust makes for one delicious dessert you'll put on a rotation in your repertoire. This one comes to you all the way from Austria.
This is one fancy apricot cheesecake.
Or is it a classic apricot cheesecake?
Cheesecake lovers - veterans - enlighten me!
HOW COME WE'RE DOING A CHEESECAKE ON BLB?
Cheesecakes aren't Balkan by any means. Balkan sweets and treats usually involve pies, tarts and cakes with seasonal fruit and jams, walnut based crusts and fillings and many, many, many simple syrup desserts (roses, poached apples, etc.).
However…
Remember about ten years ago when the US discovered avocado, became obsessed, and now it's all avocado this avocado that? Same happened with the Balkans and cheesecake. Today, most Sarajevo pastry shops have at least one cheesecake option, and they usually call it just "cheese."
It was my Austrian friend's idea to add a recipe for "cheese" on BLB.
APRICOT CHEESECAKE
Let me backtrack.
My family has a tradition of taking in adventurous travelers, quarreled lovers, runaway cousins who marry young (and later their worried parents), strangers from the country, strangers from other countries, and once a dog on his way to adoption who we kept (fat and happy) for 15 years.
My favorite are those strange souls who come to Sarajevo in search of something. But what? A city with modern, liberal Muslims living alongside Christians? Those overly simplified European-Jerusalem references? Second world fetishism?
They don't even know.
I secretly hope it's about the food. And in case of Thomas, my Austrian friend, I think it was.
(Sidebar: did you know Austria is continually voted as the country with best standard of living in Europe? Thomas, for example, got a government stipend to travel and learn a new language for 6 months. Not once but twice.
Each time, his job was waiting for him.
Everyone in the US who heard about this lost their mind. They were like "You have a job after all that time away?"
Everyone in Sarajevo who heard about this also lost their mind. They were like "You have a job?"
I could write a book on these examples. Here's one more.
Another Austrian friend gave birth two years ago. She's just now returning to work.
Meanwhile, women in B&H lose their jobs when they get pregnant. And women in the US give birth on their lunch break and run back to work for the 1PM meeting.)
On the surface, Thomas came to Sarajevo so he could expand his Bosnian vocabulary to romance his beautiful, multilingual girlfriend with.
What he discovered was an incredible ability to clean his plate. It almost bordered on moral obligation.
(That, or Bosnian food agreed with him as it happens to most travelers.)
It was hypnotic to watch him.
He'd start with a large bowl of soup.
(Aside from DNA, a reliable test of Balkan origin is a person's passion for soup. We believe you should eat something with a spoon every day lest you die a horrible death. So yes, by the looks of him Thomas is as Austrian as they come: fit, tall, blondish, light-eyed, mid 40s going on 33, bikes 50km daily for fun... But between us, I wouldn't be surprised if his deep love for the spoon points to a great-great-grandma who herself ahem tried Balkan cuisine 😉 )
He ate soup with bread, sometimes two bowls or more. There were times he'd come home from a bike ride and eat it from the pot it cooked in, straight from the fridge, tapping chunks of fat collected on top with a spoon like an archeologist digging for treasure.
He ate the courses slowly, somehow always finishing at the same time as everyone else. Except for the salad.
He ate the salad last, from a separate plate. Like a meal post scriptum.
It was beautiful.
No matter what was put in front of him - and he tried everything - Thomas ate it with curiosity. Veal? Yes! Lamb? Yes! Fried mini breads? Yes! Yes! Yes!
Impressed, I wanted to do something he'd remember this trip by.
(When asked if he'd be returning he declined. Twice was enough, he thought, he was getting to an age where he didn't want his life to resemble a student abroad trip.)
I hoped long after we've consumed the apricot cheesecake and he'd forgotten being here, the four of us'd be drinking wine somewhere by the sea. I'd say "Thomas, do you remember the cheesecake we filmed?" And he'd say something like "why yes, my hands looked really good in that video!"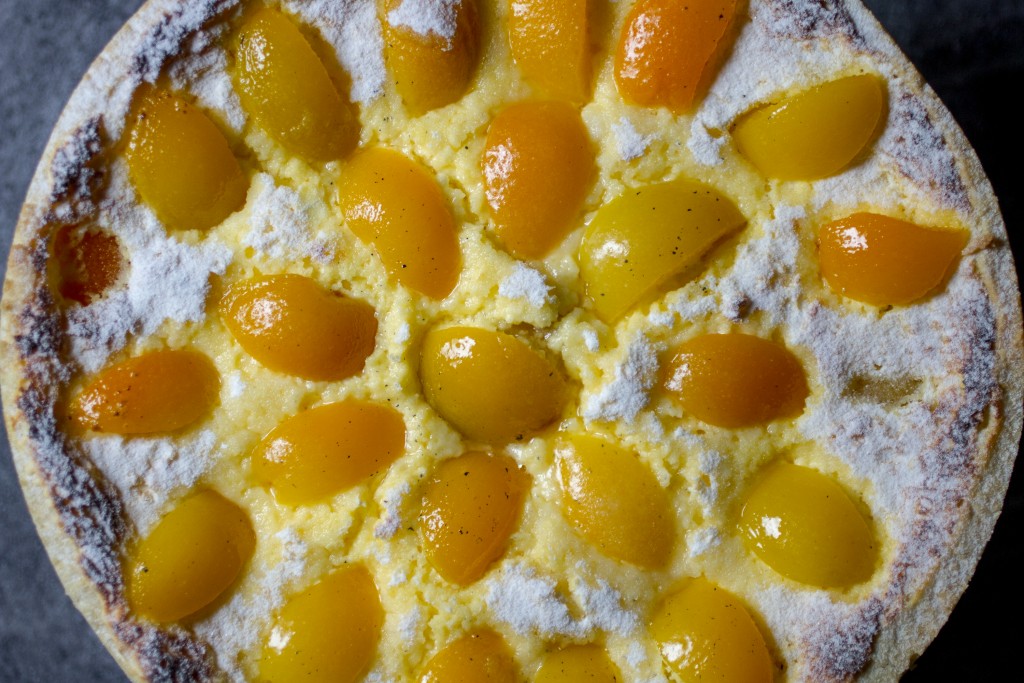 APRICOT CHEESECAKE CRUST
As Thomas had experience making pastries, I asked if for filming he'd choose a dessert he makes a lot.
His choice is the current apricot cheesecake, slightly adapted from here. Apricots are one option. Peaches or pineapples work well too.
Our cheesecake stands at about 4 inches. This tall beauty is encased in a buttery, baked crust softer than our New Year's jam crescents: those oh-so-breakable, melt-in-your mouth cookies of which you can never eat just a few.
(This of course means cheesecake dough needs to sit in the fridge for at least 30 minutes. Yet you'll be having so much fun making the filling you won't notice the time go by.)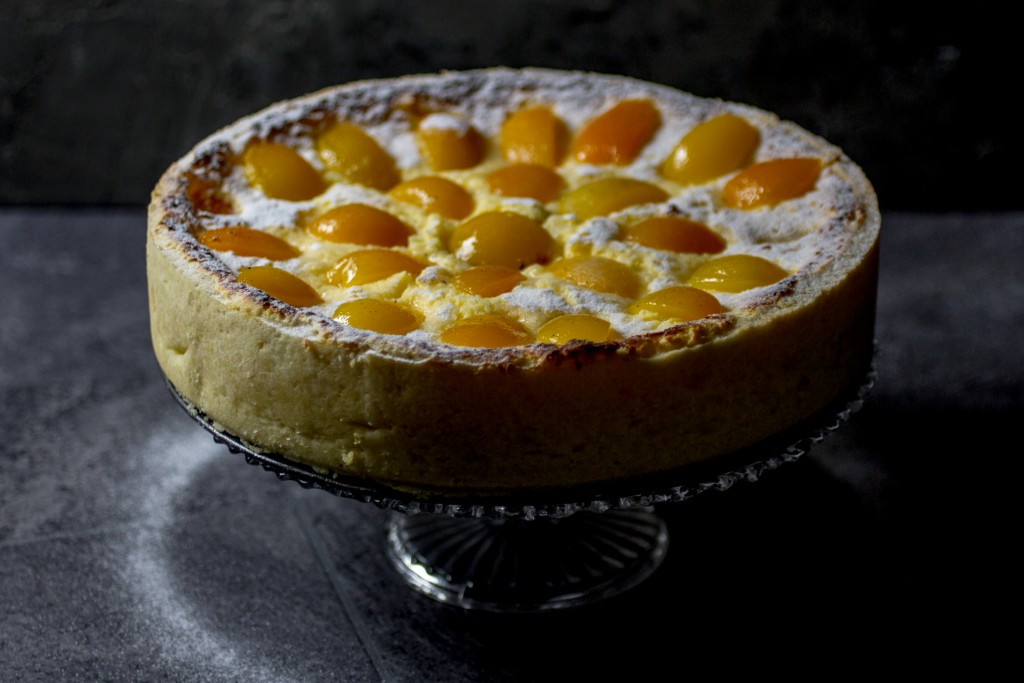 APRICOT CHEESECAKE FILLING
The filling consists of two parts.
Part one is curd cheese mixed with yolks. Curd cheese gives it grit. It distinguishes it from ordinary cheesecakes. This one is at once very sweet and very sour. But where you're used to biting into bland smoothness, here you'll be taking a bite of distinct substance.
Ricotta and cottage both work, as does young cow cheese if you can find it. As curd cheese has a higher liquid consistency compared to compact cream cheeses and cheese products, get rid of it beforehand by squeezing curd cheese in a dish towel. (In other cheesecake recipes you'll notice flour in this step as it also has the quality of extinguishing wetness.)
(This is a good time to take the dough out of the fridge.)
Second part of the filling are egg whites and whipping cream whipped up into soft peaks. Separately at first. Then combined with each other. Once weaved into a satisfactory matrimony, these are combined with the filling mixture from the first part.
Don't worry if this doesn't make sense written out here. The directions below are more concise, and the video demonstrates everything.
GENERAL CHEESECAKE TIPS
You can now roll out the dough, place it into a cake mold and stuff it to your heart's content. Jewel it up with apricots (fresh or canned), and bake til done.
The only troublesome step of this process is waiting for cheesecake to cool.
But you must!
Harold McGee explains that cracks and depressions (when the cheesecake rises and then plops down) can be eliminated by a long mixing time and longer baking time on low temp. (Reminds me of the type of drying we do with baklava: longer time, lower temperatures.)
Additional McGee tip I used with success was leaving baked cheesecake in warm (turned-off) oven with the doors open for 30-ish minutes.
I also listened to Jamie Oliver who recommends cheesecake be put in the fridge to cool down at least 3 hours before devouring.
Soon after the video was finished, Thomas left these parts to complete his adventure before returning to (the best standard of living but far less venturesome) Austria and his beautiful, multilingual girlfriend.
Each time our fearless travelers leave, our homes seem too big and far too empty. But until our next valiant visitor makes a pit stop in Sarajevo, there is always the apricot cheesecake.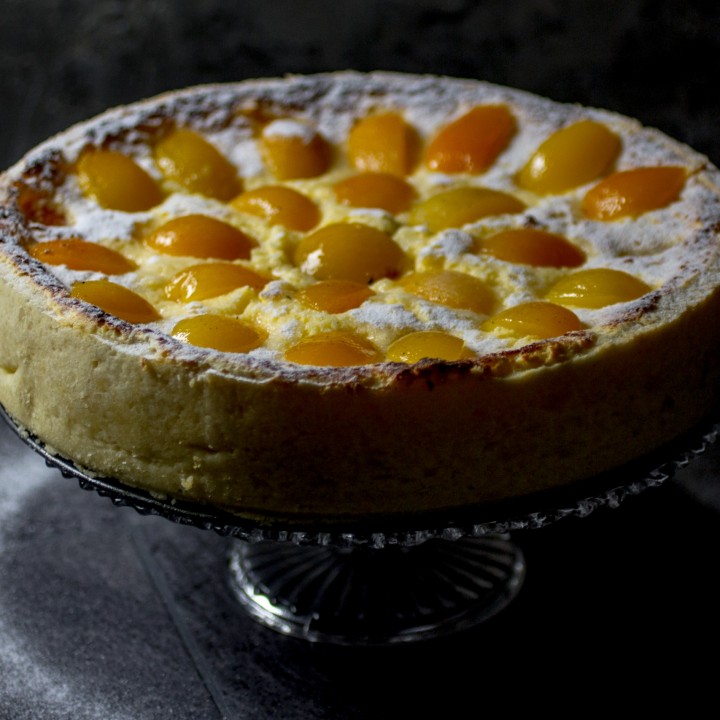 Apricot Cheesecake
Silky apricot cheesecake based on whipped cream and curd cheese filling plus just the right amount of not-overly-crunchy crust makes for one delicious dessert you'll put on a rotation in your repertoire.
Ingredients
Crust
9

ounces

white flour

5.5

ounces

unsalted butter diced

room temperature

3

ounces

confectioner's

powdered sugar

½

teaspoon

salt

1

egg
Filling
18

ounces

ricotta

or cottage cheese

3.5

ounces

sugar

divided

1

teaspoon

vanilla extract

2

tablespoons

vanilla instant pudding mix

approximately one small package

1

lemon

grated zest only

4

egg yolks

7

ounces

heavy whipping cream

4

egg whites

½

teaspoon

salt
Topping
6-7

fresh

or canned quartered apricots

Optional 2-3 teaspoons confectioner's sugar for dusting
Instructions
(Crust) In a large mixing bowl combine crust ingredients. Whip them together with a rubber spatula for 3-4 minutes. Remove spatula and knead with your hands until ingredients integrate completely making one thick and well-congealed mass. Cover mixing bowl (or wrap in saran wrap) and leave in fridge for 30 minutes. Meanwhile prepare the filling. 

(Filling) Eliminate excess cheese water by wrapping cheese in a clean dish towel then squeezing and twisting it with force.  Transfer squeezed cheese to a separate large mixing bowl and combine with 1.5 ounces sugar, vanilla extract, instant pudding mix, lemon zest and egg yolks. Vigorously mix with a rubber spatula until integrated. Set aside. 

In a medium mixing bowl combine heavy whipping cream and 1.5 ounces sugar. Mix 1-2 minutes on high with a blender.

In another medium mixing bowl combine egg whites, salt and remaining sugar. Mix 1-2 minutes on high with blender until soft peaks form. Combine with whipping cream and continue mixing on high for another 2-3 minutes. Remove mixer, then add cheese filling  to the bowl and  mix with rubber spatula until completely integrated. Set aside.

(Combining) Take the crust out of the fridge and let rest for 10 minutes. Dust working area. Heat oven to 330°F (165°C).

Use a rolling pin to roll the dough out into a circle with about a 16-inch diameter. Carefully lift the dough and transfer into a 10-inch cake pan using the extra dough on the sides to make the cake edge by pressing it into the sides of the cake pan. 

Transfer filling into the cake pan over dough, and even out with a spatula. Decorate top with apricots and place in oven. Bake for 50-60 minutes, turning the pan 90 degrees halfway. If it starts to brown at that point, cover with foil and add a few more minutes to baking. Alternatively, lower temperature to 315°F (160°C).  

Turn the oven off, open it, and leave the cheesecake to cool down for 30 minutes in it. Take out and dust with confectioner's sugar. Transfer to fridge to cool for 3 hours before consumption. 
Notes
Recipe slightly adapted from: https://tinyurl.com/y5kgmwo2