Chocolate and preserve squares are the most delicious cake-like dessert you'll make this year. Just when you think you can't take anymore chocolate, you feel the smoothness of apricot preserve that'll keep you coming back for more.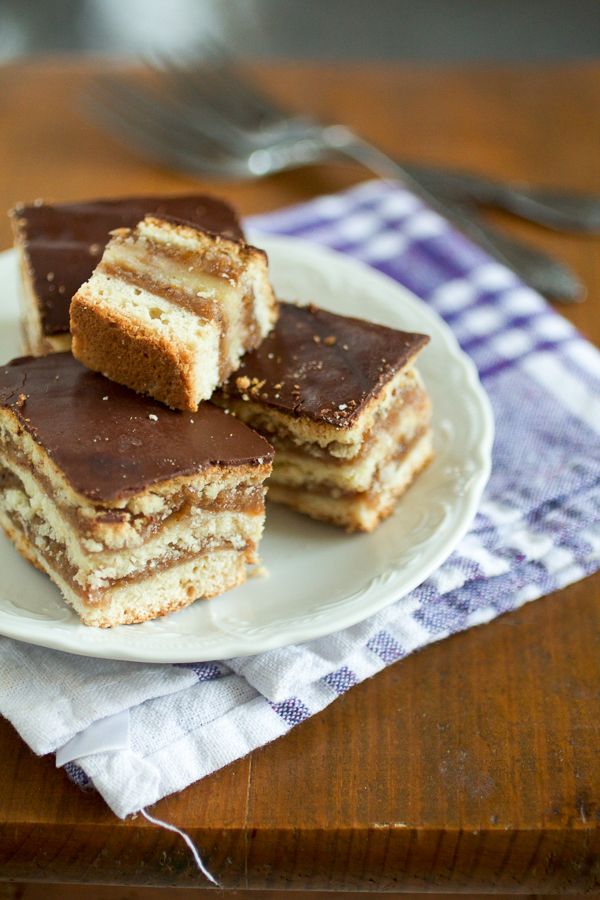 Chocolate and preserve squares are little complicated of a dessert, but well worth the effort. This dessert consists of three layers of dough in between which is a filling made with preserves – in our case apricot or plum, but you're welcome to go ahead and try others, my only recommendation is to go for thicker ones – mixed with walnuts. This is then baked, and finally, glazed with chocolate icing. Heaven!
The complicated part is the dough (which becomes the crust). When butter, few other ingredients plus flour combine – result is a sticky, play-doh kind of dough that's difficult to maneuver. Luckily, the recipe doesn't require too much dough work, so don't let this scare you away. I am just mentioning it in case you start wondering why the dough is a bit hard to work with.
If you do your logistics well - which includes reading the steps a couple of times ahead of starting - you should be fine. The result will be magnificent, so I urge you to try making these squares at least once because you'll be hooked. And each consecutive time it'll get easier.
P.S. For a couple of simpler recipes, but equally as good, check out the Balkan lamingtons or chocolate squares.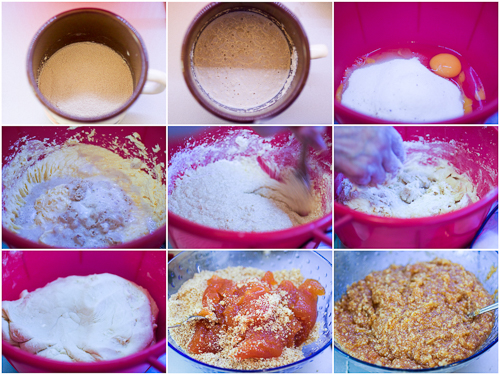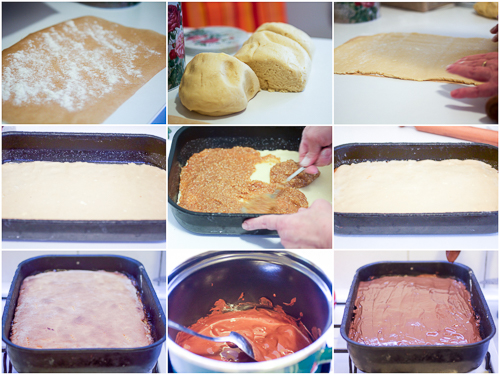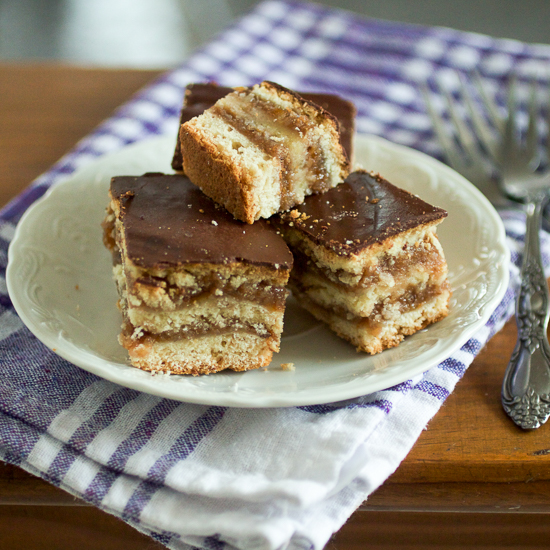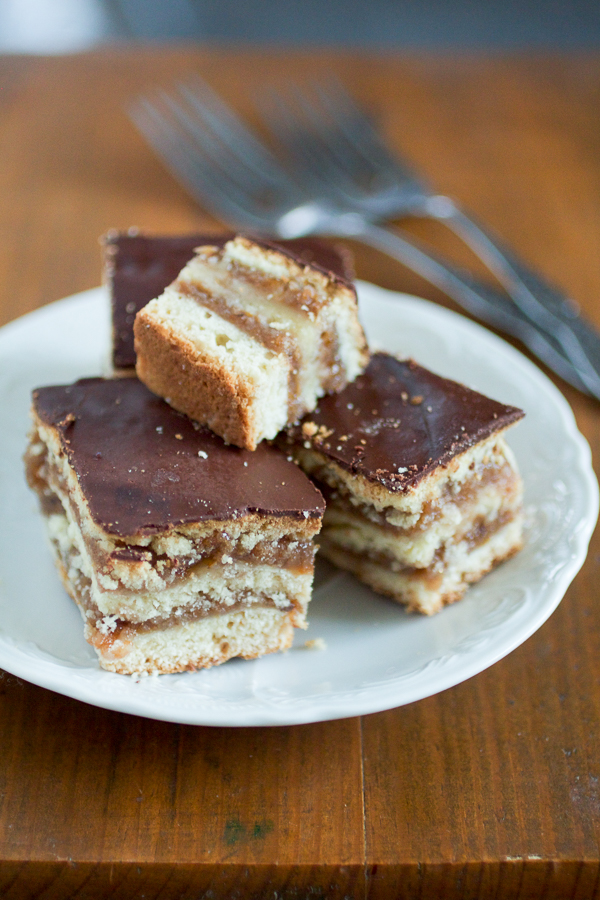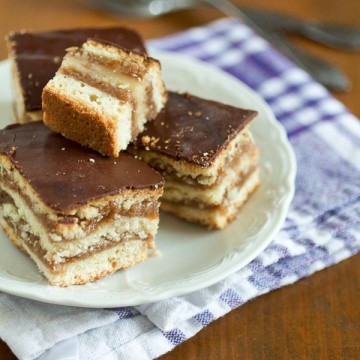 Chocolate And Preserve Squares
Ingredients
Dough:
.5 ounce yeast

3.5

ounces

milk

10.5

ounces

sugar + 1 tablespoon

10.5

ounces

butter

2

eggs

Pinch

of baking soda

Pinch

of salt

28

ounces

white flour + 1 tablespoon

1

teaspoon

rum
Filling:
14

ounces

walnuts

ground

14

ounces

apricot

or plum preserve

3.5

ounces

sugar
Icing:
16

ounces

dark chocolate

2

tablespoons

oil
Instructions
Dough: Start by making the yeast mix: combine 1 tablespoon of sugar, 1 tablespoon of flour, yeast, and 3.5 ounces of milk. Leave aside for 10 minutes. The yeast will bubble up and rise.

Combine the remaining sugar, eggs, butter, a pinch of salt, and a pinch of baking soda to the yeast. Mix well. Add the yeast. Continue mixing.

Add the flour in slowly, and stir everything with a flat ladle for as long as the thickness will allow. When it becomes too thick, start mixing with your hands, and add rum. The dough should be well blended, smooth, and thick. Leave aside for 45 minutes.

Filling: Grind walnuts. Combine with sugar and apricot preserve. Stir well.

Heat oven to 390F. Take a 12x16 inch rectangular pan, and cut a piece of baking paper of the same size. Dust with flour.

Divide the dough into three equal parts. Work the first dough ball a little more, and then roll it out on the baking paper so that it matches its size. (This part is challenging as the dough is sticky and hard to maneuver. Do the best you can.) Transfer the dough together with the baking paper into the pan. Take one half of the filling and spread evenly over the dough.

Repeat step 6 for the second dough ball (minus the baking paper). Top it with the second half of the filling. Finally, roll out the third dough ball and place on top. Take a toothpick and make thirty or forty small pinches on top of the dessert. Place in the oven. Bake for 30 minutes.

Icing: A few minutes before the dessert is finished baking, break the dark chocolate into chunks and melt it together with oil on medium low. Lower the temperature if it melts too quickly.

Take the dessert out of the oven. Spread the icing over it evenly. Leave to cool for a couple of hours. Before serving cut into 3-inch squares. Keep in the fridge or a cool place for up to a few days.
Notes
Please note there is a 45 min waiting period between preparing and baking the dessert. Baking paper and a 12x16 inch rectangular pan are needed for the recipe.