Roasted red pepper salad, sprinkled with garlic and olive oil, is one elegant salad. Less conventional, but just as bright and colorful as the caprese, this one has the potential to become your new go-to.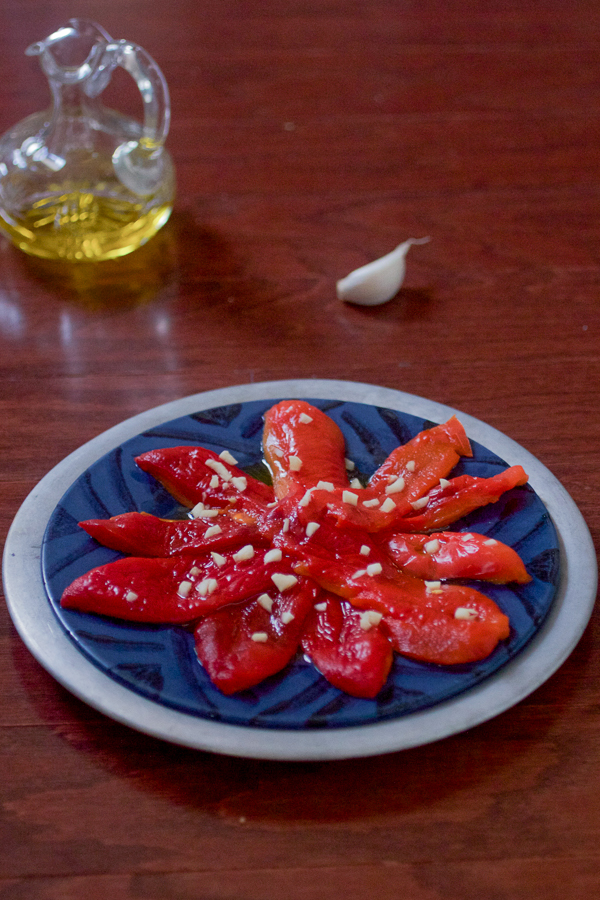 You may have noticed, if you browsed the balkanlunchbox recipe section, that there aren't too many salad recipes on this site. That's because I'm not a big fan. Salads are healthy, wonderful for the body and the mind, but the foundation of most salads is a boatload of lettuce. And biting into a pile of leafy greens is about as appetizing as biting into a piece of paper.
Admittedly, my aversion may be because I haven't mastered making a good salad. Somehow the ingredients mush together, become lifeless, and are never ever like the ones in Chop't.
So, I don't make salads much.
But recently, while browsing the local grocery store, these two red peppers reminded me of an old family favorite that I haven't seen much outside Balkans. It is a simple roasted red pepper salad, combined with garlic and olive oil.
It is smooth and cold: a salad you eat alongside your meal, not before or after. If you find garlic heavy, skip it, and opt for the peppers alone. But I urge you to at least give the salad as a whole a try, it may surprise you.
A word of warning: due to the garlic this is a dinnertime salad that also requires an understanding partner. 🙂
Also, if you have a good, easy, salad recipe, send it my way. (Super easy though!)
P.S. Other roasted red pepper delicacies I love are the classic eggplant and roasted red pepper spread called ajvar, also the roasted tomato and red pepper classic called pindjur, and finally the creamiest peppers in the world.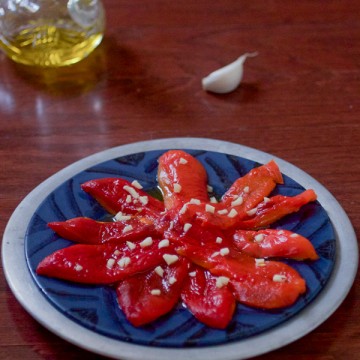 Roasted Red Pepper And Garlic Salad With Olive Oil
Roasted red peppers, peeled then garnished with minced garlic, seasonings and olive oil is a regional favorite.  
Ingredients
2

red bell peppers

large

1-2

garlic cloves

minced

1-2

tablespoons

olive oil

Salt and pepper to taste
Instructions
Heat oven to 400°F (200°C).

Put peppers in a baking pan on a piece of foil and place on the highest rack. Roast 30-40 minutes flipping them midway through.

Take out, cover the pan with foil and let cool for 30 minutes. Peel, discard the stem and clean from inside.  Cut into strips.

Garnish with garlic, olive oil and seasonings.

Keep in the fridge until serving.
Notes
Please note there is a waiting time for peppers to cool down before peeling, adding about 30 minutes to the process. You can make the peppers ahead of time, however keep them in the fridge.
For a different taste you're welcome to add more to the vinaigrette like balsamic vinegar, lemon or different spices.
Nutrition
Sodium:
4
mg
Sugar:
6
g
Fiber:
1.7
g
Calories:
163
kcal
Saturated Fat:
2
g
Fat:
14.3
g
Protein:
1.4
g
Carbohydrates:
10
g