Easy white wine gnocchi with shrimp come to us from Dalmatian coast in Croatia. Enriched with a thick heavy cream plus breadcrumb sauce, this shrimp gnocchi dish brings along the taste of Adriatic to your table no matter where you are.
POTATO GNOCCHI, CREAM SAUCE AND SHRIMP
While there are hundreds of flavorful shrimp and seafood recipes - and many solid dishes with gnocchi - this easy white wine gnocchi with shrimp will delight your tastebuds.
Although I'm partial to Dalmatian cuisine (who wouldn't be when it's based on aromatic seafood, pasta, countless wines, aperitifs, olives and fresh produce?), even the best shrimp dishes leave me hungry.
Maybe not at first. I'm full immediately after the meal.
Twenty minutes later I'm starving.
Did you ever get something you really wanted, then realized it's not something you really wanted?
I sometimes feel this way about seafood. Most of it "runs through the stomach." While you're cooking shrimp you might as well cook a second dinner that will actually satiate you.
This dish, this easy white wine gnocchi with garlic shrimp in thick, juicy breadcrumb and heavy cream sauce changed my perspective. This is a seafood meal that leaves me satisfied - and full - for hours!
It's earned its place on my regular dinner rotation.
We'll delve into specifics of how to make gnocchi, but first let me share the most important insight:
potato gnocchi and a thick, creamy, wine based sauce are seafood's best kept secret.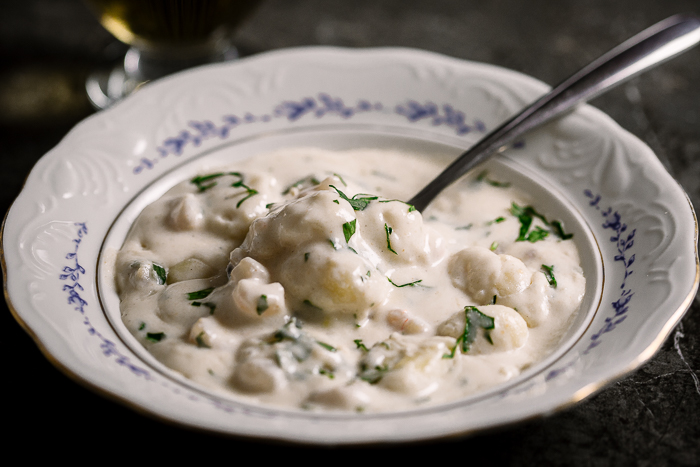 DALMATIA, ADRIATIC SEA AND PELJEŠAC PENINSULA
Dalmatia is a historical and coastal region encompassing much of the Adriatic coast on the Balkan side.
If you're vague about where in Europe the Balkans is, here's how to find it.
Open up a world map. Find Europe. Got it? Now find the boot. Good. That's Italy. Look to the right of Italy and you'll notice a sea. That's the beautiful Adriatic. The Balkans is located on the other side of the Adriatic.
If you still can't place it in your mind, you probably heard of Dubrovnik, the medieval gem you may know as King's Landing. Well, Dubrovnik is in Dalmatia, which is in Croatia, which is in the Balkans.
Almost all of Dalmatia is in Croatia save for the town of Neum (Bosnia and Herzegovina), and a few Montenegro towns reaching up to the Bay of Kotor. By the way, Bay of Kotor is well worth a visit also. If you plan a trip anywhere in the region, Mar from Once in a Lifetime Journey has a phenomenal overview of the best Montenegro beaches in and around the Bay.
(There is contesting about where exactly Dalmatia ends, so for the purpose of this post we'll limit the region to Croatia.)
I know this area well. If I add the time I spent on the Adriatic coast it would account for at least a year (or more) of my life.
Once you reach Dalmatia and drive about half an hour from the Bosnian border you'll hit Pelješac peninsula. Partially because of its location, Pelješac has been a favorite vacation spot among Sarajevans for years. An hour ride, and worlds away from exhausting Dubrovnik crowds, this slice of heaven stretches for over 40 miles and is surrounded by water on three sides.
When you drive on the peninsula, once you pass a town called Ston and drive a little while longer, you'll arrive to tiniest of beach towns.
This town is where Aleksandra's family has vacationed every summer for over two decades.
TINIEST OF BEACH TOWNS
I'll sidetrack to tell you Ston is worth a visit. It has impressive city walls dubbed as Europe's wall of China, reaching 3.5 miles to its sister town, Mali Ston ("Little Ston"). It also has centuries old, working salt-panes (want to volunteer there?), and best oysters on the Adriatic.
Along the way to reach tiniest of towns, you'll drive by vineyards, fields and beaches. You'll pass honey and lavender merchants on the side of the road, and slow down for the beach goers. If you drive with your windows down - you must drive with your windows down - you'll breathe in hot summer and pine needles.
At moments, you'll feel you can't breathe from the hotness. This is the time to pull off the road and run into the sea.
Oh that Adriatic!
Blue and topaz and aqua marine and navy. Fresh. Inviting. Clear. Beautiful.
I could write a thousand words, and each would fail to describe it.
The tiniest of beach towns (a collection of houses really) is surrounded by trees, sea and long days of sun that never sets. Houses are small and rectangular, with arched walls that encompass small terraces dotted with flowers.
On one end midst an olive orchard stand old camp grounds.
If you close your eyes you hear ghosts of old times: ripe tomatoes squirting under pressure of strong grips of children screaming, laughing and running towards water, parents setting up tents, insects and nature joining for an ear piercing symphony…
SNJEŽA & TONI
One of these houses belongs to Snježa and Toni.
She was still a teenager when they met. He just a couple of years older. She came to work at the local grocery store and spend the summer at the beach. He came from Australia to visit family.
They met. Fell in love. Married.
Theirs is the rapid love story that makes you re-think what you think you know about relationships.
Snježa had just finished high school in Sarajevo. Like most girls her age her idea of coastal life was going to the beach in July. Real ways of the Adriatic were foreign to her.
Toni grew up in Australia and visited Croatia sporadically, as diaspora often does. But for as long as he could remember he was doing something around and in the sea.
Their beginnings were humble.
First they built a small, rectangular two-story house. They rented out the bottom floor to tourists each summer. Aleksandra's was one of the first families to arrive. Friendship bond was immediate.
The beginnings were also the years of much fun.
A warm 'hello' and 'welcome.' Youth and laughter and board games and midnight swimming. Children being born (Aleksandra and Snježa each had two by that time), gardens blooming (roses, flowers and vegetables), wine and grape tasting (from T& S's vineyard) and heaps of great food.
Pots and pots of mussels Toni collected, cooked in one of two different ways, in white wine, garlic and parsley, or in Dalmatian tomato sauce, šalša. Sea bass also made frequent appearance with homemade potatoes and chard who kept great company on the side.
No matter how long one stayed, it ended too quickly. For Aleksandra and family it was a few hot weeks of seaside indulging, then a warm 'goodbye' with a bottle of homemade wine to take back to Sarajevo.
SEA LIVING
For Snježa and Toni it was more work in the summer, finishing off the fall, and then the winter move inland and preparations for the following summer.
What about that city girl who knew nothing of the sea? Ask Snježa anything sea related today and she'll be your reservoir of knowledge. You just have to catch her at the right moment for life on a peninsula is intense, summer or winter.
Dalmatian winters are difficult.
Cold, dreary and lonely. From a body of water that protects and heals body and soul, sea becomes dark, drab and dangerous. Likewise, life is often accompanied by bura, infamous Adriatic storm good for two things only; making prosciutto and freezing to the bone.
However seasons never slowed down our friends. Over the years Snježa and Toni continued renting and growing produce, making wine, collecting mussels and oysters. Toni worked in the fisheries for a better part of a decade. Snježa raised kids.
The family grew - three, and finally four boys who it seems first learned to swim then to walk - and the house grew, the businesses grew, and so did the never-ending sea of duties.
However everyone on this large team pitches in.
Their kids are hardworking. They're up long before dawn to help with shell scrubbing and collecting, food preparation, apartment cleaning and taking care of guests. Diligent and kind, you almost forget how young they are until deep in the afternoon when for a brisk moment a giddy pack of children jumps into sea with abandon.
RESTAURANT AND TODAY'S GNOCCHI WITH SHRIMP
A few years ago Snježa and Toni did what they should've done ages ago: they opened up a small, seaside restaurant-bar right on the water, called Sutvid.
Pelješac, even with its sizeable visitors each summer, lacks food joints. Larger towns like Ston and Orebić maintain decent establishments. For instance, Ston and Mali Ston are well-known for oyster eateries.
Pelješac geography is particular and special, especially on the side where Ston is located. It's a place where fresh and salt waters mix. This water combination creates perfect breeding grounds for shellfish (shrimp, calamari, clams, scallops) and oysters. Pelješac oysters are the best on the entire Adriatic coast, and quite possibly, the world.
Yet, as you're driving away from bigger towns and going from one to the other end of peninsula, there aren't many spots to pull in for a decent bite. For example, the town with the most beautiful beach on Pelješac, Sreser, has has one restaurant that opens at 7PM.?
These are some of the reasons Snježa and Toni's restaurant gets great foot traffic. Those trekking across the peninsula and those vacationing in nearby towns can't get enough.
Although the location is perfect, it's far from being the only reason for their popularity.
Service is impeccable. They do the restaurant with the same care they've, for years, done everything else. They're friendly and ready to offer good recommendations to those new to (or wary of) seafood.
But if I had to choose one thing, it's the food that put it on the map. Seafood gallore. Mussels, shrimp, calamari and fish. Homemade wine. Oysters picked up right below the restaurant. Sauces. Crepes.
Toni and Snježa source almost all Sutvid food locally. Most recipes are family recipes and they've prepared them this way for generations. This results in real, tried and tested Mediterranean food at its best.
Naturally, Aleksandra and her family were one of the first customers. They've tried almost everything on the menu. (You can browse food photos on Trip Advisor, but be ready to get hungry.)
Out of all the dishes, the one Aleksandra liked the best is today's easy white wine gnocchi with shrimp in cream sauce. It's Toni's grandmother's recipe and Snježa readily shared it with us.
This dish is adapted so you can make it in your own kitchen regardless of the climate in which you live. Get some gnocchi (homemade or store bought) and shrimp (small to medium, frozen shrimp is fine), and follow the recipe.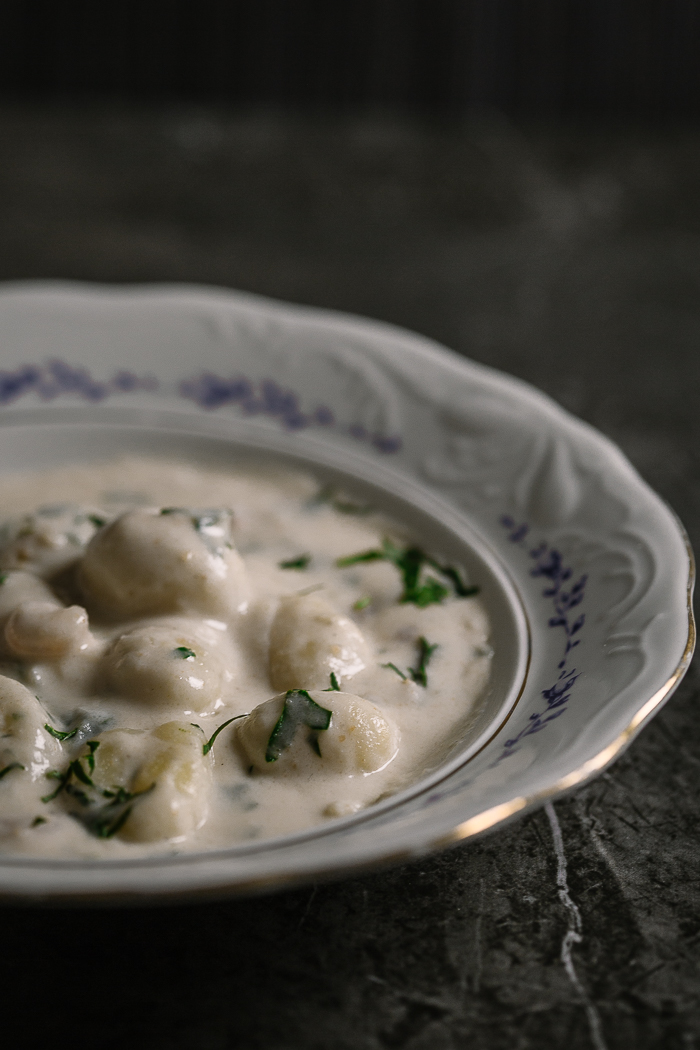 SHOULD YOU EAT OYSTERS AND SHELLFISH IN DALMATIA DURING SUMMER?
Every year as the winter approaches I crave shrimp, scampi, mussels and oysters. Is it my subconscious, rowing with the cold? Does the cool wind awaken new flavors in food I considered warm weather food? Or are shellfish a cold weather food and should only be consumed in the winter?
Out of curiosity I did some research, and found sources claiming seafood, shellfish in particular, should only be eaten in months with an "r" in the name.
Why? Two reasons. Rising of the red tide - blooming of algae - which oysters consume - a big no-no for us humans. And giving shellfish time to repopulate.
I also noticed most oyster festivals in Dalmatia happen in the spring, like the Mali Ston oyster fest.
As I've eaten loads of shellfish in Dalmatia during hottest summer months, and having never before heard this "r" recommendation, I asked the locals.
After all, most are educated in all things seafood and shellfish from birth. They know their region, food, and climate conditions better than anyone.
What I found out is that red tide is a rare and new phenomenon in Croatia. It's only been observed around Kaštela bay near Split, some 200km north of Ston. So far it has no effect on Pelješac seafood.
And as far as the oyster fest happening in March? It's to coincide with St. Joseph's Day. So the festival is more of an opening of the shellfish and oyster season, not its end.
So yes, you definitely can eat shellfish and oysters all year long in Dalmatia!
And if you're visiting Dalmatia, visit between May and October. Don't try to save a few dollars by coming in the winter. You'll miss all the magic.
(What I'd steer you away from eating in Dalmatia during summer are ground beef dishes. I've witnessed a few food poisonings from ćevapi (ćevapčići, small ground beef sausages). They were not fun, and one was downright dangerous. Instead, head to Bosnia and Herzegovina at the end of your beach vacation.)
WHAT KIND OF SHRIMP TO LOOK FOR? WHAT'S THE BEST SHRIMP TO COOK THIS DISH WITH?
You might be surprised, but frozen shrimp is fine to use in this white wine gnocchi with shrimp recipe. I use it. Even Snježa and Toni use it. And many restaurants on the coast do too.
Frozen shrimp is fresher. For us living inland, frozen shrimp is fresher than "fresh" shrimp.
How is this possible?
I just learned this via bonappetit: fishermen freeze shrimp immediately on the boat. When you thaw it at home, it's thawed for the first time. Unless you can get it the same day it was caught, thawing shrimp at home is your best bet.
And all that "fresh" shrimp you see thawing at your inland fish market or grocery store? That's the thawed shrimp that's now sitting on ice in the store all day long until someone buys it.
Peeled and deveined. Peeled and deveined shrimp is easiest to use. No need for jumbo shrimp, today's easy white wine gnocchi with shrimp calls for smaller pieces.
Thaw it! Preparation method for some shrimp dishes involves frozen shrimp to thaw it as it cooks. For this recipe however, we've already designated an approximate liquid amount. Thaw shrimp under cold water for a few minutes before cooking. This will separate it from ice chunks.
To summarize!
Find small to medium sized, frozen, peeled and deveined shrimp for this recipe. Before making the, dish take shrimp out of the freezer and run cold water over it for a few minutes to separate from ice. Pat dry and throw in the pan with onion and garlic.
IS THIS A HOMEMADE OR STORE BOUGHT POTATO GNOCCHI RECIPE?
Here's where this easy gnocchi recipe saves the day again: you don't have to make homemade gnocchi for this dish!
For today, just bask in the knowledge all you need is a bag of frozen potato ones you can get from almost any grocery store.
A side note for those of you who might be wondering "what is gnocchi anyway?"
Gnocchi are small, heavenly potato and flour "lumps" that go great with sauces. They come in different flavors like spinach or cheese, but potato and flour gnocchi are the basic version.
There is some disagreement whether gnocchi are pasta or dumplings (due to the potato based dough). I'll place them in a separate category from pasta because that's how I've seen it in Italian cookbooks.
And gnocchi, as you can discern from the name, are very Italian.
Gnocchi means a knot or a lump. (There isn't a specific word for them in Bosnian/ Croatian/ Serbian, but instead which is a local pronunciation of 'gnocchi,' njoki is used.) In words of Marcella Hazan, an Italian cuisine specialist extraordinaire, it's like a 'little lump you get when you hit your head.'
Due to Italy's proximity, gnocchi connection to the Balkans makes sense. Italian dishes have long inspired Balkan cuisine. (Have you tried the meatballs?)
For generations now gnocchi have become as native as the sea in Dalmatia. Consequently, while preparation methods vary many recipes call for gnocchi with seafood in white wine based sauce.
Meanwhile, in colder, more mountainous areas, gnocchi accompany heavier meals such as goulash and other stews.
I'll soon post how to make homemade gnocchi; but for those of you who are curious what follows is a shortened version.
First you boil some potatoes. After peeling them you combine them with flour. At this point you formulate small lumps with a simple tool like a fork (even knitting needles work).
From this step on making gnocchi resembles making knedle or klepe. You can either freeze them for future use, or cook them.
Cooking them involves boiling plenty of water and releasing the gnocchi in. When ready, gnocchi will rise to the surface. This takes about ten minutes. (Note that Marcella Hazan recommends a couple of additional minutes at the top.) At this point they're ready to join a sauce.
You can make frozen gnocchi the exact same way. Boil them in water until they rise, and serve with a sauce or stew.
Our recipe for easy white wine gnocchi with shrimp takes a detour from the usual method. Together with shrimp you'll cook gnocchi in the sauce instead of boiling water.
Effectively, instead of hot water, it's the sauce that cooks gnocchi.
As this recipe calls for frozen gnocchi, if you're making your gnocchi from scratch, cook it for a shorter period of time.
COOKING WINE: WHAT'S THE BEST CHOICE WHEN MAKING SHRIMP?
Best wine for cooking shrimp is a dry white.
White wine - especially dry white wine - has great acidity and people have used it in cooking for centuries all over the globe. Dry white wine is also what we'll be using for our easy white wine gnocchi with shrimp.
Wine in Int'l cooking. With an abundance of wine cooking recipes, French cuisine is probably the most famous for using alcohol in dishes. White wine is in numerous sauces, from piquante to bernaise. Meanwhile, dry white wine is an important part of Italian cuisine as it infuses many dishes from roasted birds to carbonara.
Wine in Balkan dishes. These are rough guidelines, but in the Balkans wine is also usually present in seafood, sauces and risottos. (Two I like a lot are the mushroom risotto in white wine sauce, and the seafood risotto.)
Here you'll often encounter dishes considered a 'lighter fare' cooked with white. These are your shellfish and risottos. Meanwhile 'heartier meals' or more intense recipes for fish, fish stews, roasts and schnitzels call for red, or as we like to call it in the region, black wine.
Acidity. At 0.85 acidity level, white wines are much more acerbic than the reds which stand at about 0.55. This acidity infuses foods (that otherwise might be bland) with taste.
Dry wine. Dry wines are simply wines with less sugar. You won't feel sugar residue after you take a sip of dry wine, while in sweet wines sugar is more pronounced.
Best white wine for cooking shrimp. A dry Pinot Grigio or a dry Sauvignon Blanc are best white wines to cook shrimp with/ in.
"Cooking" wines. Liquids designated as "cooking" wines are a cloak for awful, cheap wines that couldn't make it as drinks but still have to be sold. They're induce headaches and taste bad. Never use them.
White. Red. Black? We call white wine white wine in the Balkans. Meanwhile, we call red wine both red and black. Rumor has it that some enologists (wine scientists) also call reds black, so it's not incorrect. It's just another Balkan idiosyncrasy.
Non-alcoholic dry white wine substitutes. Ivonne over at My Halal Kitchen substitutes white wine with high quality white grape juice. If at all possible, find grape juice with no added sugars. In a Guardian article on the same subject chef Pascal Aussignac recommends using verjus, a grape juice vinegar from unripe grapes. This grape juice has not been fermented and as such is ok to use in religious households. If unable to find it, Aussignac also recommends anything acidic like green apple juice or grapefruit.
You're quite equipped now to prep this easy white wine gnocchi with shrimp, so let's get to it.
P.S. Many thanks to Toni, Toni's grandmother and Snježa for sharing the recipe with us.
Print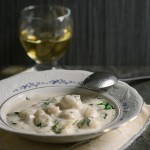 Dalmatian White Wine Gnocchi With Shrimp
Author:

Balkan Lunch Box

Prep Time:

5

Cook Time:

25

Total Time:

30 minutes

Yield:

4

1

x
---
Description
Easy white wine gnocchi with shrimp come to us from Dalmatian coast in Croatia. Enriched with a thick heavy cream plus breadcrumb sauce, this shrimp gnocchi dish brings along the taste of Adriatic no matter where you are.
---
1.7

-

2

ounces olive oil

1

onion (small, minced)

20

-

22

ounces shrimp (frozen or fresh)

2

-

3

garlic cloves (minced)

10

-

12

ounces potato gnocchi (frozen)

13

-

14

ounces water

1

-

2

ounces breadcrumbs

10 ounces

dry white wine (e.g. Pinot Grigio)
Salt and pepper to taste

16

-

17

ounces heavy cream

1

-

2

ounces fresh parsley (minced) + a little more for garnishing
---
Instructions
In a deep, large pan (or wok) heat olive oil on medium for 2-3 minutes. Add onion. Sauté and stir until translucent, about 3-4 minutes.
While stirring continuously, add shrimp and sauté 4-5 minutes. Add garlic and continue sautéing and stirring another 3-4 minutes.
Add gnocchi and water. Stir and simmer for 3-4 minutes. Stir in breadcrumbs, then add wine and seasonings. Simmer and stir for 1-2 minutes.
Stir in heavy cream and parsley. Simmer for another minute and take off heat. Garnish with remaining parsley.

 
---
---
Nutrition
Calories:

990

Sugar:

2.9g

Sodium:

723mg

Fat:

61.9g

Saturated Fat:

30.6g

Carbohydrates:

50.4g

Fiber:

1.8g

Protein:

46.9g

Cholesterol:

493mg
Keywords: white wine gnocchi with shirmp