Easy white wine gnocchi with shrimp come to us from Dalmatian coast in Croatia. Enriched with a thick heavy cream plus breadcrumb sauce, this shrimp gnocchi dish brings along the taste of Adriatic to your table no matter where you are.
POTATO GNOCCHI, CREAM SAUCE AND SHRIMP
While there are hundreds of flavorful shrimp and seafood recipes - and many solid dishes with gnocchi - this easy white wine gnocchi with shrimp will delight your tastebuds.
Although I'm partial to Dalmatian cuisine (who wouldn't be when it's based on aromatic seafood, pasta, countless wines, aperitifs, olives and fresh produce?), even the best shrimp dishes leave me hungry.
Maybe not at first. I'm full immediately after the meal.
Twenty minutes later I'm starving.
Did you ever get something you really wanted, then realized it's not something you really wanted?
I sometimes feel this way about seafood. Most of it "runs through the stomach." While you're cooking shrimp you might as well cook a second dinner that will actually satiate you.
This dish, this easy white wine gnocchi with garlic shrimp in thick, juicy breadcrumb and heavy cream sauce changed my perspective. This is a seafood meal that leaves me satisfied - and full - for hours!
It's earned its place on my regular dinner rotation.
We'll delve into specifics of how to make gnocchi, but first let me share the most important insight:
potato gnocchi and a thick, creamy, wine based sauce are seafood's best kept secret.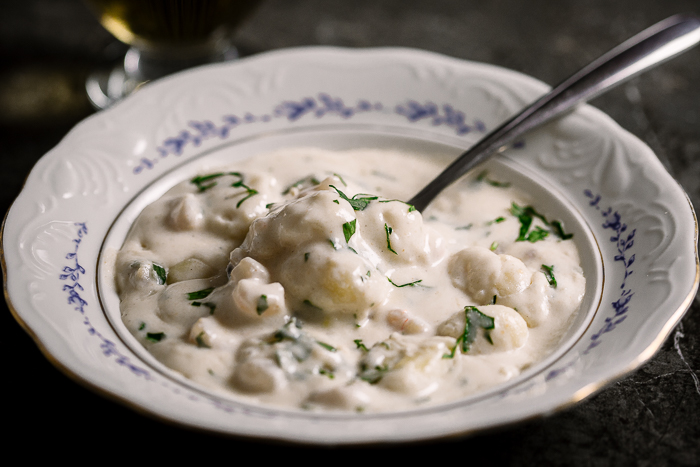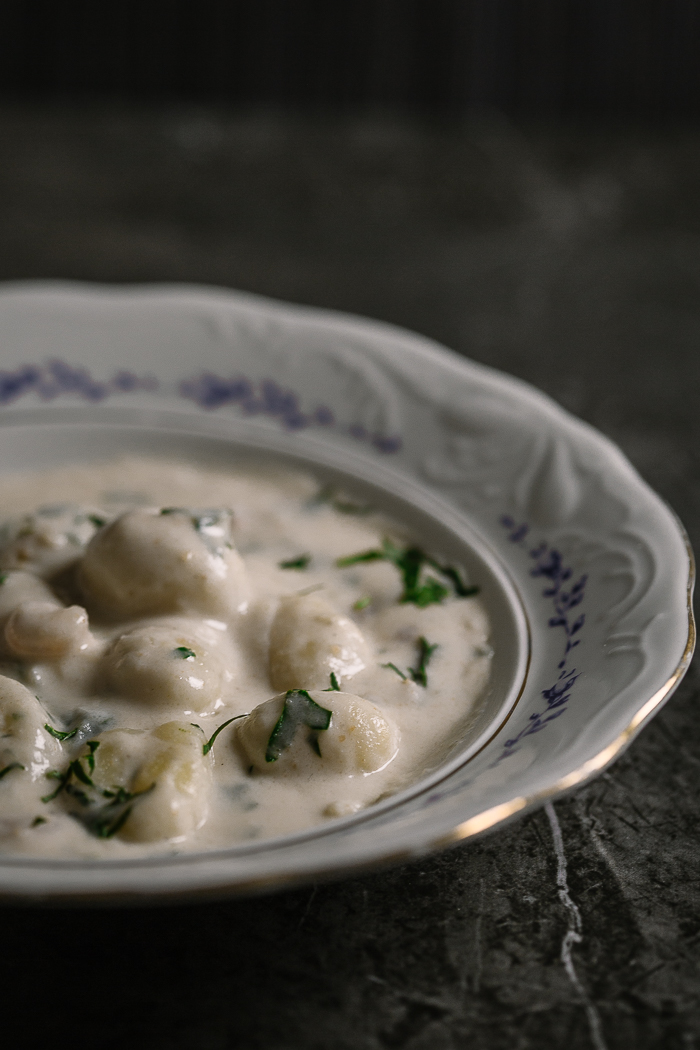 WHAT KIND OF SHRIMP TO LOOK FOR? WHAT'S THE BEST SHRIMP TO COOK THIS DISH WITH?
You might be surprised, but frozen shrimp is fine to use in this white wine gnocchi with shrimp recipe. I use it. Even Snježa and Toni use it. And many restaurants on the coast do too.
Frozen shrimp is fresher. For us living inland, frozen shrimp is fresher than "fresh" shrimp.
How is this possible?
I just learned this via bonappetit: fishermen freeze shrimp immediately on the boat. When you thaw it at home, it's thawed for the first time. Unless you can get it the same day it was caught, thawing shrimp at home is your best bet.
And all that "fresh" shrimp you see thawing at your inland fish market or grocery store? That's the thawed shrimp that's now sitting on ice in the store all day long until someone buys it.
Peeled and deveined. Peeled and deveined shrimp is easiest to use. No need for jumbo shrimp, today's easy white wine gnocchi with shrimp calls for smaller pieces.
Thaw it! Preparation method for some shrimp dishes involves frozen shrimp to thaw it as it cooks. For this recipe however, we've already designated an approximate liquid amount. Thaw shrimp under cold water for a few minutes before cooking. This will separate it from ice chunks.
To summarize!
Find small to medium sized, frozen, peeled and deveined shrimp for this recipe. Before making the, dish take shrimp out of the freezer and run cold water over it for a few minutes to separate from ice. Pat dry and throw in the pan with onion and garlic.
IS THIS A HOMEMADE OR STORE BOUGHT POTATO GNOCCHI RECIPE?
Here's where this easy gnocchi recipe saves the day again: you don't have to make homemade gnocchi for this dish!
For today, just bask in the knowledge all you need is a bag of frozen potato ones you can get from almost any grocery store.
A side note for those of you who might be wondering "what is gnocchi anyway?"
Gnocchi are small, heavenly potato and flour "lumps" that go great with sauces. They come in different flavors like spinach or cheese, but potato and flour gnocchi are the basic version.
There is some disagreement whether gnocchi are pasta or dumplings (due to the potato based dough). I'll place them in a separate category from pasta because that's how I've seen it in Italian cookbooks.
And gnocchi, as you can discern from the name, are very Italian.
Gnocchi means a knot or a lump. (There isn't a specific word for them in Bosnian/ Croatian/ Serbian, but instead which is a local pronunciation of 'gnocchi,' njoki is used.) In words of Marcella Hazan, an Italian cuisine specialist extraordinaire, it's like a 'little lump you get when you hit your head.'
Due to Italy's proximity, gnocchi connection to the Balkans makes sense. Italian dishes have long inspired Balkan cuisine. (Have you tried the meatballs?)
For generations now gnocchi have become as native as the sea in Dalmatia. Consequently, while preparation methods vary many recipes call for gnocchi with seafood in white wine based sauce.
Meanwhile, in colder, more mountainous areas, gnocchi accompany heavier meals such as goulash and other stews.
I'll soon post how to make homemade gnocchi; but for those of you who are curious what follows is a shortened version.
First you boil some potatoes. After peeling them you combine them with flour. At this point you formulate small lumps with a simple tool like a fork (even knitting needles work).
From this step on making gnocchi resembles making knedle or klepe. You can either freeze them for future use, or cook them.
Cooking them involves boiling plenty of water and releasing the gnocchi in. When ready, gnocchi will rise to the surface. This takes about ten minutes. (Note that Marcella Hazan recommends a couple of additional minutes at the top.) At this point they're ready to join a sauce.
You can make frozen gnocchi the exact same way. Boil them in water until they rise, and serve with a sauce or stew.
Our recipe for easy white wine gnocchi with shrimp takes a detour from the usual method. Together with shrimp you'll cook gnocchi in the sauce instead of boiling water.
Effectively, instead of hot water, it's the sauce that cooks gnocchi.
As this recipe calls for frozen gnocchi, if you're making your gnocchi from scratch, cook it for a shorter period of time.
COOKING WINE: WHAT'S THE BEST CHOICE WHEN MAKING SHRIMP?
Best wine for cooking shrimp is a dry white.
White wine - especially dry white wine - has great acidity and people have used it in cooking for centuries all over the globe. Dry white wine is also what we'll be using for our easy white wine gnocchi with shrimp.
Wine in Int'l cooking. With an abundance of wine cooking recipes, French cuisine is probably the most famous for using alcohol in dishes. White wine is in numerous sauces, from piquante to bernaise. Meanwhile, dry white wine is an important part of Italian cuisine as it infuses many dishes from roasted birds to carbonara.
Wine in Balkan dishes. These are rough guidelines, but in the Balkans wine is also usually present in seafood, sauces and risottos. (Two I like a lot are the mushroom risotto in white wine sauce, and the seafood risotto.)
Here you'll often encounter dishes considered a 'lighter fare' cooked with white. These are your shellfish and risottos. Meanwhile 'heartier meals' or more intense recipes for fish, fish stews, roasts and schnitzels call for red, or as we like to call it in the region, black wine.
Acidity. At 0.85 acidity level, white wines are much more acerbic than the reds which stand at about 0.55. This acidity infuses foods (that otherwise might be bland) with taste.
Dry wine. Dry wines are simply wines with less sugar. You won't feel sugar residue after you take a sip of dry wine, while in sweet wines sugar is more pronounced.
Best white wine for cooking shrimp. A dry Pinot Grigio or a dry Sauvignon Blanc are best white wines to cook shrimp with/ in.
"Cooking" wines. Liquids designated as "cooking" wines are a cloak for awful, cheap wines that couldn't make it as drinks but still have to be sold. They induce headaches and taste bad. Never use them.
White. Red. Black? We call white wine white wine in the Balkans. Meanwhile, we call red wine both red and black. Rumor has it that some enologists (wine scientists) also call reds black, so it's not incorrect. It's just another Balkan idiosyncrasy.
Non-alcoholic dry white wine substitutes. Ivonne over at My Halal Kitchen substitutes white wine with high quality white grape juice. If at all possible, find grape juice with no added sugars. In a Guardian article on the same subject chef Pascal Aussignac recommends using verjus, a grape juice vinegar from unripe grapes. This grape juice has not been fermented and as such is ok to use in religious households. If unable to find it, Aussignac also recommends anything acidic like green apple juice or grapefruit.
You're quite equipped now to prep this easy white wine gnocchi with shrimp, so let's get to it.
P.S. Many thanks to Toni, Toni's grandmother and Snježa for sharing the recipe with us.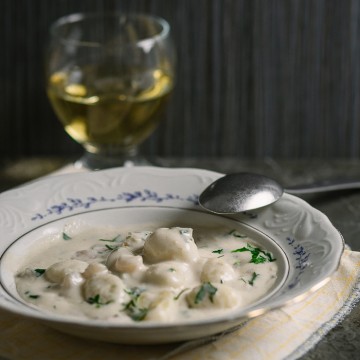 Dalmatian White Wine Gnocchi With Shrimp
Easy white wine gnocchi with shrimp come to us from Dalmatian coast in Croatia. Enriched with a thick heavy cream plus breadcrumb sauce, this shrimp gnocchi dish brings along the taste of Adriatic no matter where you are.
Ingredients
1.7-2

ounces

olive oil

1

onion

small, minced

20-22

ounces

shrimp

frozen or fresh

2-3

garlic cloves

minced

10-12

ounces

potato gnocchi

frozen

13-14

ounces

water

1-2

ounces

breadcrumbs

10

ounces

dry white wine

e.g. Pinot Grigio

Salt and pepper to taste

16-17

ounces

heavy cream

1-2

ounces

fresh parsley

minced + a little more for garnishing
Instructions
In a deep, large pan (or wok) heat olive oil on medium for 2-3 minutes. Add onion. Sauté and stir until translucent, about 3-4 minutes.

While stirring continuously, add shrimp and sauté 4-5 minutes. Add garlic and continue sautéing and stirring another 3-4 minutes.

Add gnocchi and water. Stir and simmer for 3-4 minutes. Stir in breadcrumbs, then add wine and seasonings. Simmer and stir for 1-2 minutes.

Stir in heavy cream and parsley. Simmer for another minute and take off heat. Garnish with remaining parsley.  
Nutrition
Sodium:
723
mg
Sugar:
2.9
g
Fiber:
1.8
g
Cholesterol:
493
mg
Calories:
990
kcal
Saturated Fat:
30.6
g
Fat:
61.9
g
Protein:
46.9
g
Carbohydrates:
50.4
g