Satarash, a 15-minute, four ingredient vegetable stir fry. Eggs are optional. Perfect for breakfast, or as a side.
As I was clicking through the site's menu, I realized for the first time that the side dishes section is skinny. We're talking less than 10 recipes skinny. I've got some spreads and some fries there, and that's it.
Did I place a few recipes in a wrong category over time? Probably. I even pondered if there exist side dishes in this cuisine. On second thought, it's not that this cuisine doesn't have many side dishes. There are plenty. The challenge here is that the side dishes are rich, they might as well be a meal.
Take satarash, for example. Balkan stir fry. The one we'll be making today, to me, is a complete meal. Yet a few folks assured me it's a side dish. "Definitely a side! It has no meat in it," they said. Go figure.
Traditionally, stir fry of this kind is egg-less. It's all about vegetables cut in stripes and simmered for a while. Peppers, yellow and red, are very represented. What makes it different from the Asian stir fry is the amount of sauce. Balkan stir fry ends up with a lot more of it.  That's unless you add the eggs, as we will today. The eggs soak up the moisture and you end up with a very fluffy omelette.
A tasty omelette.
(Another non traditional detail we're going with today is the wok. If you have it, pull it out. Satarash is easier to make in a wok vs pan.)
If I didn't tell you this you'd never notice (unless you photograph food), but the amount of satarash I used to photograph this recipe is miniscule. Maybe a couple spoonfuls. Maybe. There was a whole other vision for the shoot, but then I ate the food I was supposed to photograph. It happens a lot at BLB HQ.  I cook something thinking I'll eat it after the shoot. Then I eat it. It's reminds me of shopping for food when you're hungry.
This brings me to grocery stores.
Although proliferation of the huge supermarket is alive and well in Sarajevo, most of the streets have their own bodegas. We call them granap (singular). Granaps vary from street to street. Some only sell bread and a few other items, but most have a large and – usually an unusual – inventory. They do have one in common, a large amount of nicknacks. Someone must be buying these otherwise why would they carry them, right?
A tradition here is that the youngest family member is expected to go to granap to pick up bread, pastries and cigarettes. They get a tote bag, about ten bucks (which at at that age instantly transforms them into Bill Gates), and a nickname granapche.  Balkan parents are smart. They wrap up what's essentially a responsibility, and make it seem as if it were the penultimate achievement in one's life to go pick up stuff for them every morning.
I'd know, as for years I was granapche in our family.
When I analyze some things in my life, my grandfather used the same tactic when he inspired me run errands for him. First he told me in a solemn voice that I was his secretary.  He depended on me so much, he said, without me the mission (what mission?) would fail. I carried out my responsibilities, important tasks such as walking envelopes to the post office, with  such importance overkill, you'd think I was the U.S. Secretary of State.
My household is a family of just me now so by proxy I'm still a granapche. As I am one of those irregularities in nature known as the early riser, I actually like going to the store at the crack of dawn. It's a small meditation, a small leg stretch before a stretch of work.
Granap on my street is unsightly and dark. The staff rearrange shelves all the time, but (if) you can find anything from spices to USBs there.
The staff are mercurial. One day they'll treat you like a queen. The next day they'll curse you out between the teeth, letting you know you made their day worse just by coming to buy something from their store.
The customer is always right adage means nothing in the Balkans. In fact, in most establishments the staff are annoyed to see you. When it comes to not giving a sh*t, NYC and Paris have nothing on Sarajevo.
Yet, it's these simple things that make my day here.This granap down the street. This unwillingness to conform. This Balkan stubbornness. There is a certain freshness to hear someone's opinion.
Perhaps that's the way people are equal here. Maybe not in social status. Maybe not in connection. But everyone, from a taxi driver to the minister (and sometimes they're both in one), will have an opinion. Sometimes wrong. Often very wrong. Yet you'll know exactly where they stand, and where you stand.
Give me blunt disdain over fake niceness any day. It heals the soul.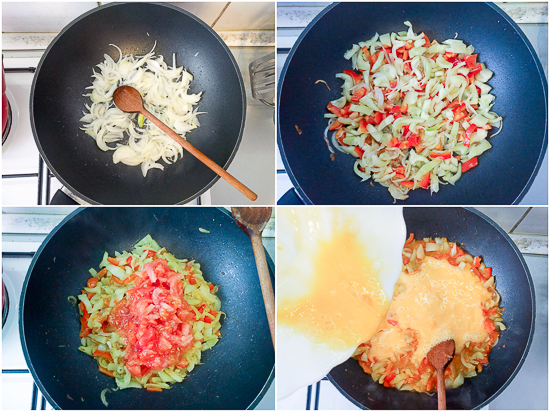 Print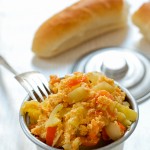 Satarash: Balkan Stir Fry (With Eggs)
Author:

Cook Time:

15 mins

Total Time:

15 mins

Yield:

4

1

x
Category:

Side Dish
---
Scale
Ingredients
2 tablespoon

s oil

1

yellow onion (large)

4

bell peppers (

2

red,

2

yellow)

1/2

vegetable bouillon or

1/2 teaspoon

seasoned salt

1

large tomato

4

eggs
---
Instructions
Heat oil in a wok over high. Slice onion. Add to wok and bring temperature to low. Simmer for 4-5 minutes.
Cut peppers into stripes. Add to wok. Stir. Simmer for 4-5 minutes.
Skin and mince the tomato. Add to wok and continue simmering for 2-3 minutes.
Break eggs into a bowl and mix until yolks and whites are combined. Add to the skillet and stir. Simmer another 3-4 minutes. Serve hot.
---