Satarash, or risotto stir fry: a contemporary take on a classic. Round grain rice simmered in a sauce of bell peppers, yellow onions and tomatoes for a light and filling vegetarian favorite.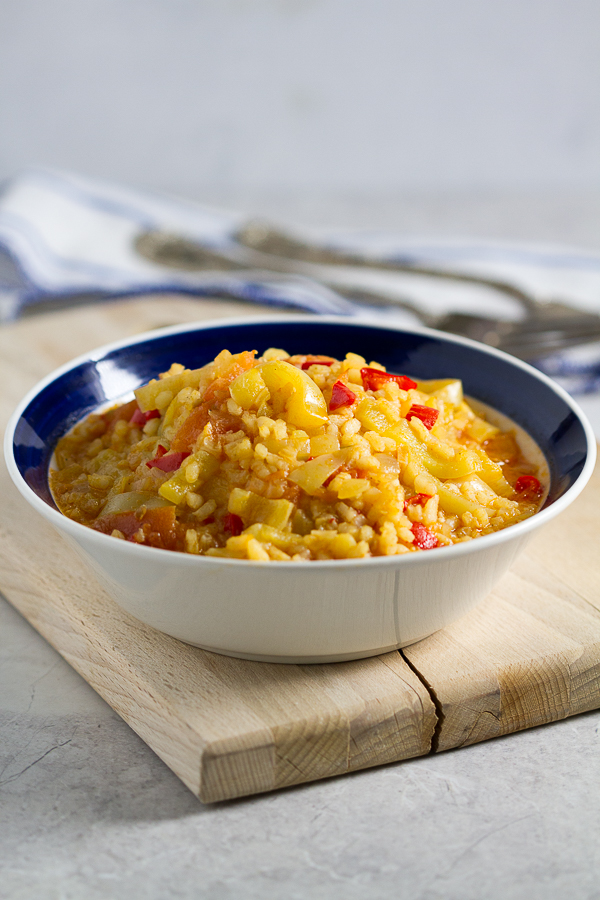 Similarly to the stir fry we did already, this isn't the traditional satarash format. When we speak of satarash, or Balkan stir fry, we're really talking about a vegetable sauce. Contemporary Balkan cuisine has allowed itself some updates though. My mom makes (today's) risotto stir fry where the taste doesn't stray far from tradition, but the added rice transforms it into a standalone vegetarian dish. A filling one at that! (Meateaters: you have the option of grilling or baking meat on the side, or try out the leek risotto with ground beef.)
***
An admission. For the past couple of years I haven't been reading. There's been an onslaught of information, sure, and I've picked up a book here and there. But this wasn't the earnest have to finish this because nothing else exists reading from my youth. And until recently, if I told you there was a time I was kicked out of the library because I checked out a book, read it, and came back for another only a few hours later, you'd be surprised. All because you haven't seen me with a book in hand for a while.
Time is not the problem. I demoted reading from my priorities.  The distance increased. Instead of making up with it, continuing our torrid affair, I left it for other indulgences. Every person I have met has an addiction. Most addictions are socially acceptable and aren't regarded for what they really are. For me, it's binge watching shows. A realization flooded me recently: in a busy schedule I found a way to binge on two seasons of Narcos (15-20 hrs?), while stacks of unfinished books occupy my bedside table.
The books are not the problem. Books haven't gotten bad. Azar Nafisi once described her reading habits as promiscuous. I recognize myself here. When it comes to serious books, rarely do I read anything written in the past decade, even two. Like good stew, a book needs to pay its dues, survive the proverbial test of time, before being ready for consumption. Let the feeding begin!
But there are times also when I want a book that doesn't involve analysis, a book equivalent of McDonald's. A "Big Mac" volume of sorts. In Bosnian this is called beletristika, the type of fiction which is more interested in aesthetics than literature. Although by today its aesthetics have deteriorated, and beletristika now is a kind of brain's fast food, something to consume quickly and without thinking. I let myself fall under its charm from time to time. And I'm fond of some improvement books too.
Speaking of improvements, since the start of 2017 I've made some. I'm not where I'd like to be. Yet. But I'm reading again. Reading a lot more than in the recent past. Two reading rules help:
I bring a book everywhere I go. (A physical book is best. Ebooks are ok. Audio books are a no-no as they make me sleepy.)
If I don't like a book after 30-ish pages, I move on to the next one. (Gasp!)
Here's what I've been reading this March.
Haruki Murakami, 1Q84. Finally finished it. A story about a woman and a man who, in a way, save the (parallel?) world. Murakami plays with just enough magical realism to make it seem the events could (almost) be true. But you as the reader are not required to suspend your disbelief completely. A big book that moves very fast.
Charles Bukowski, The Way The Dead Love. Not sure if this book exists in English. A publishing house here put together a collection of his short stories from several different books. If you're easily offended you won't like Bukowski.  He's honest, dirty, sometimes disgusting. But he wrote some of the rawest, most precise prose you'll experience.
Jacob Lund Fisker, Early Retirement Extreme. This book and the blog behind it started a mini-revolution in the US. Since it came out we've seen a proliferation of bloggers getting us to consider how much stuff (things and services) we really need, and how much life energy we are wasting for a dollar. Retirement is a misnomer here, he's recommending getting your finances in order and then doing what you want with your time. To follow his philosophy you have to be ready for self-inflicted austerity measures, but they pay off relatively quickly. Thought provoking.
George Perec, Life a User's Manual. I wanted to love this book. Imagine a building in a Parisian neighborhood, dissected in half height wise. Now you see all the inhabitants and can follow their lives as they unfold. Stories about past and present intertwine while a larger story looms in the background loosely connecting it together. Great idea. Cumbersome writing. It did not resonate at all.  One interesting thing though, is Perec's use of lists. Still, I started and stopped reading the book several times. Finally, I followed rule 2, and moved on.
What are you currently reading?
Print
Veggie and Rice Stir Fry Risotto Satarash (Sataraš)
Author:

Balkan Lunch Box

Prep Time:

5 mins

Cook Time:

40 mins

Total Time:

45 mins

Yield:

4

1

x

Category:

Main Course
---
Description
Sataraš is a light Balkan stew, a mix between ratatouille and stir fry. It's all about the soft, smothered (in a good way) vegetables made directly on stovetop, enriched with round grained rice. A perfect vegetarian one-pan dish.
---
6 tablespoons

vegetable oil

2

yellow onions (chopped into strips)

3

-

4

bell peppers (red and yellow cut into strips)

2

tomatoes (skinned and diced, with juices)

½ teaspoon

parsley seasoning

½ teaspoon

celery seasoning
Salt and pepper to taste
(Optional) Vegeta to taste

1 cup

rice (round short-grain, washed and rinsed)
---
Instructions
In a deep pan heat up oil on medium. Add onions. Stir and simmer until they sweat. Add peppers, stir and continue simmering until peppers sweat. (Cover/ uncover as needed.) Finally, add tomato and seasonings, then stir and simmer. (Total simmer time for this step is about 20 min.)
Add rice to the pan and simmer an additional 15-20 minutes. As you're simmering, add a little bit of water at a time (about 2.5 cups total). The dish is finished when the rice and vegetables are soft, tender and moist.
---
Nutrition
Calories:

422

Sugar:

10.1g

Sodium:

11mg

Fat:

21.3g

Saturated Fat:

4.1g

Carbohydrates:

53.7g

Fiber:

4.1g

Protein:

5.7g

Cholesterol:

omg
Keywords: satarash, sataraš, balkan lecsó, balkan veggie and rice stir fry