Sautéed spinach, a sophisticated way to eat more greens. This velvety side dish requires minimal preparation and is ready in 25 minutes.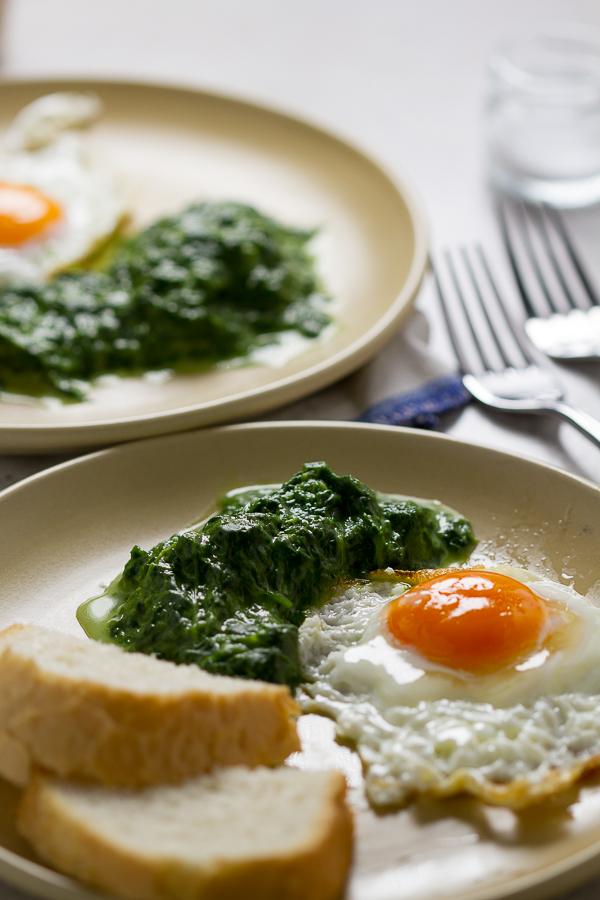 Here and there I search for recipes that should be matter of fact. Dishes, snacks, and tastes I grew up with and took for granted knowing how to do, only to later find out I'm not as proficient at making them as I thought.
The devil's in the details they say, and I'm not detail oriented.
To counter this, I've been collecting ways to make simple things over time, making little moves to increase my proficiency. What are these simple things? They're the roasted red peppers resting in olive oil, peppered with garlic. They're the most convenient and delectable way to make a bowl of rice. And the three ingredient jam, which even with its sugar munificence still beats any store bought jam you can get. They're the popcorn that you make with corn and a little bit of oil, in a huge pot.
They're also the sautéed spinach. You know, the velvety side that goes well with pretty much everything: eggs, meat, bread. It's what gives even more smoothness to mashed potatoes, and mildness to your beef roast. It's the side dish that deserves more remembrance than we give it.
Turns out, there is not much to the process. But if you don't take care of the details, the big picture will crumble. Fresh spinach is washed thoroughly. (Don't quicken this.) It's then brought to boil and kept here for 1 full minute. When removed, it's cut up and simmered in a roux of oil, butter and flour. At last the milk is added.
As I search for more simple things, I'd love to hear some of yours.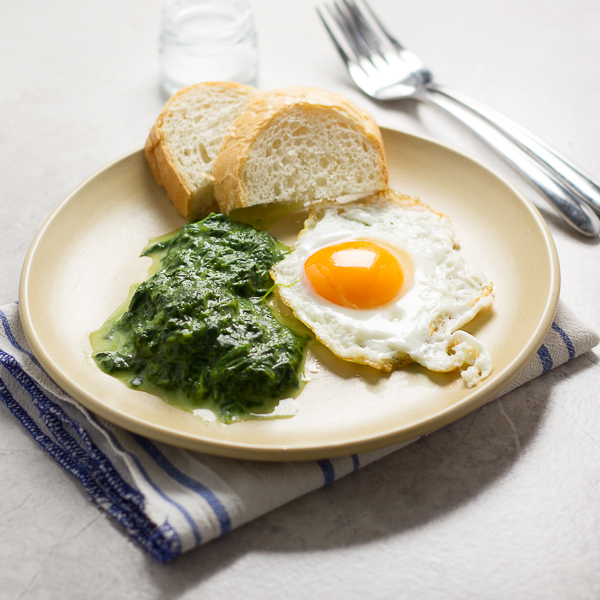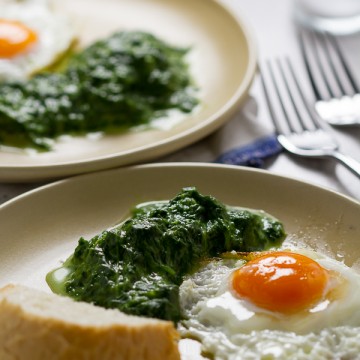 Quick Sauteed Spinach
Ingredients
16

ounces

fresh spinach

2

tablespoons

butter

2

garlic cloves

minced

1

tablespoon

white flour

7

ounces

milk

1

teaspoon

salt
Instructions
In a large pot bring spinach to a boil on high. Boil for 1 minute. Remove and drain. Mince.

In a small pot heat butter on medium. When butter is melted, add garlic and stir. Then add flour and stir. When the flour blushes after 1 or 2 minutes add spinach and stir well. Add milk, then stir again. Bring to a boil stirring frequently. Boil for 2 minutes and remove off heat.

Serve hot.