Chicken turnovers: a healthy veggie stuffing (bell peppers, corn, peas and tomatoes), combined with chicken breast, wrapped in dough, and then baked. It's like a salad, main course, and a side all in one.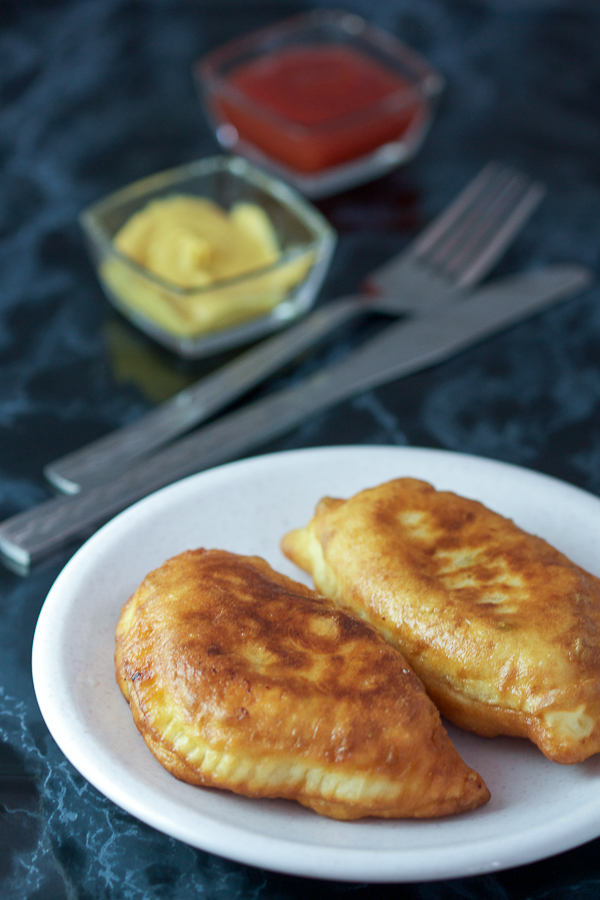 A sandwich is a comfort food. And there are different type of sandwiches. You could consider burrito a sandwich in a way, just as a crepe, loosely, can be a sandwich too. Today we do the best "sandwiches" of them all: chicken turnovers.
These kinds of meals are all a form of pie. This one would be a type of a chicken pie. And we've done vegetarian pies, and ground beef pies.
No need for a dissertation here. We'll just fry up some veggies with chicken, while separately making the dough. A fantastic thing about these is that you can make more of each, the filling and the dough, and freeze them separately. Then, when you run out of ideas for dinner take them out, fill them up, and fry them.
That's it for today folks.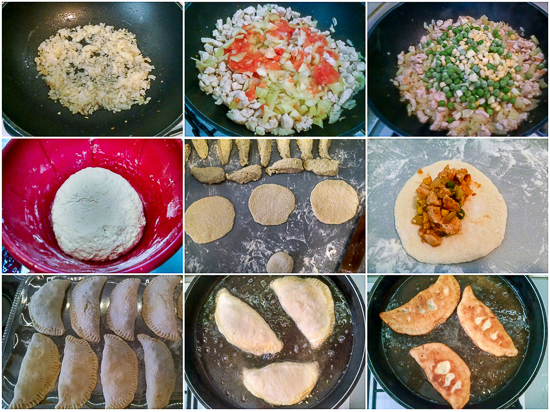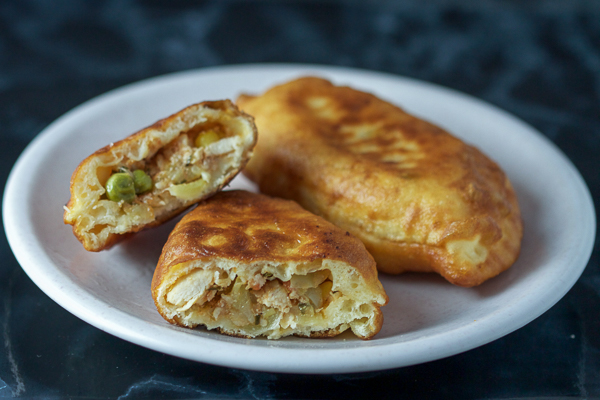 Chicken Turnovers
Ingredients
Filling:
1

large yellow onion

1

garlic clove

1

bell pepper

1

large tomato

2

ounces

corn kernels

2

ounces

green beans

8

ounces

chicken breast

½

zucchini

1

tablespoon

butter

3

tablespoons

vegetable oil

Seasonings to taste

seasoned salt, ground pepper, parsley

2

ounces

tomato paste
Dough:
1

pound

white flour

1

teaspoon

baking powder

½

teaspoon

salt

1

egg

12

ounces

yogurt*

please read the note

Oil
Instructions
Heat up butter and oil in a wok over medium heat. Add onion (minced) and garlic (diced) to the wok and simmer for 5 minutes.

Add (diced) chicken breast to the wok and simmer for 5 minutes.

Add bell peppers (cut into small stripes) and tomato (skinned and diced). Simmer for 10 minutes.

Add green beans, corn kernels, zucchini (diced), seasonings and tomato paste. Simmer another 10 minutes. Remove off heat.

In a large bowl, combine dough ingredients except for yogurt. Start pouring yogurt in slowly as you knead the dough. Continue kneading for 7-10 minutes vigorously, or until you have a smooth and elastic ball of dough. Divide into 16 equal pieces. With a rolling pin, roll out each one out into a round shape that's about 5-6 inches in diameter. Take one round and place 1 tablespoon of filling on one half of it. Lift the other half and fold over the first half and the filling. Use your fingers to seal it together. (Optionally, lightly press a fork on ends to seal it in even more.) Repeat with remaining dough rounds.

Pour a generous amount of oil into a frying pan, and heat it up over medium heat. When the oil is hot, place the turnovers in (you may have to do it in batches), and fry each side for 1 minute. Remove from heat and place on a paper towel to soak up extra oil.

Serve hot, with your favorite condiments.
Notes
*The US stores generally don't carry the same yogurt as in Europe. This yogurt has the consistency of buttermilk, but the taste is closer to Greek yogurt. If you can find it, fantastic. If you can't, a good substitute is Greek yogurt, mixed until smooth. Add a little water if necessary until it's smooth like buttermilk. After you combine Greek yogurt and water, that's when you measure out 12 ounces for the dough.
Serving size is 2 turnovers, you'll be making 16, so you'll end up with 8 servings.
Time for the filling: 10 minutes for dicing/ mincing vegetables, 30 minutes for simmering. Time for the dough: 45 minutes to make the dough and fill each round, 10 minutes for frying. However most of this can be done parallel to each other, therefore total time to prep and cook is 1 hour.