Breaded crepes: upgrade your ham and cheese! This crunchy-on-the-outside but out of this world soft-on-the-inside combination will exchange the regular ham and cheese sandwich any day of the week!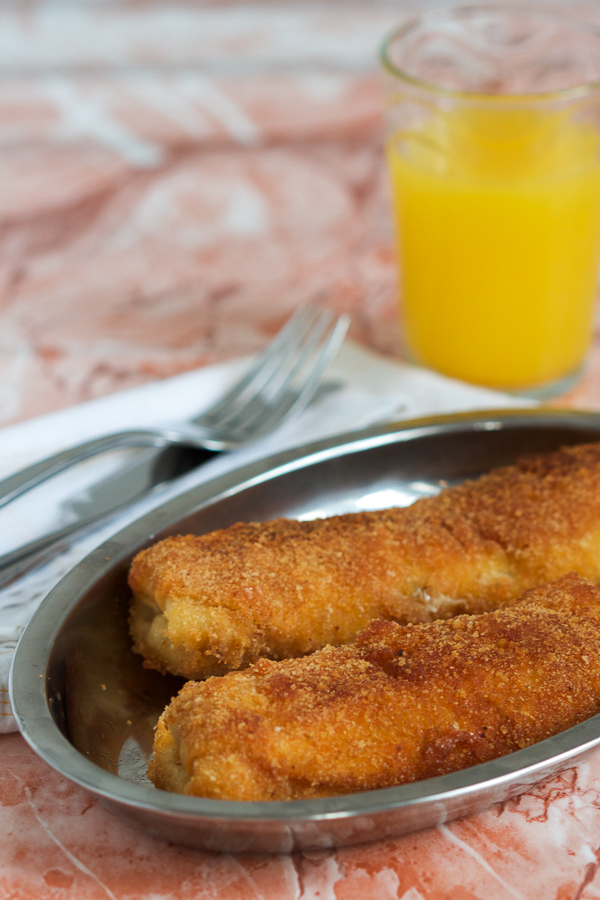 As we were already on the crepe train, I thought it'd fun to explore what else can be done with them.
What came out were the crunchiest, softest, cheesiest crepes I've had the chance of eating. This is the kind of recipe you do when you want to impress the hell out of your kids and spouse on a Saturday.
The procedure is simple. These breaded crepes take a tad bit longer than your average dish... But worth every, single, solitary minute you spend preparing it!
You'll start by making regular crepes, the kind we did in the last recipe.
In addition, you'll prep ham by dicing it, and grate yellow, harder cheese of your choice. You'll also prep three additional plates: one with flour, one with beat eggs, and one with bread crumbs.
As you finish a batch of crepes, you'll swipe a pinch of mayo on each, add ham and cheese, and wrap them up. The next step is really fun. You'll dip them into flour, then eggs and finally bread crumbs, and fry them in really hot oil (by the way be careful and don't burn yourself).
These breaded crepes achieve the perfect golden brown, and promise to give off the perfect crunch sound as your teeth meet with the outer layer.
Inside, they look like your average, flavorful crepes. However, these crepes aren't average at all. Ham and melted cheese stretching the distance when you take a bite, gives this dish that little extra thus upgrading it to five star crepes.
It's this ham and cheese filling that makes the crepes enough of a meal by themselves, and about two to three per person will be plenty. But you are welcome to beef the meal up with a soup or a salad.
Balkan Homemade Cornbread From Scratch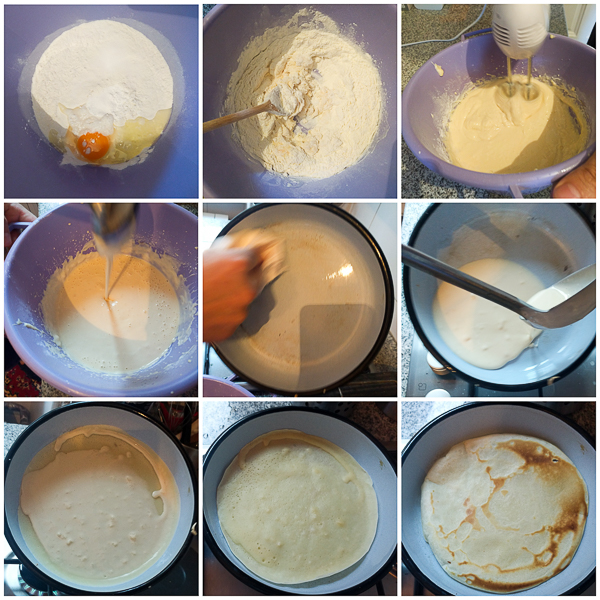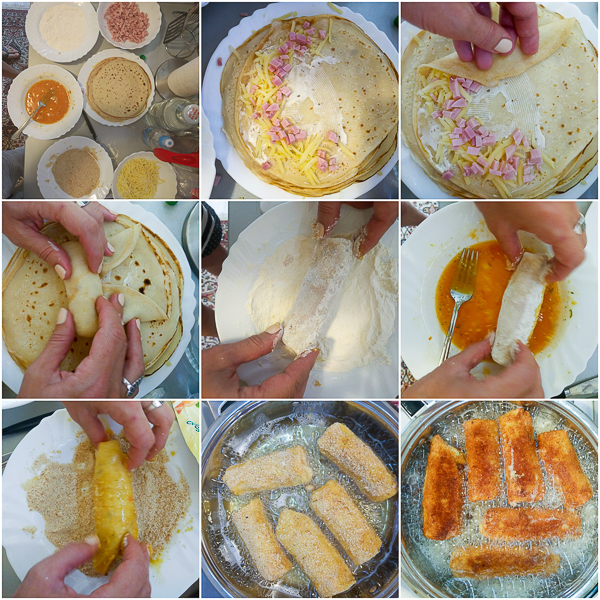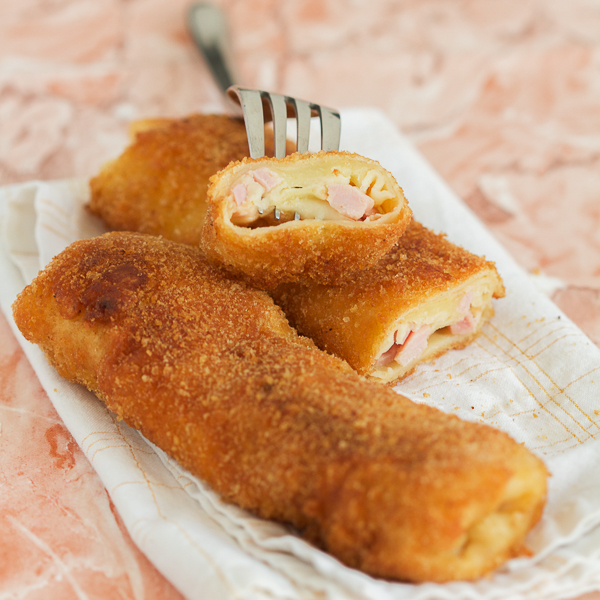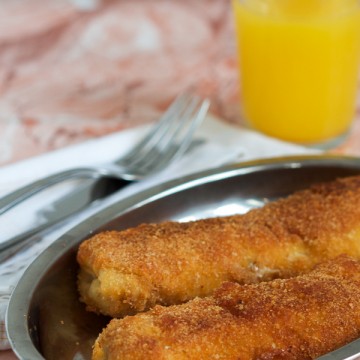 Breaded Crepes with Ham and Cheese
Ingredients
CREPES:
10-11

ounces

white flour

2

eggs

1

teaspoon

baking soda

½

teaspoon

salt

2

cups

milk

1

cup

water

1

cup

oil
FILLING & BREADING:
7

ounces

mayo

14

ounces

ham

diced

8

ounces

yellow cheese

such as Gouda, grated

5

ounces

white flour

4

eggs

beat

1

tablespoon

seasoned salt

5

ounces

bread crumbs

Oil
Instructions
CREPE STEPS:
Combine flour, eggs, baking soda, salt and milk in a larger bowl. Mix the batter with a spatula for a few minutes, then turn on the hand mixer. Continue mixing with the hand mixer, slowly adding water as necessary. (You may need more or less water.) Mix until the batter is free of crumbs, and is completely smooth with a consistency (thickness) of heavy cream.

Pour oil into a small bowl. Take a paper towel and dip it in the oil, and then use the paper towel to coat the crepe pan with it. Heat up the pan on the highest until it's really hot.

Transfer a small amount of batter into the pan by using a ladle. Watching that the batter doesn't leave the pan, swirl it around until the batter coats the pan bottom evenly. When the crepe has slightly browned on the bottom (about 30 seconds), flip it around to the other side. Place the finished crepe on a plate.

Oil the pan with a paper towel. Heat the pan again, then repeat the process until you are out of batter.
FILLING & BREADING STEPS:
Heat up oil in a deep skillet or a pot on highest. (Oil should be the thickness of one to two fingers.)

Take a crepe and spread about a tablespoon of mayo on. Then take about a handful of cheese and two handfuls of diced ham and place on the bottom half of the crepe. Finally, lift left and right sides and fold them inward just a little bit. Take the bottom of the crepe and roll it upward. You should have a completely folded crepe. Dip the crepe first in flour, then egg, and finally bread crumbs.

Repeat for all crepes.

Carefully place crepes in hot oil. Fry each side about 3 minutes, or until golden brown. Depending on the size of your skillet, you'll have to do this in batches.

Eat warm. (Optional) Serve with soup and salad.