Quick homemade Alfredo sauce with meatballs (ćufte u bijelom sosu) is a delicious, fast weeknight dinner. We're talking soft, juicy meatballs cooked in everyone's favorite white sauce, done in 30 minutes! Shall we?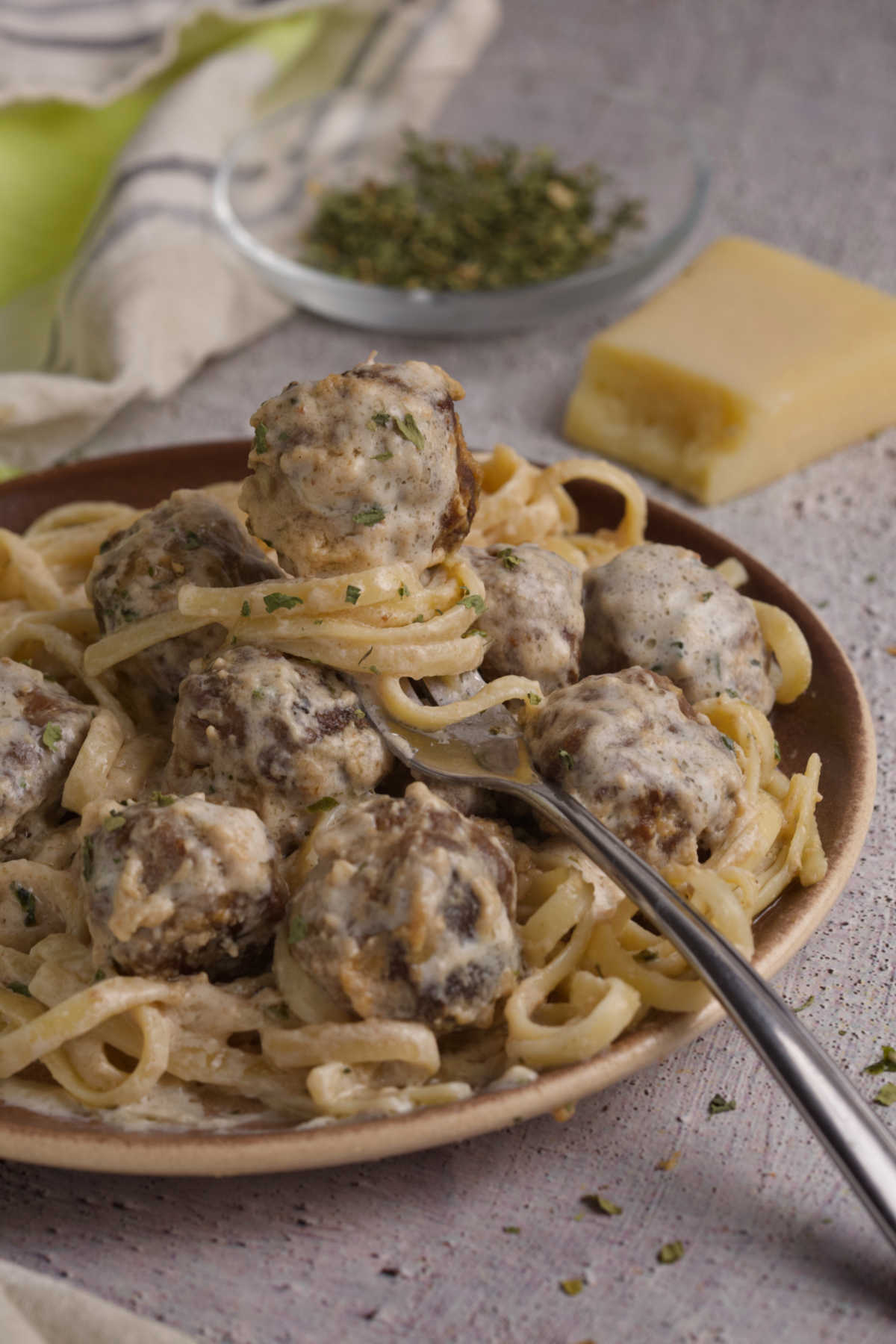 Jump to:
Background
Remember ćufte, those yummy Bosnian meatballs? Yes? No? Either way, you're in for a treat!
Ćufte are juicy bombs of flavor that always come along with an amazing sauce. Today, we're making these meatballs in a quick homemade Alfredo.
There are hundreds of homemade Alfredo variations, but we're confident you'll love ours. After a lot of testing, we found that the best Alfredo is the one mixed right in with the meatballs.
Oh yes!
The quickest, tastiest homemade Alfredo is made straight on the fat your meatballs were cooked in. It takes minutes, and just a couple of ingredients for the familiar, flavorsome taste.
Bonus? No need to wash a million dishes to make this one-pan deliciousness!
Ingredients
Here are the ingredients for this quick Alfredo sauce.
Alfredo Meatballs (aka Bosnian ćufte)
Bread: use a day old bread soaked in milk or water (cut the crusts). Once you make meatballs with bread, you will never make them another way again! Watch the milk or water liquid volume: too little and they fall apart, too much and they're soggy!
(If you absolutely must, then substitute with panko breadcrumbs.) Avoid: regular breadcrumbs.
Egg: to make Alfredo meatballs, use 1 egg per (and up to) 1 pound of meat. Eggs give the meat elasticity and bring out the juices. Avoid: egg substitutes.
Meat: beef or veal is the best ground meat for Alfredo meatballs. Substitute with pork, chicken, turkey, lamb, even mutton, and game.
You can mix meats as well, but don't go crazy with combinations! Beef and pork work well. Mutton and turkey probably don't. If unsure, stick with beef!
(Meat tip: poultry is drier than other meats so we never use it for meatballs.)
Heavy Cream: regular heavy cream works best. Substitute with milk + butter or half and half + butter.
Cheese: Parmegiano is best. Asiago and Grana Padano also work. (A secret tip: although not strictly Alfredo, we love to use Edam or Gouda for this sauce!) Avoid: soft cheeses.
Oil: we use vegetable oil instead of butter simply because we fry the meatballs in the oil first, and then add heavy cream and cheese on top. (We did say quick Alfredo, didn't we?) Pan-frying with butter would not work for our recipe. Substitute with sunflower or coconut oil. Avoid: olive oil.
Caveat: while oil, heavy cream plus cheese are a fantastic combo, the sauce can separate after a while. (Quick Alfredo is exactly that, a fast recipe that you make and eat quickly!) If the sauce separates by the time you sit down to eat warm it on the stovetop, add more heavy cream (or milk), and whisk it for a minute or two, or until this homemade Alfredo integrates again.
Instructions
Here are quick instructions for our Alfredo meatballs (including the quick Alfredo sauce). For more detailed information look at the recipe card below!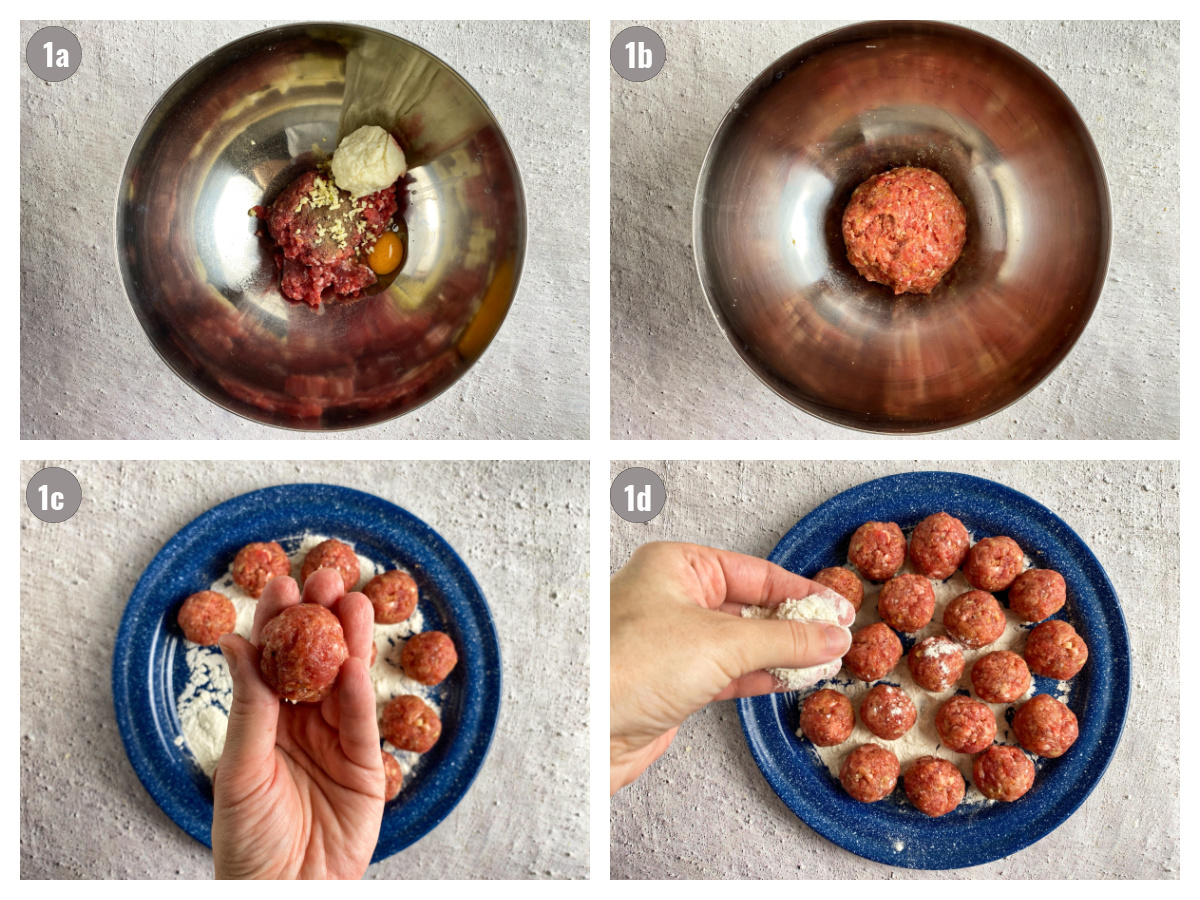 Step 1. In a bowl add meatball ingredients and mix. Form small meatballs. Lightly dust with flour.

Step 2. In a large frying pan heat up the oil on high. Add meatballs. Fry meatballs for one minute on each side, plus an additional 5 minutes, flipping them around frequently.

Step 3. Add heavy cream and stir. Cook for 2-3 minutes. Add grated cheese. Stir and remove off heat.
Handling
Serving: homemade Alfredo sauce tends to thicken up quickly. It's best to serve it soon after it's ready. Look below for tips on how to thin it out.
Reheating: it's best to reheat Alfredo meatballs on the stove over low heat, stirring frequently.
Side ideas: Rice, pasta, quinoa.
Storing: make homemade Alfredo on the same day you plan to eat it. Use it within a few hours of making it. Meatballs store really very well. You can make them for up to 2 days ahead and keep them in the fridge in a sealed container.
Freezing: freeze meatballs raw. Coat each with flour or oil to prevent them from sticking together. Transfer to freezer-friendly bags or container(s) and put in the freezer. (Or place separately on a tray, and put in the freezer for 10 minutes, then transfer to bags and return to freezer.)

The night before you plan to use them transfer the meatballs to the fridge. Take them out of the fridge about 1 hour before frying. Don't freeze this quick Alfredo sauce! Just make it again on the day you plan to eat it.
Recipe FAQs
How do you fix a watery Alfredo sauce?
There are a few ways you can fix a watery Alfredo. Our favorite is by reducing it (cooking it longer). Alternatively, add more parm, cream cheese, or even an egg yolk.

If none of it works, simply make a roux (heat up a tablespoon or two of oil, whisk in the same amount of flour and cook 2-3 minutes), and whisk it into Alfredo.
How do thin out Alfredo sauce?
The best way to thin out Alfredo sauce is to heat it up and add more heavy cream, milk, broth, or even water. Start by whisking either one in, a little bit at a time, until you achieve a creamy consistency.
What meat goes with Alfredo?
Ground beef, chicken, and turkey. Most ground meats that are made into meatballs work. Another option are cured meats, like beef or bacon. (Although not meat, mushrooms go fantastically well with Alfredo.)
Is it better to fry or bake meatballs?
It's a matter of preference. We like them fried as they never seem to be as juicy and flavorsome when made in the oven. The oven dries them up.

(If you know of a good way of making meatballs in the oven, leave your tips in the comment section!)
Should you put onions in meatballs?
This is entirely up to you! Some people can't imagine meatballs without onions and they dice or mince them in with other ingredients. Other people don't like biting into them when they bite into a meatball so they skip it.

However, onions do add a certain sweet flavor to most dishes. So if you want the flavor without the bite, use onion powder, or add the onions to the sauce instead of adding them to the meatballs.
Ground Beef Recipes
Thoughts?
If you make today's Quick homemade Alfredo sauce with meatballs and like it, please consider leaving a ⭐️⭐️⭐️⭐️⭐️ (5-star) rating. This will help others find the recipe more easily!
You can also leave a comment, I read every one! Finally, if IG is more your thing, consider tagging us @balkanlunchbox.
Prijatno and bon appetit!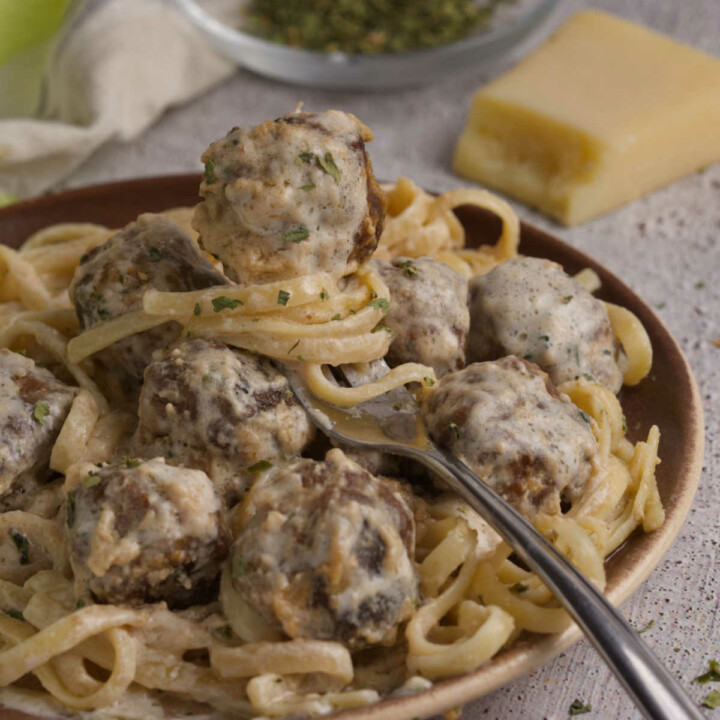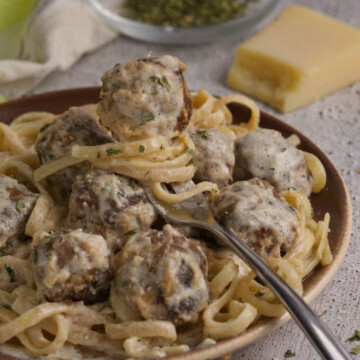 Quick Homemade Alfredo Sauce With Meatballs
Juicy, succulent meatballs in a quick Alfredo sauce. A perfect 30-min weeknight dinner!
Ingredients
Meatballs:
10

ounces

ground beef

or other meat*

1

slice

bread

soaked and squeezed well, 1-2 days old, crust removed

1

egg

2

cloves

garlic

minced

1

teaspoon

mustard

Salt and pepper to taste

or Vegeta, beef stock powder

2

tablespoons

white flour

3.5-5

ounces

oil

vegetable, or other
Quick Alfredo Sauce
9-10

ounces

heavy cream

1-2

garlic cloves

minced

2-3

ounces

Parmesan

grated

1

tablespoon

Parsley
Instructions
Form the meatballs. In a large mixing bowl combine beef, bread, egg, garlic, mustard, salt, and pepper (and other seasonings). Mix with your hand until well integrated. The meatball mixture should be on the softer side, but not too soft.* Using your hands, an ice cream scoop, or a cookie scoop, shape meat into small balls. (Size them between a large grape and a whole walnut. You'll have about 14-18.) Sprinkle a teaspoon of flour on a large plate. Transfer the formed meatballs to the plate. Once all are formed, lightly dust the meatballs over the top and sides with the remaining flour. 

Fry the meatballs. (This is a good time to start on your side.) In a medium size pan heat up the oil on high. When the oil is extremely hot add the meatballs. Fry them for 30 seconds to 1 minute on each side, slightly shaking the pan left to right so that the extra flour falls off. Lower the temperature to medium, and fry them for another 5-7 minutes (about 6-8 minutes total frying time). (Don't overcrowd the pan. Fry in batches if necessary.) Once all sides are fried, stir them for another minute with a wooden spatula. 

Make the quick Alfredo. Lower the temperature to medium low, and add the heavy cream to the meatballs. Stir continuously and bring the sauce to a boil (about a minute). Stir in Parmesan and remove from heat right away.

Serve immediately. Reheat slowly, on the stovetop. Add more heavy cream or milk if it separates or clumps up. If too thin, heat it longer. Store Alfredo meatballs in the fridge for 24 hours. Freeze meatballs raw for up to 2 months. Do not freeze this quick Alfredo sauce. Instead, simply make it again when you make your meatballs.
Notes
Side ideas: Rice, pasta, quinoa.
Step 1: The meatballs should be soft, but not fall apart. If the mixture is too soft, add some breadcrumbs to toughen it up, but just a little bit. (Dusting them with flour will also make them tougher.) However, meatballs that are too sturdy end up tough after frying. 
Nutrition
Serving:
1
of 4
Sodium:
334
mg
Calcium:
286
mg
Fiber:
0.4
g
Potassium:
383
mg
Cholesterol:
209
mg
Calories:
790
kcal
Saturated Fat:
22.9
g
Fat:
70.3
g
Protein:
33.2
g
Carbohydrates:
8.3
g
Iron:
14
mg
More Recipes to ❤️