Is there anything more revitalizing on a hot day than a mint drink (in our case mint cordial)? This syrup will change the way you make your juice, mojito, and more. Mint, water, sugar and citric acid are all you need for this sip from heaven.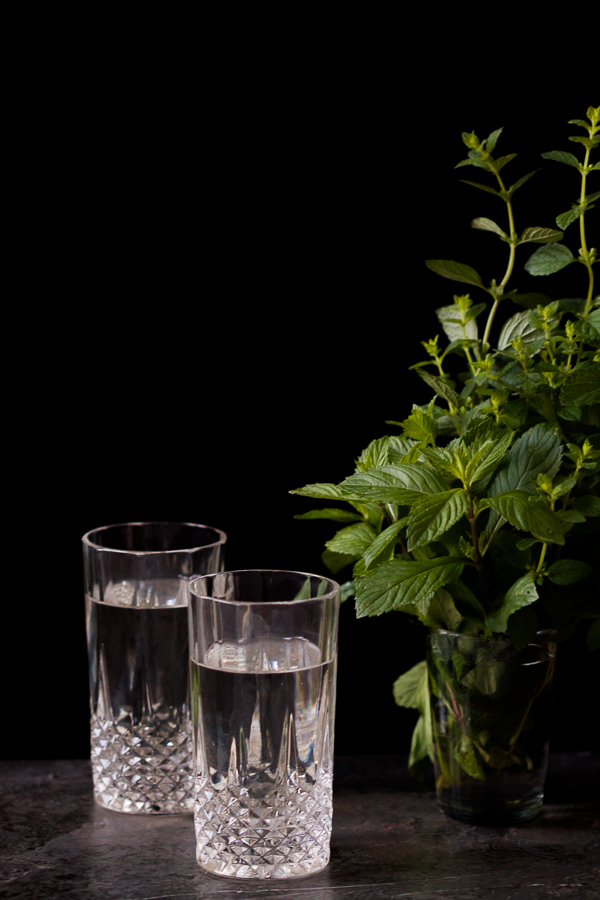 You probably noticed I've gone agriculture on you lately, with the healthy cordials (like the elderflower cordial or zova) and juices (remember the fermented juniper berry juice or smreka?) you can easily make, beverages that'll top any drink you buy at the store. Most of these plants come from my sister's garden, so really, she's to blame for today's mint cordial. (Oh yes, if you're wondering how mint tea is made, well here it is.)
A few years ago, my sister and her husband got some land just outside of Sarajevo. The idea was to build something sometime, and plant a garden in the meantime. That particular area hadn't seen a human foot in more than twenty years, so it was an adventure to conquer it for the needs of a plant garden.
The first year, it was a jungle. Incredibly tall grass, branches, weeds, and uneven ground. At least the area wasn't mined, a problem remaining from the war still affecting 2.4% of land in Bosnia. But the land at that point was unmanageable.
Armed with limited agricultural knowledge, my sister and family aka staunch city folk, had to teach themselves the land business from scratch. It was months' long process, where little by little they acquired knowledge necessary to create their own garden of Eden. For weeks they fought to clear unnecessary parts to get to the land: fertile, dark, and smooth, ready to absorb and produce. Then they made small rows, and worked them with the patience saved only for the most important life's projects, until the earth was ready to be seeded.
The seeds went in. Knowledge and garden grew in parallel to each other.
There is a tiny, raven haired lady living nearby. She has to be mentioned, this encyclopedia of a woman, who is as capable as she is smart. Because these kind of people don't happen often in life. People are the worst at being people. So when you meet a kindred soul after spending daily moments meeting ordinary people who are satisfied with just gliding through life, it's a fantastic feeling.
My sister met the raven haired lady when she bought the land, and quickly took to her. The rest of us also, fell in love with her from the moment we met her. In fact, everyone who knows her loves her. (Except a demented old man from the neighborhood who shot her up with an AK47 during war. But he hates everyone. And everyone hates him, so it's even. By the way she survived just fine.) I've met her just a few times, but after each encounter I return elevated as if I was just in presence of divinity. There isn't a question about plants, the area, agriculture, building or just plain old life, that she doesn't know how to answer in an understated "oh you can easily do that" kind of way.
Did you know that butterhead lettuce sprouts need to be separated and given their own space as soon as they come up? Otherwise they'll proliferate and there won't be enough space for them to grow. Or that the tall beanstalks really do grow as fast as in the Jack and The Beanstalk story? And they have to be watered every three days, although you have to watch out not to spray the leaves as they'll dry up and turn yellow?
And that mint overtakes a garden completely.
A few weeks ago, we went to the land, and stopped by the raven haired lady's house to say hello. She'd been up since sunrise. A few of our ordinary days fit into one of her days. She already went to the city to complete some paperwork, returned, prepared food, cleaned the backyard, watered her garden, walked the grounds, helped older neighbors collect hay, scared away a viper, made plans with other neighbors for community development, worked with the workers on a nearby building, checked on sister's garden, and filled several big buckets with water for us. When we arrived in the evening, she was happily chirping away in a beautiful blue summer dress that made me think of a fairy.
I mentioned I was looking for some mint. Without question she went to harvest the plant in batches from her garden. While the refreshing smell of mint spread around us, I was worried she wouldn't have enough left for her. She said not to worry, to pick plenty enough to make a mint cordial.
For, all the mint you pick will return in a few weeks, with a vengeance.
Like land, and like people. No matter what is done to us, no matter for how long, we spring back. That's our function.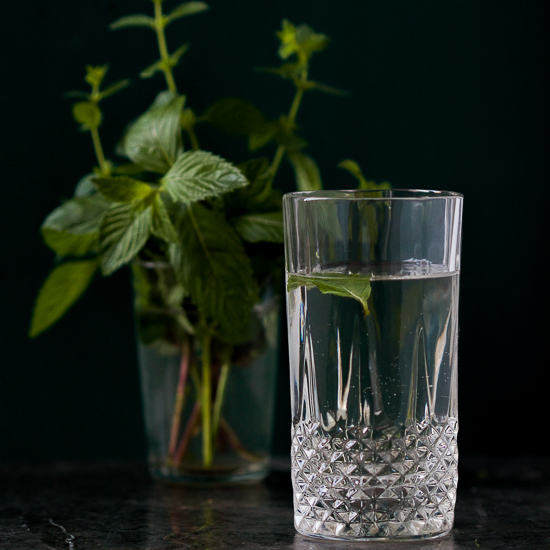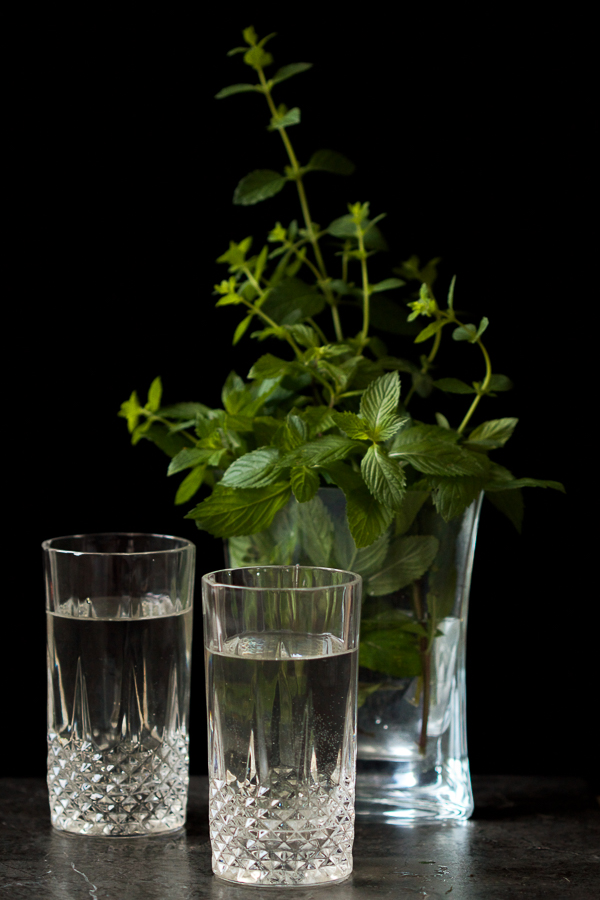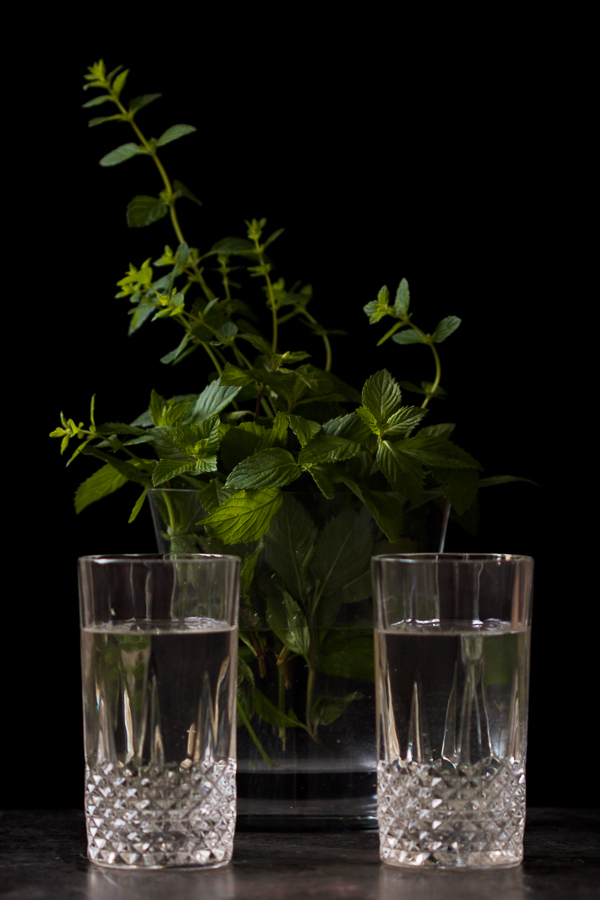 Print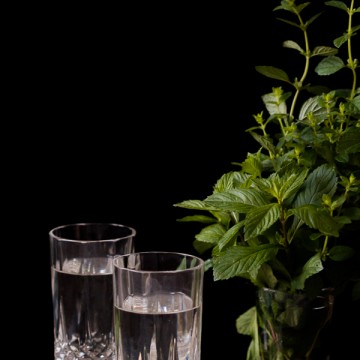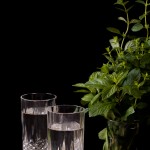 Mint Cordial (Djus od Mente)
---
3

-

4

pounds sugar

68 ounces

water

½ teaspoon

citric acid powder

1

pound fresh mint leaves
---
Instructions
Pour sugar into a larger pot and add water. Bring to boil on medium. Immediately bring the temperature down to lowest, and simmer for 30 minutes. Stir occasionally with a wooden spoon.
Take pot off the stove and add the citric acid in. Stir again.
Wash mint leaves and (optional) cut them into smaller pieces. Put them into the syrup, and put the lid on the pot. Leave out for 24 hours.
The following day, heat oven to 250F. Take two 1-liter glass bottles and wash in soapy water. Rinse, pat dry and line on a thin pan. Place in the oven for 15 minutes. This will sterilize them.
Take the bottles out carefully. Transfer syrup into bottles through a strainer or a gauze. Keep the syrup in a cold and dark place for up to a few weeks.
When ready to serve, add 3-4 tablespoons to a cup and top with mineral or regular water.
---
Notes
Adjust the amount of sugar to taste. Add a little more citric powder for a stronger flavor.