Zucchini pie is a savory pie with a refreshing kick, made with phyllo and zucchini cubes.
We've made a lot of pies together, haven't we?
There was the spinach pie, ground beef and potato pie, and homemade Balkan phyllo (jufka or tijesto). We've even done the crustless pie.
Today's pie won't surprise you as far as preparation goes. Appreciating its taste, however, can go either way. You'll love it. Or you'll hate it. There is no middle when zucchini pie is in question.
Good news is that most people love it.
I don't. But I make it well. So I make it for my family, who do.
If you'd like a description this is it: zucchini pie is a savory pie with a refreshing kick at the end. It's prepared just like the cheese pie, except you subtract some cheese and add zucchini cubes. (Alternatively, you can grate zucchini, but it tastes better if you dice it. It also takes longer. But most things that taste better, take longer to make.)
The trick is to peel zucchini (don't even think about keeping the skin on), and dice it into the smallest cubes you can. At this point garnish it with plenty of salt, and leave aside for at least 30-45 minutes. This process gets zucchini to sweat out a lot of its liquid.
Stews (such as Balkan ratatouille), are best with fresh, juicy, garden vegetables as they make that lovely sauce we dip our bread in. Pies though, are a different animal. They're better with drier vegetables. Some water content is welcome. But too much water doesn't make the pie soft, as one would think, but instead turns the pie watery.
Zucchini has a high water content. A really high water content.
Or maybe it just seems that way because at the end when you wash the salt off the zucchini cubes, and then squeeze each handful hard before transferring it into a dry bowl, it's as if you're squeezing a sponge from the bottom of the sea.
So another trick to get it to be drier is to look for for older zucchini at the end of the zucchini season. Late August that is, if you're getting yours at a farmer's market. If you get it at a supermarket, your guess is as good as mine.
If you make this pie, let me know what side you come out on.
Love it? Hate it?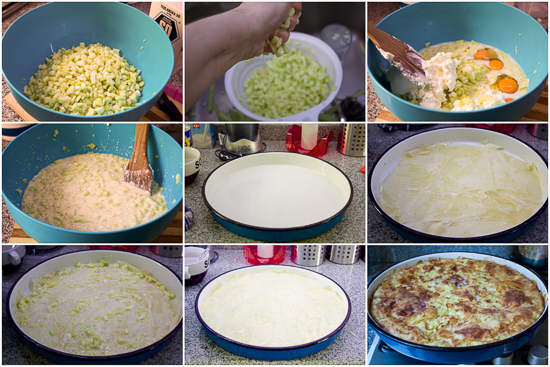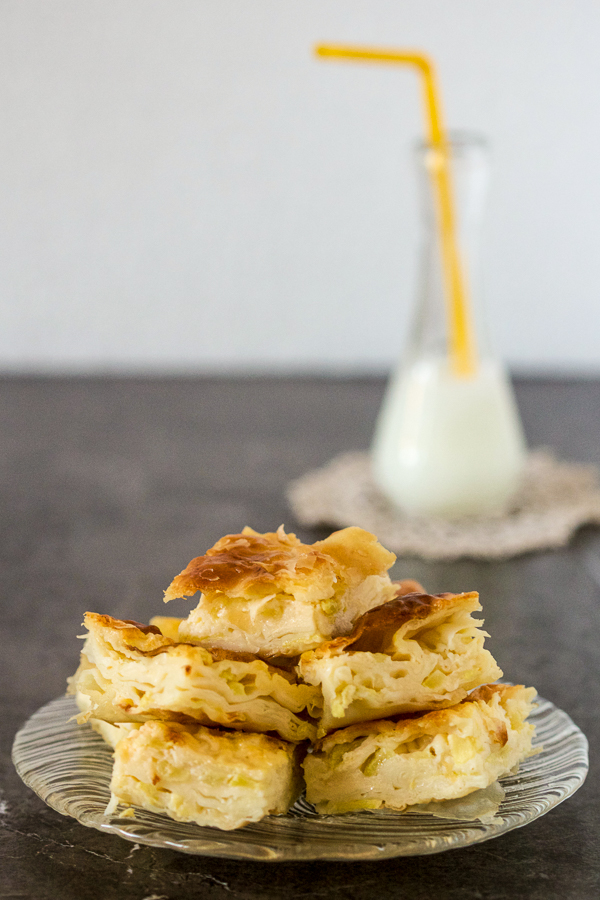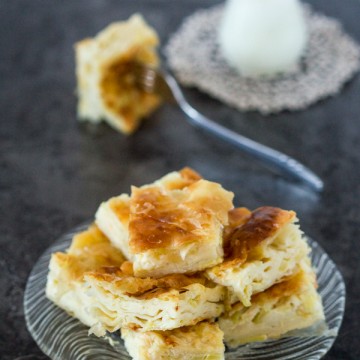 Zucchini Pie (Tikvenica)
Ingredients
4

zucchini

smaller, preferably older

4

eggs

4

ounces

cottage cheese

4

ounces

sour cream

4

ounces

milk + a couple of tablespoons more

1

pound

phyllo sheets

½

teaspoon

seasoned salt

Oil

Salt
Instructions
Peel zucchini, then dice into very small cubes. Place cubes in a bowl, and garnish thoroughly with two, three handfuls of table salt. Leave aside for at least 30-45 minutes until zucchini sweats out the water.

Wash the salt off zucchini cubes, and squeeze liquid from the cubes as much as possible, and then place back into a dry bowl.

Add eggs, cottage cheese, sour cream, milk and seasoned salt to the bowl with zucchini cubes. Mix everything well. Heat oven to 390F.

Oil a baking pan. Layer 3 phyllo sheets on top of each other in the pan, brushing each with oil before adding the next layer. (If phyllo is larger than the pan, fold it on the sides until it fits.)

Grab 5-6 tablespoons of the filling and spread evenly over the top sheet. Layer 2 sheets on top of the filling, and brush each with oil before adding the next layer. Repeat until you run out of the filling and phyllo, making sure to leave 3 sheets for the top of the pie.

Place zucchini pie in the oven and bake for 30 minutes, turning the pan around halfway. Lower temperature to 350F and bake another 10 minutes.

Take the pie out of the oven, and spray with a few tablespoons of milk. Leave to cool for 20-30 minutes, then serve.
Notes
Preparation itself is about 45-min (about 15-min to dice zucchini, and about 30-min to later layer the phyllo with it). However there is a 45 minute wait for salted zucchini to sweat out the liquid.
Baking pan used for the recipe was a round one with a 14-inch diameter.
Consume the same day. Zucchini pie is not good overnight.