Compote: a combination of dried and fresh fruit, cut and stewed in water with sugar and cinnamon, until the sweet spot right before disintegration when we impatiently pour it into cups hot just like that. Or we wait for it to cool off in the fridge.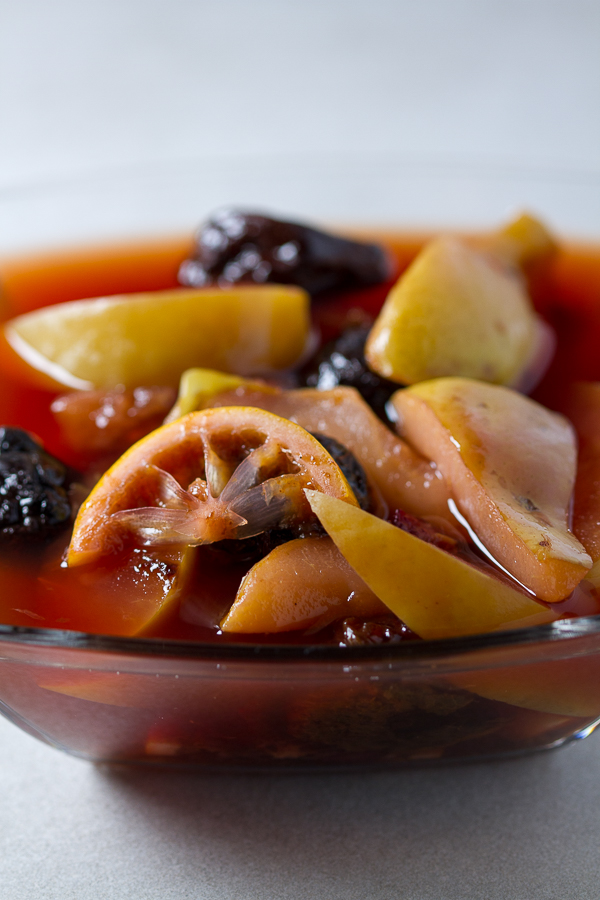 Compote or stewed fruit, is the perfect solution for the fruit you've picked at an orchard this fall. You know, the apples and such you had huge plans for but life got in the way. Now they're sitting on the kitchen counter inducing deep guilt every time you pass them by.
So let's squash the guilt by making something tasty, something easy, something quick. Compote. (OK, if you have strawberries, I'll let you get away with strawberry sauce.)
You know, I almost forgot about compote. I hadn't had it in years until this fall. Compote (kompot) is stewed fruit with a couple uncomplicated ingredients, usually served cold. It's a dessert you reach out for a couple of hours after you've had your main meal, while you're sitting down with a good book. It's a comfort dessert, but in a less-of-a-fruit-salad and more-of-an-iced-tea kind of way.
The closest I've seen it sold is as fruit cups. But those are full of unpronounceable components, and taste 'plastic-y' at best, I wonder why people don't make it at home more often. It is incredibly simple to make, that I won't even include the preparation process photos I usually do with posts. (You get the video though.)
I used to have compote a lot as a kid. Every weekday I stayed with my grandparents during working hours. Kindergarten was optional so most kids my generation spent their pre-school years with family. I spent the days napping, pretending to sell violets in the park in front of their apartment building, and exchanging my kengurko (a toy more even ridiculous than pogo) for a few laps on my friend's big-kid bike.
Best time ever!
Back then children played outside all day. That's not to say we weren't watched. Indiscretions got back to the grandparents before we stepped into the house. As is customary everywhere in the world, our grandparents did issue us the warning not to take candy from strangers. But we blackmailed them right back, demanding more candy so we wouldn't have to beg a proverbial stranger for a sugar high.
My grandmother was not one to be outdone, however. She quickly retaliated with a photo of a two-headed baby she cut out of the newspaper's weird occurrences section. Every time she'd have a hunch I was bad - and she was quite good at this - she'd slowly pull the photo out of her purse and shove it in my face. (She definitely had her own grand-parenting style, like the time she told me I'd grow a tail if I drank coffee.)
Grandma had a soft spot for me though, and she expressed a lot of it with food. She made compote better than anyone in the world. I ate it at the end of my "work" day, sitting on the balcony waiting for my parents to pick me up, as I schemed the next day's adventures.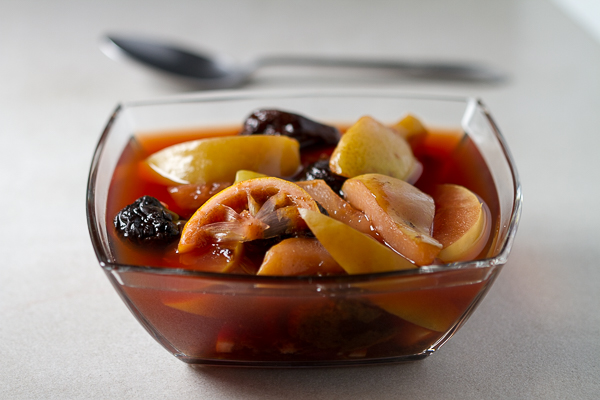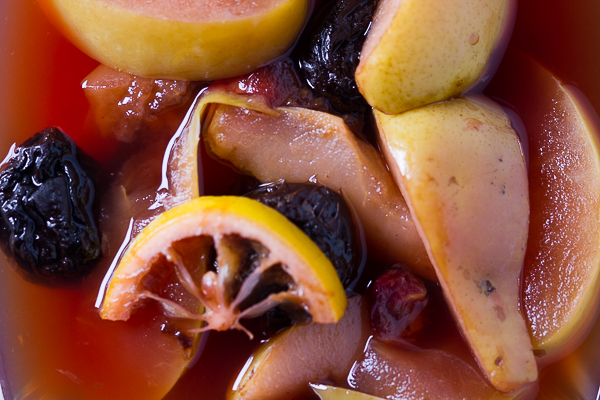 Apple Compote/ Stewed Apples Recipe (Kompot od Jabuka)
Ingredients
1-2

medium apples

1-2

medium pears

7-8

ounces

dried plums

3.5

ounces

sour cherries

3.5

ounces

sugar

2-3

lemon slices

¼

teaspoon

cinnamon
Instructions
Wash all fruit. Cut up pears and apples into slices or chunks. Put all the fruit into a deep pot and cover with 5-6 cups of water. Bring to boil on high. (You're welcome to peel the fruit if you wish.)

Add sugar and cinnamon, lower to medium and cook an additional 30-40 minutes, or until the fruit is soft. If you like your compote less thick, keep the water level even by adding some water throughout.

Serve compote hot, or keep in fridge until it cools down.
Notes
Compote is best right out the fridge the following day.
This is one of those where you can let your imagination run wild. You can add different fruit and subtract other. The most basic form includes just apples and prunes (dried plums), and just as delicious.