Braided sweet bread: a soft milk based dough (optionally filled with raisins, dried fruit or chocolate), painted with egg yolks and baked until golden. It's time we bond with bread again.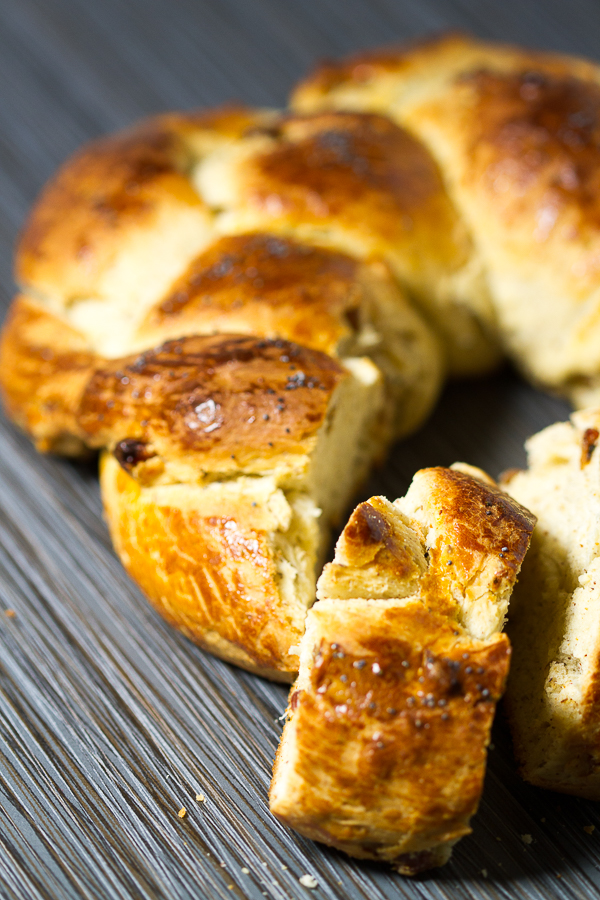 (BOSANSKI)

Braided sweet bread is universal. It'd be a tough ordeal to find a culture that doesn't have a version of it in its repertoire. Assessing the roots of this soft comfort food, then, is as difficult as figuring out the origin of bread, pogacha or crepes.
What's curious though, is that for all of its prominence, this braided sweet bread waits for the holidays (usually Easter), to show up on our dining tables.
I say we put it back in the regular rotation!
***
Overheard in Sarajevo taxis
You went to that elementary school too? Remember ... [son of a known folk singer]? He'd give us 10 dinars to buy him a hamburger, but we had to bring back 9 dinars of change. Except the burger cost like 5 dinars. So all the kids on the playground would empty their pockets to find the additional 4 dinars so that we could give back the 'right' change to him. Those were the days.
*
My shift is 6am to 6pm one week, 6pm to 6am the next. I like working nights. Same money, same people, in case you were wondering. My days get screwed up though. You can't beat nature. It's decided that the night is for sleeping. That's why people in the Nordic countries are depressed. They have nowhere to go when it's night for six months. They have everything. Healthcare. Jobs. Money. 3,000 euros monthly at least. But only an immigrant can enjoy this. He works all year and then comes to Bosnia to spend his money. He sees the sun. You see how happy people are when the sun comes out? When it's raining, everyone is in a bad mood. But when the sun comes out, everyone smiles.
*
What's happening at the theater? Oh, I don't go. I'm always working. When I'm not, I'm too tired to go anywhere.
 *
It's a circus. Look at this. All of this traffic, stopped for one asshole politician. If he came to town without fuss and took a cab to his hotel like a normal person, no one would care. They wouldn't even recognize him. No one would ask him for his name. This is Sarajevo after all. But they make his arrival  into a circus with a convoy of cars, make a chaos in the city, and piss people off. Then they're surprised when shit happens.
*
When I was in school this kid and I had an agreement. I'd buy us school lunch and he'd buy us a snack every day. Lunch back then was a quarter of a bread cut in half lengthwise, stuffed with Parizer [Balkan bologna]. He'd leave the store ahead of me. It took me a while to figure out I was the only one paying for food. He had this jacket with inside pockets where he stuffed the chocolates and candy. I didn't even see him do this, how could the store clerks?
*
I don't drink soda. I drink water. I also drink, of course, all homemade juices. Can I find a juice recipe on your blog?
*
My wife and I agreed she'd stay home until the kids go to school. She has a hard time with it. We still fight about it sometimes. She's got a masters in economics. I said I'd work as many shifts as it takes to exchange her salary. She and I have what we need. What's important are the children. No, she's not happy about it. But only three more years until the younger one goes to school.
*
This one time mom couldn't go to the parent-teacher meeting so she sent my big brother to get his grades and bring them back. His homeroom teacher wrote the grades down, and signed the sheet. His grades were baaad! 1,2,2,3,1… So he threw her note into the river and told mom the teacher was too busy. Soon after we saw the teacher. Mom asked her about the grades. My brother had to admit to destroying the note. Right then and there the teacher slapped him across his face. "You threw my signature into Miljacka?"
*
You called Memo taxi? Memchi? Memito? Mamasito? That's us! Tell me, which way do you want to go? By the train station or the embassy? You decide. Today is your day!
*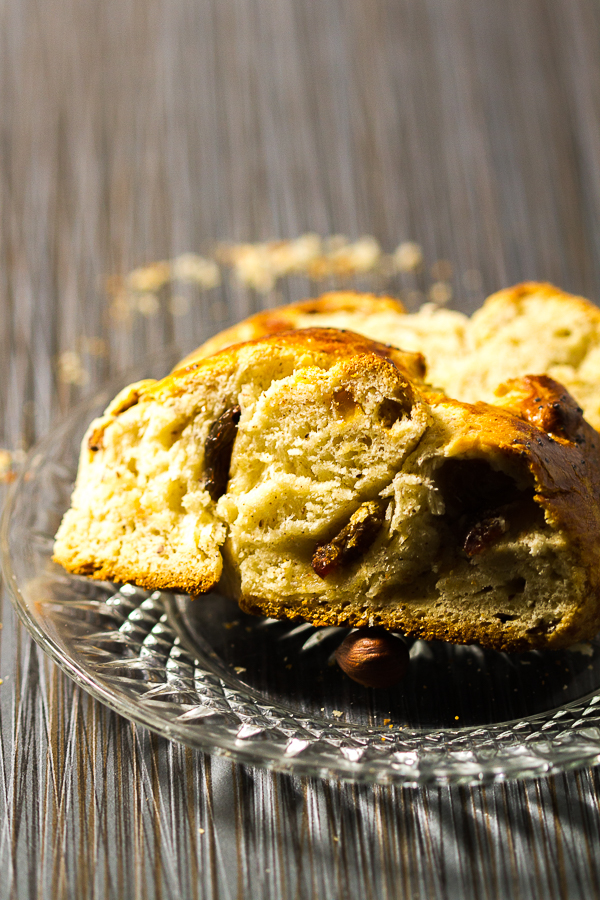 Print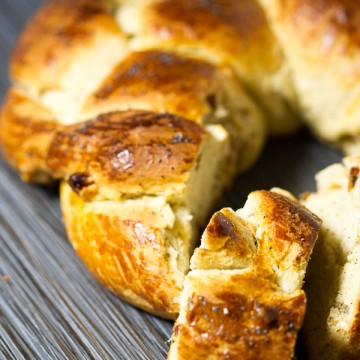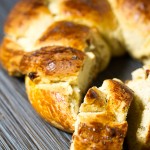 Braided Sweet Bread
Author:

Balkan Lunch Bread

Prep Time:

30 mins

Cook Time:

40 mins

Total Time:

1 hour 10 mins

Yield:

6

1

x

Category:

Breads and Pastries
---
1 teaspoon

baker's yeast

1 teaspoon

sugar

1 teaspoon

warm water

16 ounces

white flour

1 teaspoon

salt

3.5 ounces

sugar

½ teaspoon

vanilla extract

3.5 ounces

ground hazelnuts

3.5 ounces

raisins (or dark chocolate, or other dried fruit)

3 ounces

melted butter

2

eggs

7 ounces

warm milk
Poppy seeds to taste

1

egg yolk
Oil
---
Instructions
Stir up yeast, sugar and warm water in a small cup. Set aside for 10 minutes, or until the mixture starts to rise.
In a larger bowl, combine flour, salt, sugar, vanilla extract, hazelnuts, and raisins, then stir everything well. Add the yeast mix, butter, and eggs. Combine thoroughly, and start adding milk as you start making dough. Knead until everything is one homogenous mass of medium toughness. Cover with a kitchen towel and set aside to rise for an hour.
Sprinkle working area with flour lightly, knead the dough again and divide into 3 equal parts. Heat oven to 350°F (175°C).
Knead each part of the dough, and stretch out into a 24 inch long snake. Repeat for the other 2. Pinch the ends of all three dough snakes together, and braid tightly. Circle around until you get a 'wreath'. Place in a round, oiled baking pan. Mix egg yolk with a little bit of oil and paint the braid with it. Sprinkle with poppy seeds and place in the oven.
After 10 minutes, cover with baking paper. Bake another 15 minutes, then lower the temperature down to 340°F (170°C). Bake for the final 15 minutes.
Take the braid out of the oven and cover with a kitchen towel. Let rest for at least 10 minutes before consuming.
---