Apple crumble cake: a divine, four layer cake straight out of my mom's kitchen.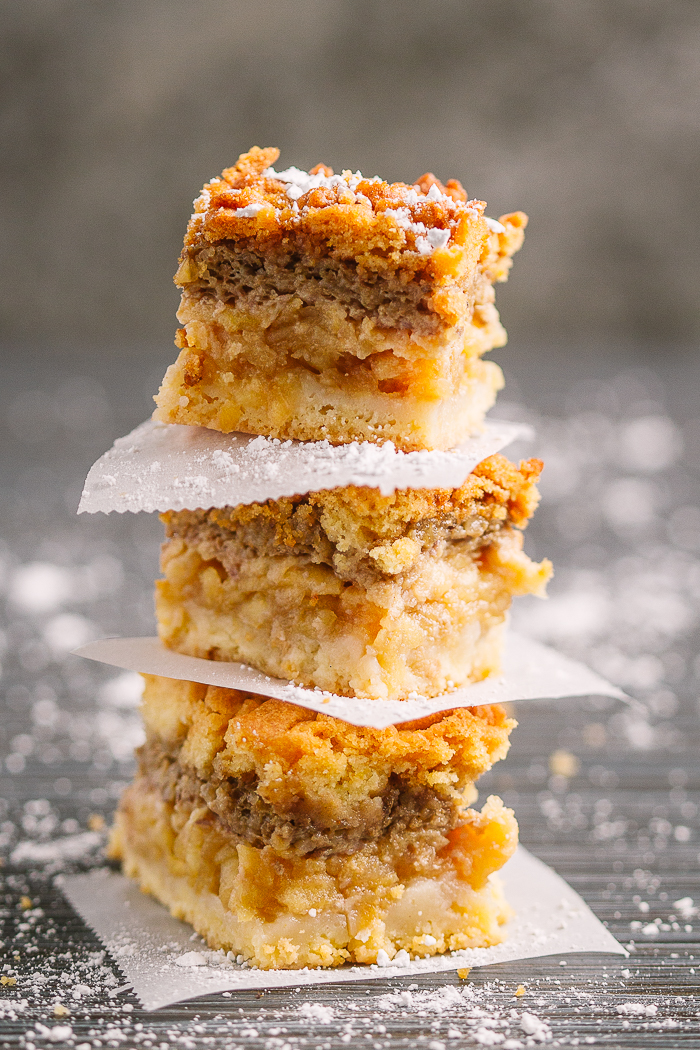 A friend recently told me he paid $10 for two pounds of apples. He works for the UN in Africa. When he returns to work from a vacation back home, instead of clothes he brings suitcases full of Granny Smiths.
Meanwhile, my fruit bowl overflows with fruit most of which meets its natural demise before I remember to eat it.
This never happens at my mom's house. If she hasn't consumed it, as soon as she sees fruit approaching ripeness she thinks of a way to use it. Getting back to apples, there are always some of them laying around. And so there is always an apple dessert somewhere around the house. My favorite is the apple crumb pie.
Sometimes, when I like a dessert as much as I like mom's apple crumb pie, I don't want to know how it's made. I want the magic. I don't want to know how Copperfield does it. I'd rather be seduced by the work, devour the (literal) fruits, and enjoy the drama of it. (Tangent: did you know Copperfield turned 60?)
Do I need to know why and how croissants come to be as flaky and soft as snowflakes? Do I need to know how macaroons get that slight crunch while still melting in your mouth? I'm sure butter and eggs have something to do with it, but I don't need to know. I don't want to feel cheated with its simplicity.
Except, sometimes I do.
Sure, after we leave the domain of childhood there is only so much magic left in the world. So we like to travel and discover it in different cultures. Then we realize they're much like us. They like good food. They want to accomplish something. They want to hug their mom every once in a while.
That's still magic, right? Even the uncovered trick doesn't make it less mesmerizing once you do it yourself.
And of course, there is the obviousness of running a blog where my job is to tell you the secrets of one or the other dish. So, really, how can I talk about keeping a secret secret?
The more time you spend on the blog, the more you'll realize there isn't a structure to the vignettes. Sometimes they're all about food. Sometimes they're about Sarajevo. Sometimes about DC. But they're not straightforward.
I like to think of this space as a scrapbook. There is a little bit of everything, but mostly about food. And I'm a recipe collector, terrified to let things to to the domain of the forgotten. And thus jumps from Africa to Copperfield, back to apples.
In magic revealing fashion, here we go. There are several parts to this dessert.
There is the buttery, egg yolky, dough that half of which goes on as the bottom layer. Then there are the apples. Sweet, squeezed, grated apples. And on top of them there are beat egg whites combined with what else, but walnuts. And jam. Top, fourth layer is made by grating remaining half of the dough over everything.
It's baked, or rather dried, slowly, like baklava.
But it's as far from dry as you can imagine, and it requires no simple syrup. The apple sweats, moistening the middle of the cake, while egg whites and walnuts combine for the easy, light, fluffy layer before the final, grated round of dough.
I can't say enough great things about this cake. It requires some effort, yes, but the final product is worthy of any pastry shop. Golden yellow, soft with a light crunch, rich. It keeps well for a few days in the fridge. If it's too much of a good thing for you, you can mellow the richness with vanilla ice cream, or whipped-cream.
Word of advice: I wouldn't serve it to guests because you'll be jealous they're consuming all your hard work. 🙂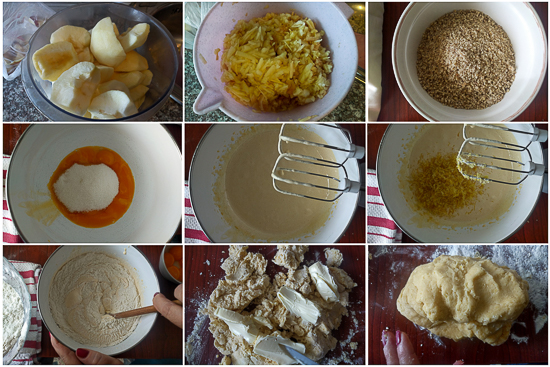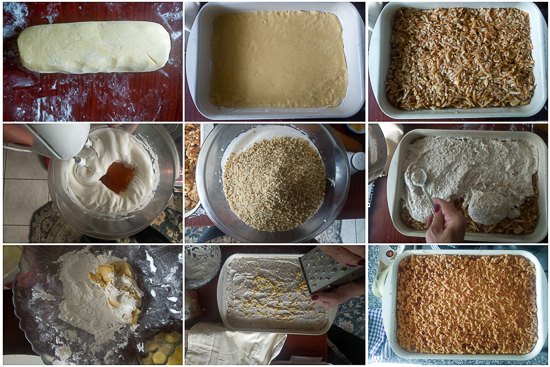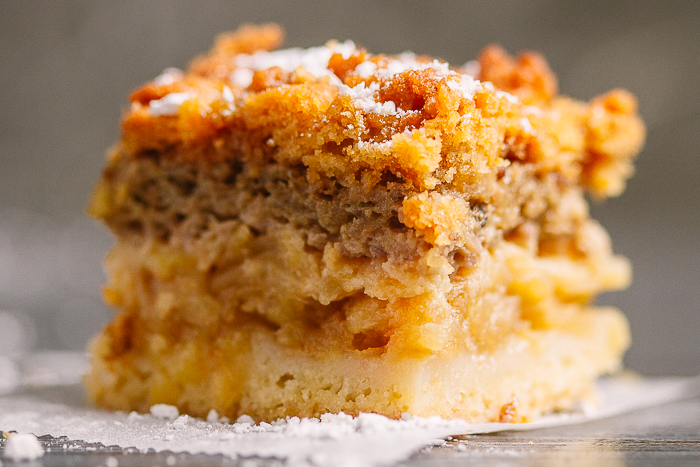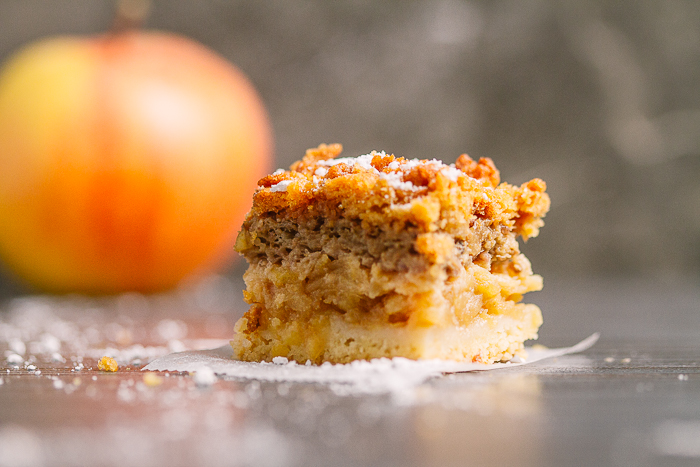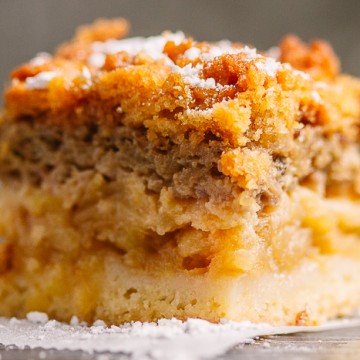 Mama's Apple Crumb Cake
Apple crumb cake: a divine, four layer cake straight out of my mom's kitchen.
Ingredients
2

pounds

fuji or gala apples

or other sweet apples
Cake:
4

egg yolks

3.5

ounces

white sugar

1

lemon zest

10.5

ounces

white flour

1

teaspoon

baking soda

5.25

ounces

butter
Filling:
4

egg whites

5.25

ounces

white sugar

5.25

ounces

walnuts

3

tablespoons

apricot marmalade

½

teaspoon

vanilla extract
Instructions
Peel and grate apples. Squeeze them in batches to get the juice out, and then transfer to a medium sized bowl. Grind walnuts.

In a large bowl, combine egg yolks and sugar. Mix with a hand mixer until completely integrated. Add lemon zest and mix again. At this point turn off hand mixer, take up a wooden spatula and start adding in flour and baking soda to the mix while integrating everything together. When it toughens, sprinkle some flour on your working area, and transfer the dough onto it. Work your dough, and add the butter in until you get a smooth, tough but soft mass. Divide into two parts.

Take the first half of your dough and roll it out with a rolling pin until it fits the bottom of your baking pan (approximately 8.5inches x 12 inches in size). Sprinkle the pan with a little bit of flour, and transfer the dough into it. Spread grated apples over the dough evenly.

Make the filling by mixing egg whites until stiff. Add sugar, ground walnuts, marmalade, and vanilla extract. Continue mixing until integrated. When done, pour evenly over grated apples.

Heat oven to 350°F. Take the other half of your dough and grate over your cake. Place the baking pan in the oven and bake for 50 minutes. Turn around about half-way through. If it starts blushing, cover with foil and add a little bit of baking time at the end.