Hash Brown Bacon Pie is  exactly what it sounds: heavenly tasting grated potatoes, combined and baked with bacon bits. 
Is there anything more comforting than a meal waiting for you at the end of a long day?
A few weeks ago I went to look at upholstery fabrics. Mom gave me a beautiful French sofa, a dark wood piece outfitted in turquoise blue with gold stripes. It was more ceremonious than my spartan spirit can take (this is obvious if you look at my photos - I have a hard time styling with more than two props at once) so she contacted an upholsterer 'on good voice': a reputable, sought after expert, aka the weirdest guy I met in a while.
He came dressed like a Balkan gangster from every movie about Balkan gangsters you've ever seen: a two piece sweatsuit which may or may not have been Adidas. He arrived within a minute of scheduled time which I took as a good sign. I love when people arrive on time. (This rarely happens in this part of the world. Or anywhere.) He came carrying a carryon on wheels, which he quickly opened to show us a collection of fabric samples, like a girl who collects napkins and takes them out of the shoe box in order to show you each, one by one. I hated every sample which I took as a bad sign.
My feelings were mixed further when the upholsterer told us to show him the sofa, and had us step back as if he was de-mining a field, and we some curious bystanders. (Remember the IT crowd episode where they defuse the bomb?) He measured the sofa with exactness of a surgeon as if being a cm off would mean the difference between life and death, told us exactly how much fabric I'd need, and to contact him immediately once I found the one I liked. Under no circumstances were we to buy it then and there. He would go, inspect it, and get the piece with no faults in it. (Did you know that faults in fabrics are a common thing? And that getting a faulty piece, no matter how small the fault is, will mean you'll be decimate a sofa? Neither did I.) He was already insulted I was changing the quality turquoise and gold sofa fabric, so I was not to mess with the fabric gods more than necessary. He arranged to take the sofa in a day or two, and was off.
So now we're back at the beginning of the story, where a few weeks ago, I'm taking a look at upholstery fabrics. Originally, I went with mom, sister, and mom's friend. We took mom's car. The car decided to break down in the middle of Sarajevo. I hate that car.
Dark smoke rushed out of the hood. Mom's friend encouraged mom to "pump the gas. A good run of the motor will get it working again." After the good run of the motor to get it working again, something exploded in the car.
We called the equivalent of AAA in Bosnia, and the guy arrived at the exact time as my mom's friend's husband, who is a car mechanic who owns a car mechanic store. The equivalent of AAA in Bosnia guy was confused as to why we called him, as my mom's friend's husband and my mom's friend - whose unspoken stance was that being married to a mechanic is enough to know all about mechanic-ing cars - decided the car would be taken back to their store and fixed. My mom's friend's husband also kindly agreed to take us to the upholstery store.
Now a digression. My dad was a talented artist on the side. Extremely talented. I inherited zero talent for painting and drawing. But I did get his eye for aesthetics. This compulsion, ahem gift, I take no credit for. It's like what happens to the girl in Pattern Recognition by William Gibson. She's hired by marketing departments in successful companies as she has an almost allergic reaction to brands. She can't stand any. Even her clothes have to be void of logos and markings. It's also her tell sign. When marketing executives see her scowl they know they have a hit on their hands.
My gift is kind of like that, except, I am allergic to things that are not of high quality, or do not possess an aesthetic component. I've gotten headaches before sitting in places, and have moved people's furniture around uninvited before. Also, I can't tolerate people recommending things to me if they're fabric, furniture, or clothes related.
So it was a dangerous mission when mom, sister, mom's friend, mom's friend's husband, and a compulsive me, arrived to the fabric store in mom's friend's husband's car that runs so nicely. I got a few moments of peace when mom and mom's friend went to take a look at some flowery fabrics that were assaulting my senses, and I felt like a guy kicked in the nether regions. I quickly decided on a beige velvet upholstery fabric (the gift works fast if the circumstances are right), took a few snaps for the upholstery guy, and gathered our crowd to head home.
By then I was starving. It was raining in Sarajevo. It was cold. I wanted to snuggle under a blanket and sleep. But mom's friend insisted we come in for a cup of coffee. It was one of those situations where you can't say no so we came in, and she served us a hash brown bacon pie (titkuš) she made earlier. (She's a fantastic cook by the way.) It was the first time I ate it, and it was comforting, filling and tasty. It's basically a hash brown pie (kljukuša) with bacon. (In a way, similar to the crustless spinach pie and perfectly paired with Shopska salad). It was just the right thing for a rainy afternoon with no spring in sight.
By the way, the gifted me sent the wrong fabric serial number to the upholstery guy. Instead of beige, the couch got a light gray velvet facelift. He did it with a lot of care however, and I could see the couch also was satisfied. The only thing he omitted to do was to keep the old striped fabric for mom. Maybe it's weirdness, maybe that's how he plays it. It's perfectly possible the old fabric is covering some other chairs in an antique shop. I don't mind though. The old paves the way for the new. And the strange folks are generally those who get stuff done right.
The couch is beautiful and I'm sitting on it and eating titkuš right now.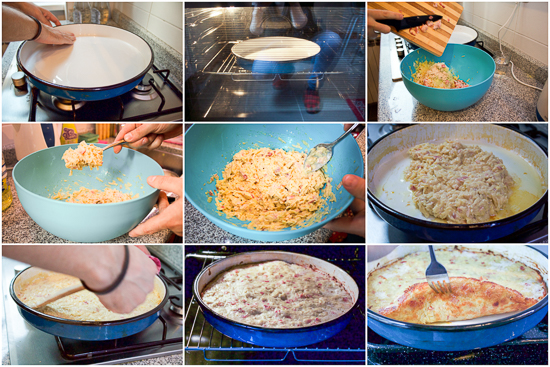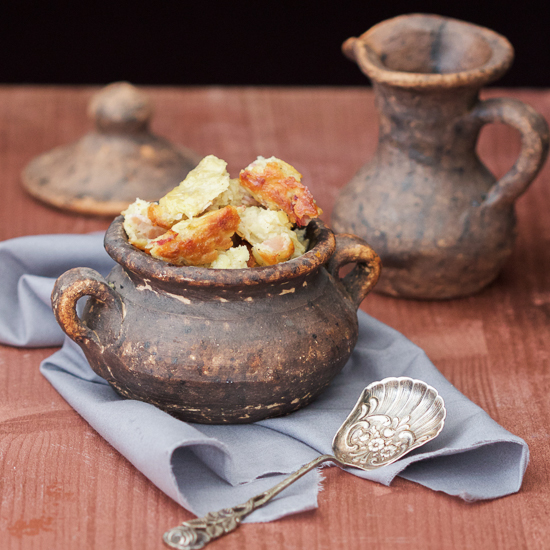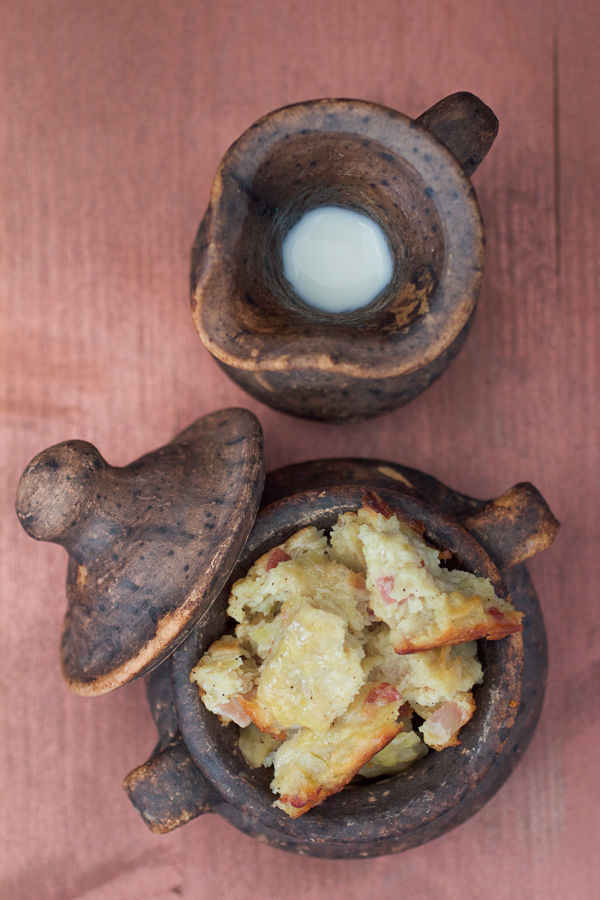 Print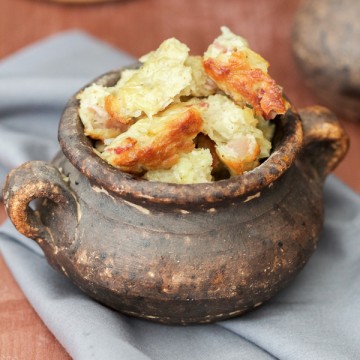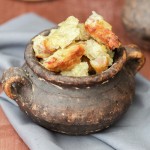 Hash Brown Bacon Pie
Author:

Balkan Lunch Box

Prep Time:

10 mins

Cook Time:

30 mins

Total Time:

40 mins

Yield:

4

1

x

Category:

Main Course
---
4

potatoes (medium)

2

yellow onions (small)

2

eggs

4

-

5

pieces of bacon (minced, or dried beef)

3 tablespoons

milk

6 tablespoons

white flour

½ teaspoon

baking powder
Salt and pepper to taste
(Optional) Buttermilk, yogurt or milk with 1 minced garlic clove
---
Instructions
Heat oven to 390F. Oil a baking pan (the one used here was 12 inches in diameter), and place in the oven to warm up. (This will prevent the stickiness. If it starts to smoke up while you're preparing the ingredients, take the pan out, and add a little more oil.)
Peel and grate the potatoes and onions and place into a bigger bowl. Mince bacon and add to the bowl with the rest of the ingredients. Combine and mix well. Carefully transfer the mass into the hot and oiled baking pan, and even it out so it's the same thickness everywhere.
Bake for 20 minutes at 390F turning the pan around about halfway. Then lower the temperature to 360F and bake for another 10 minutes. (Total baking time is 30 min.)
Take out, and spray with water lightly. Leave to cool a little bit, then break into parts with your hands. If you like, soak in milk, buttermilk or yogurt, and add minced garlic.
---