Back in June I contributed an article to Chef's Pencil. Topic centered around recipes that don't make it on the usual 'Top 10 Bosnian Dishes' lists (but should!). Chef's Pencil is an unusual food website. It's not a recipe aggregate, nor a website authored by one person. Instead, the site shares experiences from chefs from all walks of life. BLB and CF follow the same content creation approach.
Quality trumps quantity. Always.
I now have a chance to reciprocate, so the article below is by Chef's Pencil's Corina. It focuses on Croatian food scene and its top chefs. (Naturally, Croatian cuisine is an integral part of the Balkan cuisine, and here on BLB you can find many Croatian dishes.) Hope you enjoy learning about today's Croatian chefs, and if you have a little bit of time you should out CP.
Croatian Food Scene and Top Croatian Chefs
Food lies at the very foundation of a country's cultural identity and Croatian cuisine is deeply rooted in Croatians' way of life. Croatia has a diverse cuisine and in the past decade or so it has transformed itself into a veritable foodie destination.
The fact that Croatia has become a hugely popular tourist destination (yes, it's a gorgeous country!) helps a lot, and it has propelled its food and restaurant industry to the new heights.
Croatia prides itself on having 70 restaurants listed in the exclusive Michelin guide, seven of them earning the highly coveted Michelin star. No small feat for a country of just 4 million!
Croatian Cuisine and Dining Scene
Croatia boasts an amazingly diverse cuisine. Due to its geographical position, its cuisine is influenced by Mediterranean cooking, which involves plenty of fresh ingredients. Neighboring Italy has itself left a mark on this nation's cuisine, especially along the coast where you'll encounter myriad dishes based on fish and seafood.
At the same time, there is an equally rich Central & Eastern European heritage that can be seen especially in continental Croatia; these influences translate into dishes such as soups, stews, and goulash, and many other different meat specialties.
If we were to split the Croatian territory into regions based on the dominant gastronomy, we'd get three main regional cuisines: Istrian – strongly tied to the Italian tradition and boasts some of the best truffles in the world together with excellent wines; Dalmatian – based on fish and vegetables; and Slavonian – where meat, fish, and paprika predominate together with different other dishes inspired by Central European, Hungarian, and Viennese cuisine.
Croatia has a lot to offer in terms of dining options. You can find all sorts of restaurants here, ranging from humble eateries and family-run restaurants to modern Michelin-star restaurants. The Croatian dining scene is as varied as their cuisine and lots of improvements have been made over the past few years as the country has become one of the prime European tourist destinations. Let's dive deeper into the current state of the Croatian food scene by hearing what top Croatian chefs have to say about it.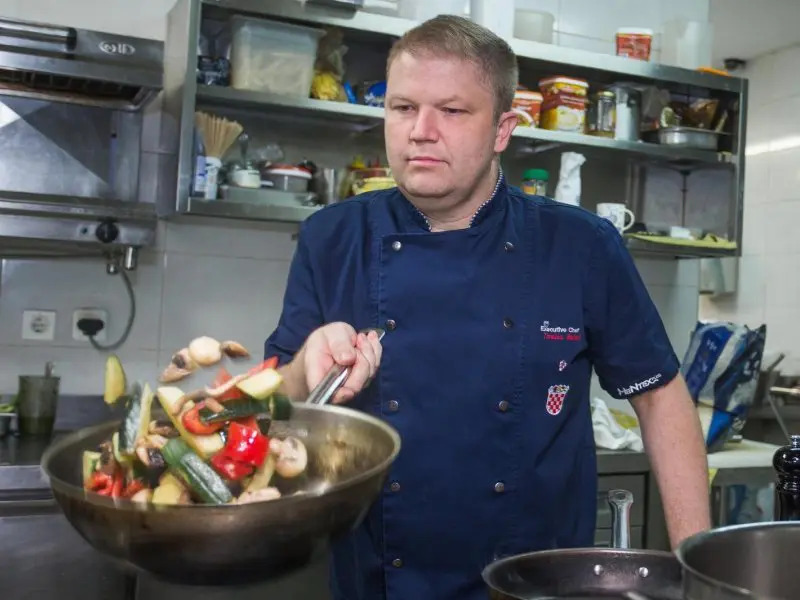 Chef Tomica Đukić
Tomica Đukić is Head Chef at Hotel Osijek and chef to the Croatian National Football Team. His passion for cooking and the skills he's acquired over the years have made him one of the key contributors to putting Hotel Osijek on Croatia's gastro map. Working for the past 15 years at Zimska Luka, Hotel Osijek's restaurant, gave Chef Tomica Đukić the opportunity to perfect his skills and experiment with different types of dishes.
This restaurant adheres to traditional Slavonian cuisine and offers a wide variety of options including a la carte, themed daily and weekend menus all year round. In terms of his choice of ingredients, Chef Tomica Đukić keeps to seasonal selections from ingredients provided by local family farms where he can. When asked what makes the Croatian food scene special, Tomica said that the balance between green, continental, and blue, Adriatic, cuisine together with natural local ingredients account for their cuisine's success. When it comes to his signature dish, Chef Tomica Đukić opts for Flavored black Slavonian pig fillet with pumpkin and beetroot, a dish that surprises through its simplicity and ideal flavor balance.

Chef Marina Gaši
Chef Marina Gaši works at the Marina Restaurant, a welcoming family restaurant located in beautiful Novigrad. What makes this place special is the fact that all their meals are made of fresh and healthy ingredients from the Adriatic area, which makes it a true ambassador of sustainable gastronomy.
At Marina Restaurant, Chef Gaši, a self-taught cook, prepares a set of 4 to 6 courses that clients can choose from for lunch and a set of 6 to 8 courses for dinner. Desserts are also available based on the restaurant's daily selection. Since all the dishes are prepared with fresh, local ingredients, the menu changes throughout the year based on the season, weather, and of course, what the sea has to offer. Super fresh food and lots of fish-based dishes are the highlights of this restaurant and when it comes to Marina's signature dish, Sardines Tartare is her choice.

Chef Marko Gajski
Chef Marko Gajski started out as an amateur cook and is today a Michelin-star chef. His career began when he joined a Masterchef competition. After the show, he got his first job offer in the field, as a chef at Divino restaurant on the island of Hvar. His passion for this domain grew large and he began investing in his own development by attending various courses and internship programs in London at top locations such as the Gauthier Restaurant, Alain Ducasse and Bar Boulud.
Chef Marko Gajski also partnered with the LD restaurant, where he got the chance to further explore and develop his gastronomy signature. Speaking of which, his signature dish is his very own version of Komiška pogača, a dish that originates on the island of Vis. The highlight of his career was the moment he got Michelin star recognition, an award that also helped boost the image of the restaurant he was working for. According to Marko, what makes the Croatian cuisine special is the mix of cultural influences it was subject to throughout the centuries, including Italian, Austrian, French, Hungarian, and Ottoman cuisine.
Chef Bruno Vokal
Chef Bruno Vokal is head of the Noel restaurant, the first restaurant in Zagreb to receive a Michelin star. Chef Vokal has an impressive experience gathered from working in different premiere restaurants across Europe. He sharpened his skills in Montenegro, Austria, and the UK before deciding to return to his native land, Croatia.
Here, he worked at the renowned Restaurant 360 in Dubrovnik, another Michelin-starred gem of the Croatian food scene. Describing his current work at Noel, Chef Bruno says that the key to their success lies in the special techniques they use to prepare idealistic dishes while following traditional patterns. Chef Vokal considers the mixture of different cultures that have left their mark on Croatian cuisine as its most impressive aspect.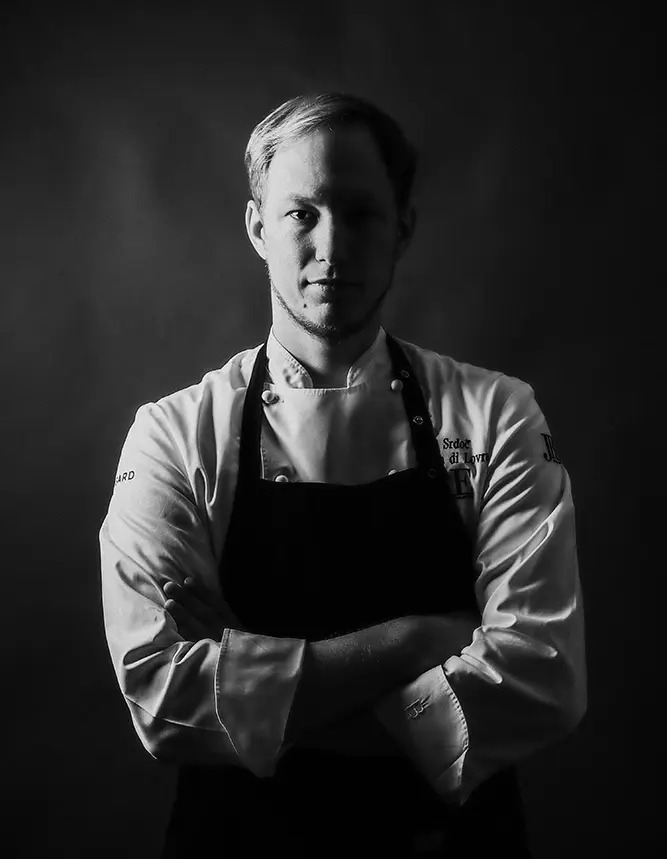 Chef Deni Srdoc
Chef Deni Srdoc, the Head Chef at the famous Kvarner restaurant Draga di Lovrana, is Croatia's youngest Michelin-star awarded chef.
At just 24 years, he took over the helm at Draga di Lovrana and a couple of years later he was named Young Talent of the Year by Gault & Millau. One year later, at the age of just 27, he earned the highly coveted Michelin-Star, making him one of the youngest Michelin-star chefs out there.
So what is Deni's secret? "Innovation is the most important thing for me – never recycling old ideas and presenting them as new, but always respecting the ingredient and the tradition," said Deni in an interview with Chef's Pencil.