No bake walnut pralines are a three layer easy-to-do dessert. A homemade version of the regional Bajadera candy, these pralines are less creamy but more filling.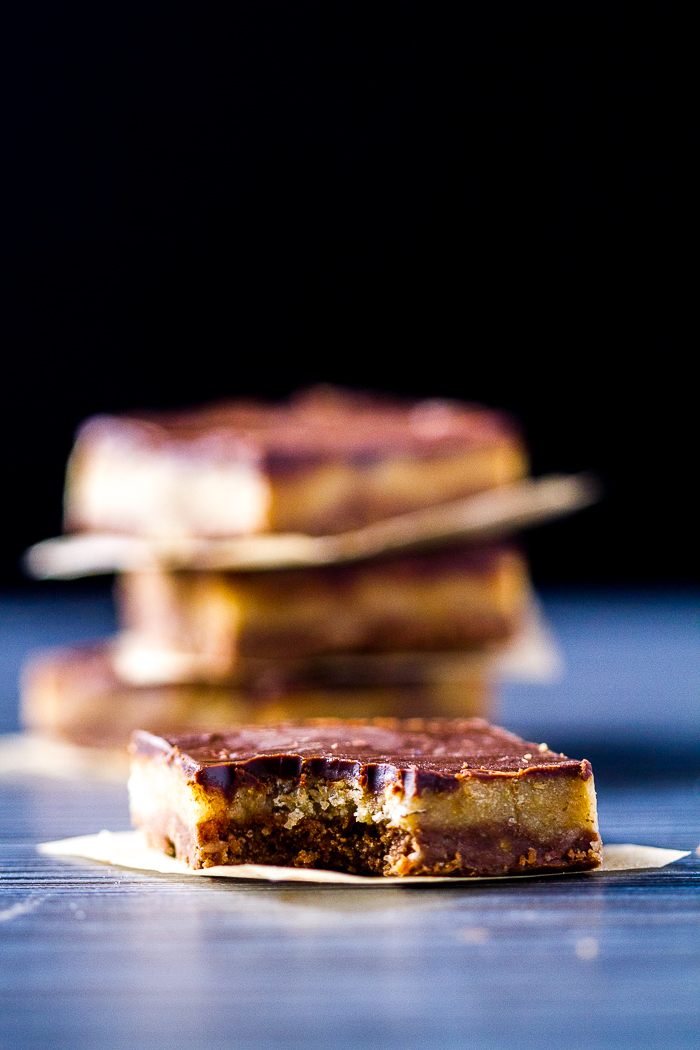 Bajadera is well known in the area. It's one of the favorite regional candies. It's nearly impossible to recreate the exact replica of this praline at home. (However this hasn't stopped most of moms from trying.)
Honestly, I kind of prefer the vast array of homemade versions.
The version on here today is close to the marzipan squares we did in 2016. And it's yet another in the never-ending array of walnut desserts and walnut sweets on the site.
But instead of two layers, we now have three. The third layer is created by dividing ground walnuts and combining one of the halves with melted baking chocolate.
I don't have information about Bajadera's origins. It's currently made by the Kraš candy factory in Croatia. It's one of the great marketing successes of the region in a sense of a beautifully packaged recognizable little sweet. Gold wrapping paper is hugged by another (white-brown) striped layer. Once you see it, you'll recognize it anywhere in the world.
But whether Kraš invented these pralines I don't know.
The story could be similar to the story of Vegeta (local seasoning mix similar to seasoned salt), which allegedly was created by an old lady who put a bunch of herbs and spices together. Then, of course, a company came and took over the recipe and has been making ridiculous amounts of money from it since.
(Although this also could be a totally made up story to rile up the theorists.)
Who knows?
It doesn't matter, as now you can make delicious homemade Bajadera pralines at home.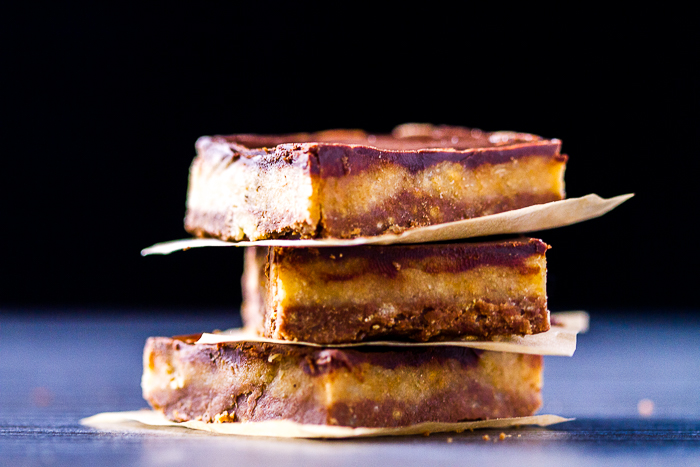 No Bake Walnut Pralines (Bajadera)
Ingredients
Glaze:
3.5

ounces

baking chocolate

1

tablespoon

butter
Pralines:
9

tablespoons

water

7

ounces

sugar

5.5

ounces

walnuts

ground

9

ounces

ground biscuits

Plazma, Petit Beurre or similar

6

ounces

butter

3.5

ounces

baking chocolate

¼

teaspoon

vanilla or rum extract
Instructions
Glaze: fill a large pot ½ way with water and bring to boil on high. Place a smaller pot with baking chocolate and butter inside of it. Lower temperature to medium. Stir well until chocolate and butter melt and integrate. (Be careful.) Remove off heat and keep in a warm place.

Pralines: dissolve sugar in water in a medium pot over medium temperature. Add butter. Stir frequently and remove off heat once butter dissolves.

Add ground biscuits to the mixture and stir well until integrated. Add walnuts and again combine well until you get a thick, even mixture. Divide in two and place in separate mixing bowls.

Melt baking chocolate then add to one of the mixing bowls. Stir well until integrated.

Add rum/ vanilla extract to the second bowl. Stir well until integrated.

Combining: transfer the walnut and chocolate mixture onto a 9x12 inches pan (or tray) lined with baking paper. Format a rectangle and spread the mixture evenly. Top with the walnut and rum/ vanilla mixture. Spread evenly. Top everything with the chocolate glaze and spread evenly.

Place in the fridge or a cool place for 15 minutes. Take out and cut into squares.
Notes
This recipe yields 40-ish squares. Serving size is about 2-3.