Chocolate cake rolls are deep and rich two-layer rolls that keep well in the freezer for a while, yet are fresh every time you serve them. So good you'll want to make two batches at once.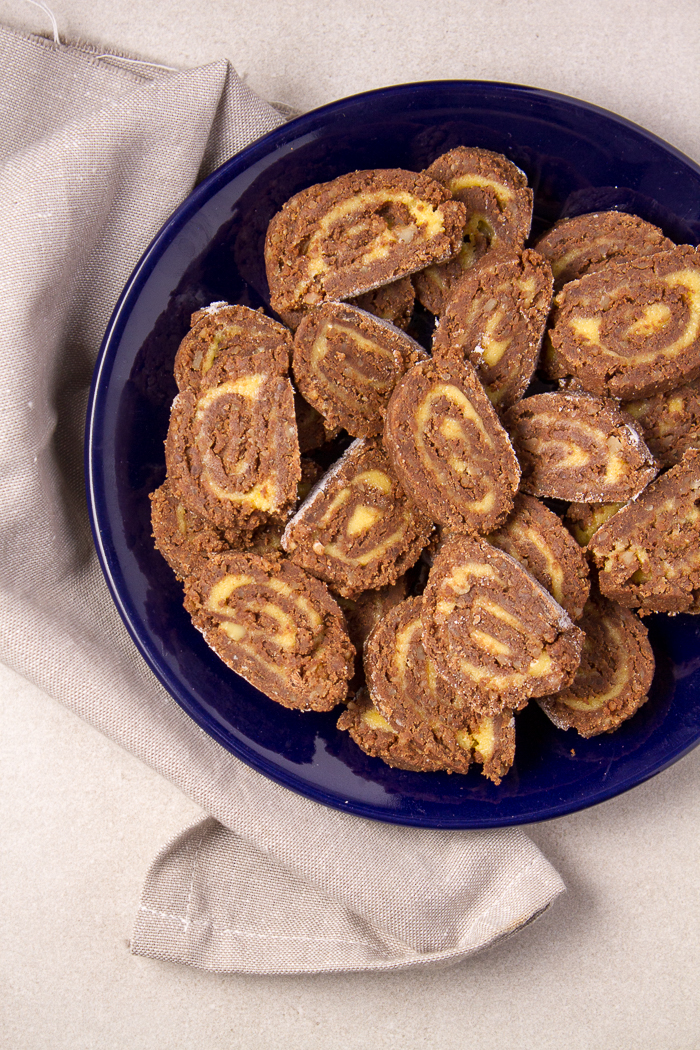 Around the holidays our households (I assume this is true for you as well), are turned upside down as mom, Aleksandra, I and sometimes my niece too, get busy making desserts.
A ridiculous amount of desserts.
We can't help it. The New Year's is a huge deal for us. Times Square ball drop huge. The menu is crucial. But the menu we put together in a matter of minutes. The menu is not the problem.
It's the desserts that take up the most time. At the very least, we do a few batches of Santa's cookies, marzipan squares, homemade Raffaello balls, walnut bites, mama's cake. And the chocolate cake rolls we'll make today.
We start making them a couple of weeks ahead of time.
Why? Because they keep in the freezer. In fact, the volume of ingredients is doubled in today's recipe, so you can easily halve it if you'd like a smaller batch.
But I don't recommend that.
As chocolate cake rolls can keep quite a while, make more. You're giving yourself an option to pull one roll out of the freezer and cut it up anytime you want to eat them. It's much easier than having to think about what to make for dessert.
I don't know what the weather has been where you are, but it looks like an interesting winter (summer for some) all around the globe. Our lucky Australians are getting amazing 43°C waves of hot. Our friends in Florida are seeing snow, some for the first time in their lives.
And in Sarajevo it's unusually warm.
We've had a few snow spells in December. But there was only a day or two that was unbearable, and hard to go about your business. There was a little bit of rain too. And now it's confidently staying at about 5-10°C, with some light rain sprinkling in.
It almost feels like spring.
From here it can go either way. It can be spring-like for a few weeks, and then the winter might surprise us with another snow storm. A colder, longer one. Or this might happen sooner.
In either case, it's January. Days are getting longer. A little bit, but longer regardless. Which means soon we'll be swimming into the spring whether the winter likes this or not. And spring's the loveliest time of year.
Meanwhile, if you hurry up, we could be eating these chocolate cake rolls together.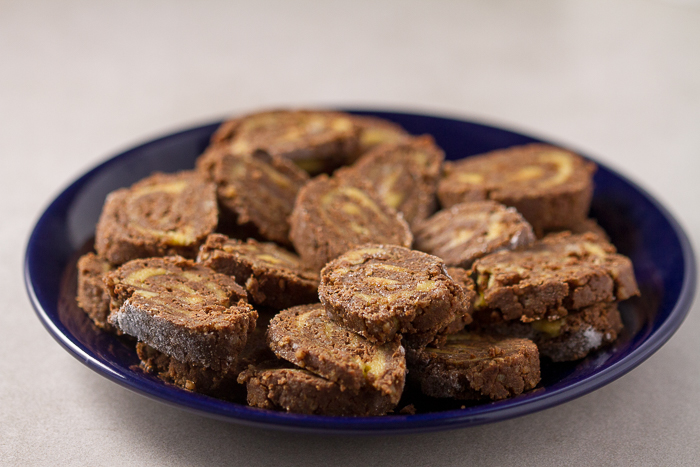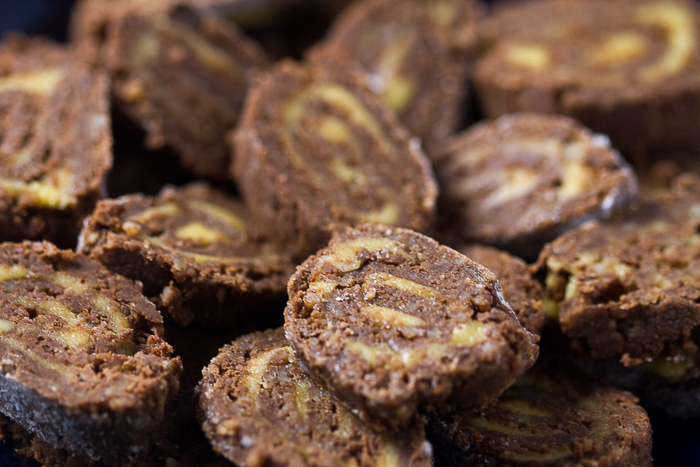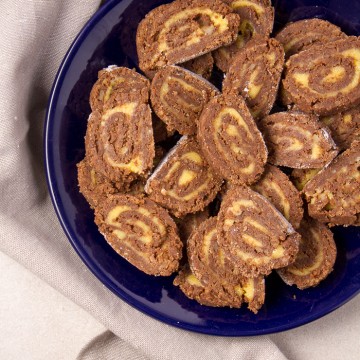 Chocolate Cake Rolls
Chocolate cake rolls are deep and rich two-layer rolls that keep well in the freezer for a while, yet are fresh every time you serve them. So good you'll want to make two batches at once.
Ingredients
Chocolate Layer:
10.5

ounces

ground walnuts

10.5

ounces

baking chocolate

finely grated

10.5

ounces

confectioner's sugar

6

tablespoons

milk

1

teaspoon

rum or vanilla extract
Yellow Layer:
4

egg yolks

7

ounces

confectioner's sugar

1-2

tablespoons

butter

Baking paper

4 pieces, approximately 20x20in each

+ a little more confectioner's sugar
Instructions
Chocolate layer: in a large bowl, combine walnuts, chocolate and confectioner's sugar. Mix well with your hands until integrated. Add vanilla extract (or rum) and mix again. Finally, add milk and mix vigorously until you get a semi-hard thick mixture.

Divide into 4 equal parts. Work each into a smaller rectangle, the thickness of 2-3 fingers. Set aside.

Yellow layer: fill a large pot with water ⅔ in, bring to a boil on high, then reduce temperature to medium. Place a smaller pot in the large one making sure it fits inside, while the upper portion stays on the outside. (Essentially, the smaller pot is half-way in.)

Put yolks in the smaller pot, add sugar, and mix with a hand-mixer until egg yolks become light yellow. Hold the pot with the other hand the best you can, making sure: 1. you're mixing everything, and 2. you're being careful not to flip the pots over and burn yourself. (This part is crucial as you're processing the egg yolks.)

Add butter to the pot, and continue mixing. Once the mixture is completely smooth (3-4 minutes), remove off heat.

Combining: place a piece of baking paper on a working area and sprinkle with confectioner's sugar. Take one chocolate layer and spread it out into a rectangle with a rolling pin until it's the thickness of a finger (approximately). Take ¼ of the yellow layer and spread over the top evenly. Roll the cake in starting with the longer end. Cover in baking paper and leave in the fridge or freezer depending on when you plan to consume it. Repeat steps for the remaining 3 rolls.

Before serving cut each roll into 1-inch pieces.
Notes
You will get 4 chocolate cake rolls with these ingredients. You can easily halve it. One roll can serve 4-5 people.