Chocolate pudding biscuit cake: three tier no bake dessert made from ingredients you already have in your kitchen (pudding, biscuit, butter, heavy cream, sugar and milk). Because, sometimes, simple really is the best.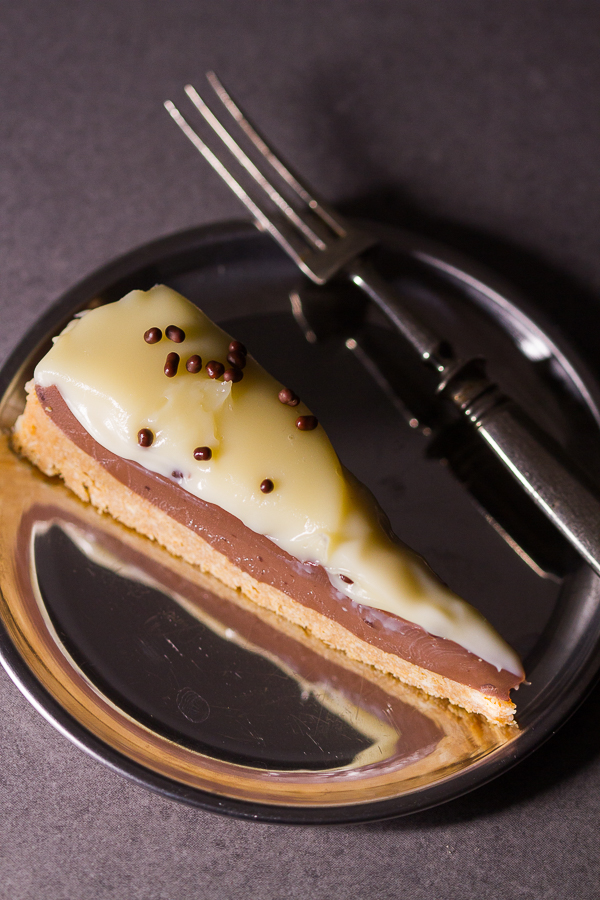 A few weeks ago during a brainstorming session, Aleksandra and I decided you needed a super simple dessert. Pudding + biscuit kind of dessert. The kind that's sweet and tasty, and not complicated. The one when people ask you what it is you can say "I had some pudding, and some biscuits and I whipped up a quick cake."
Or you could just smile and make them think it took you forever to make.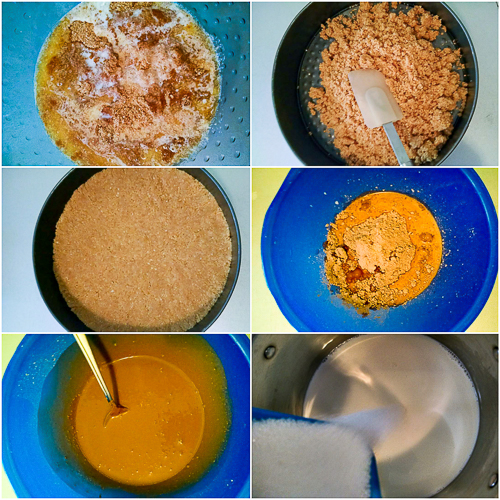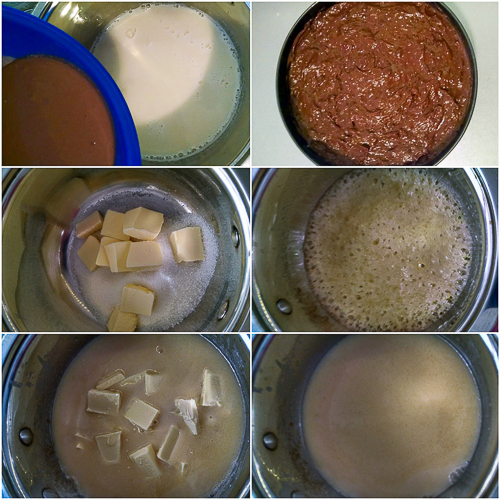 Chocolate Pudding Biscuit Cake
Ingredients
Tier 1:
10.5

ounces

ground biscuits

Plazma, Petit Beurre or similar

3.5

ounces

milk

3.5

ounces

butter

melted

¼

teaspoon

vanilla extract
Tier 2:
4.5

ounces

chocolate pudding mix

powder

3.5

cups

milk

27 ounces

7

ounces

sugar
Tier 3:
3.5

ounces

sugar

1.7

ounces

butter

13

ounces

whipped cream

1.7 cups

7

ounces

white chocolate

broken into pieces
Instructions
Tier 1: Combine tier 1 ingredients in a mixing bowl and integrate well. Transfer to a cake mold (pan) and push down, spreading evenly. Set aside.

Tier 2: In a medium bowl, combine pudding mix with 20 tablespoons of milk and stir until integrated. Pour the remaining milk into a medium pot and combine with sugar. Stir and bring to boil on medium. Bring temperature to low, pour in the pudding mixture and continue stirring while you cook. Cook a few minutes until it achieves a thick, creamy consistency (a bit thicker than regular pudding).

Pour pudding mix over Tier 1. Spread evenly and leave in fridge to cool.

Tier 3: In a pan, melt sugar and butter together on low for 5 minutes, or until the mixture starts bubbling up. Remove from heat and add 7 ounces of whipped cream. Place back on the stove, and add chocolate. Let it melt and stir occasionally. After chocolate melts, add the remaining whipped cream. Stir well. Remove off heat and let cool.

Take the first cake 2 tiers out of the cake mold and place onto a larger plate. Spread tier 3 over it evenly. Before consuming, return to fridge for an hour or two.
Notes
By biscuit cookies it is meant the European-type biscuit cookies like Plazma or Petit Beurre, not to be confused with US breakfast biscuits.