Eggplant, potato and ground beef moussaka, an attention worthy casserole. Layered, topped with cheese, and then baked, this is a family dinner that will appease everyone at home.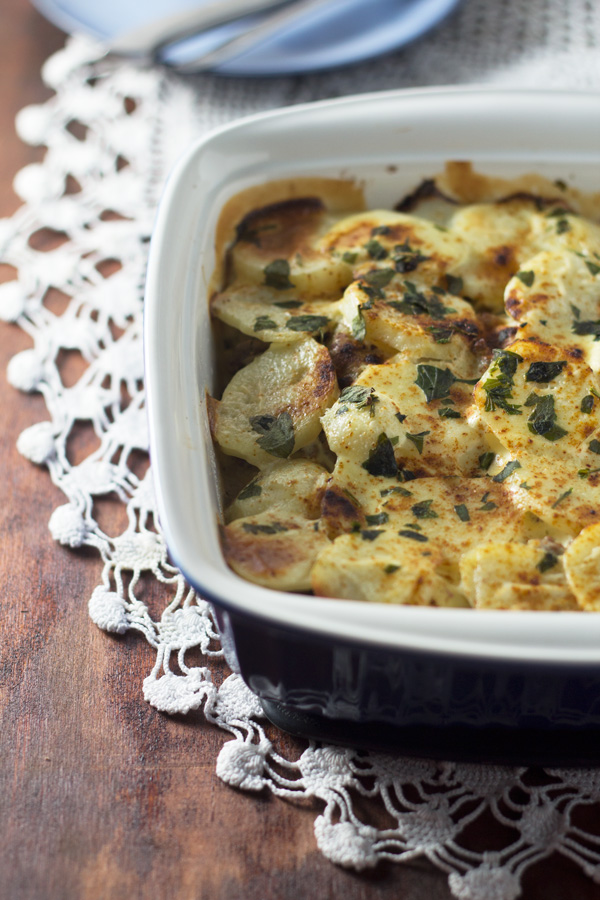 It all started in Sarajevo, on the second day of last Bajram. I was involved in a progressive dinner of sorts, except every stop included every single course. By end of day, I was past food coma and well into moonwalking. Willpower checked out on my ever-expanding dress.
At some point my mouth went numb from eating. Have you ever had your mouth go numb, not counting the dentist visits?
It was around this time I arrived to Teta* Izeta's house.
Teta Izeta is the definition of a lady. Always poised. Always composed. Always relaxed. Always dressed to the nines. Impeccable hair, nails and makeup whether it's noon on Wednesday, or a Saturday morning. Add to that incredibly kind, even in instances when life was far from kind.
Another interesting tidbit about Teta Izeta: for as long as I've known her (my entire life) I've never heard or seen her disagree with anyone. Yet before you know it, everyone's eating out of her hand. She's got that kind of power.
And so that evening, on second day of last Bajram, when I said I'd only have one baklava and a cup of coffee Ms. Izeta nodded softly probably thinking to herself, "Just you wait little girl. Just you wait."
One baklava and a cup of coffee later, our company divided into two groups. One group went to the kitchen and I stayed with other in the living room. About 17 minutes later someone tapped me on the shoulder. "She's looking for you," they said. I headed over to the kitchen.
Waiting for me was an eggplant dish I never had before, and Teta Izeta, smiling in the background.
At this point I was beyond food. I had one of those sensations when you're so incredibly full you can't imagine ever, ever, ever eating again. But there I was, midst of one of those scenes when the entire crowd pauses to see what will happen next.
My mouth was in excruciating pain, and I couldn't see straight. My food high was in full effect. But I knew it had to be done. So I gathered the very last drop of energy I had and bit in...
And that first bite was the exact moment I fell hard for eggplant. Add to that the event that inspired me to begin incorporating (previously thought of as) underwhelming vegetables into daily meals. (Before you remind me eggplant is a nightshade fruit, Betty here found a way to appease everyone on the subject.)
One of these meals is eggplant moussaka (musaka od patlidžana) that I'll share with you today. This recipe is conglomeration of my mom's and sister's moussakas, and it took a while to get just right. I think you'll enjoy it very much. (Teta Izeta's veal and eggplant recipe is here.)
Previous moussaka recipe on the site is a good basic one to start with. But if you're going with something chewier, and with a Mediterranean twist you won't make a mistake by going with the one today, which adds more soft middle layers in form of eggplant and cheese.
Let's move to the more technical points.
Eggplant has a certain level of bitterness and high water content. To get rid of it put generous amounts of salt on the cut pieces until it releases its juices (20-30 min or longer). After, press it with paper towel to draw the moisture out and throw into a pan for a quick browning. You can keep the skin on or not, but skin itself has some bitterness, so if you keep it on make sure you wait for it to juice longer.
US eggplant is on the large side, so look for a medium sized one, or two smaller ones. Always use potatoes for moussaka's bottom layer, and make sure to cut them into thin (¼ inch or so) rounds. Also, think about the layers you want to make, and make sure to divide the ingredients ahead of time. I've made it simple for this recipe, so each layer will be half of an ingredient, except for cheese which has one layer.
I used to bake moussaka for a while and then pour the sour cream/ egg mixture over it. I was wrong. Now I pour it before baking and recommend you do the same.
Ready? Let's go!
*Teta stands for Ms. or madam in Bosnian. In other Balkan parts, Croatia for example, it can also mean aunt or auntie.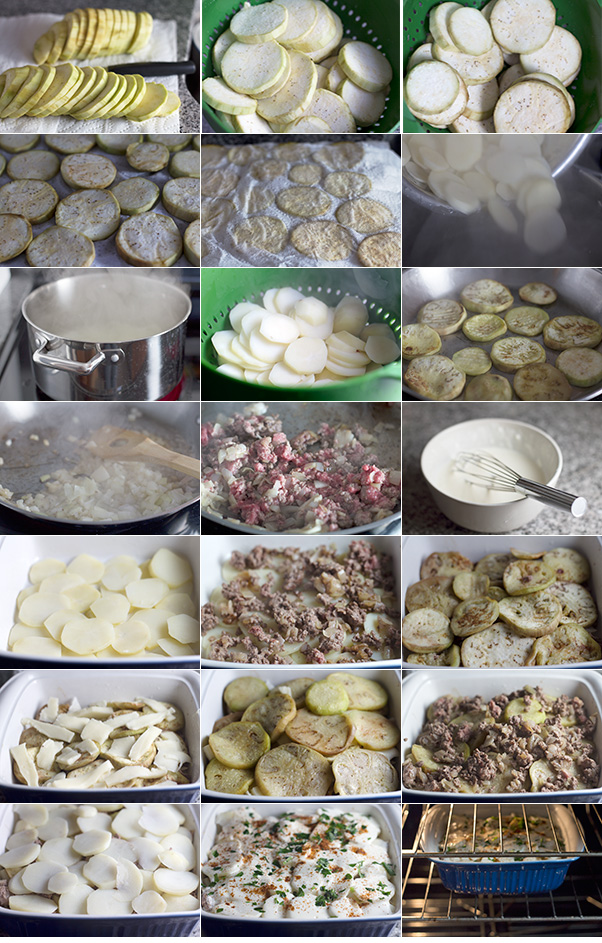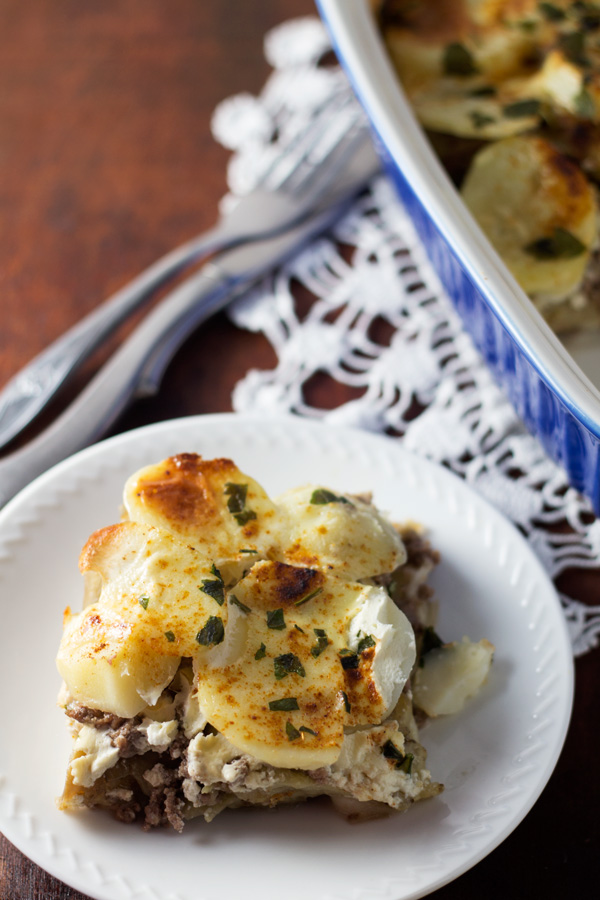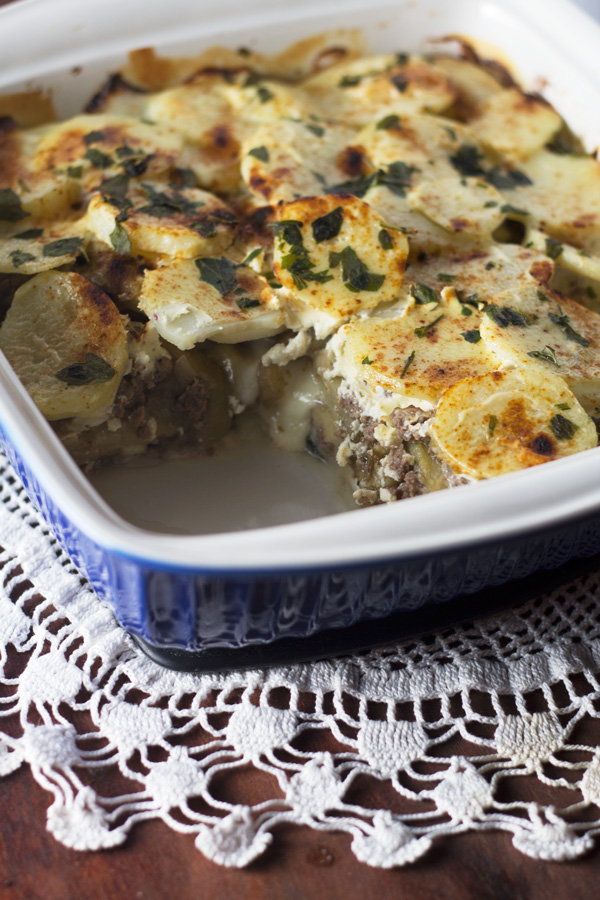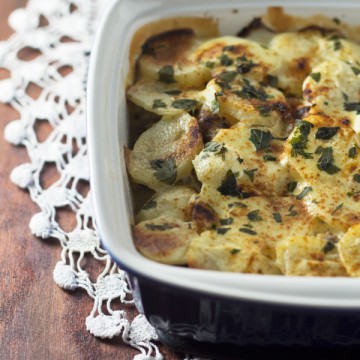 Eggplant Potato and Ground Beef Moussaka (Musaka od Patlidžana)
Ingredients
1

eggplant

medium, or 2 small

3

potatoes

medium, or 4-5 small

½

pound

ground beef

or a little more

1

yellow onion

1

garlic clove

2

teaspoon

paprika

3

ounces

mozzarella

3

eggs

1 8

ounce

sour cream

or more

1

teaspoon

Parsley

Salt and pepper to taste

Oil

vegetable or olive
Instructions
Wash eggplant, remove the stem, peel (optional), and cut into thin rounds. Salt rounds generously on each, and leave for 20-25 min to release juice.

Dice onion, mince garlic, peel potatoes and cut into thin rounds. Boil 1-2 quarts water in a pot, and throw in potato rounds for 5 minutes. Take out, submerge in cold water and dry with paper towel.

Heat oven to 450F. Place eggplant rounds on paper towel and press to expel more juices. Put a skillet over high heat so the pan is extremely hot, and after a minute add a dash of oil. Add eggplant rounds and brown (about 5 min each side). Remove rounds and place on paper towel to soak up extra oil.

Add more oil to skillet, wait a minute, and then add onion and garlic. Once these crystalize, add ground beef, 1 teaspoon paprika, salt and pepper to taste, and mix well. Cook for additional 3-5 minutes. (Meat should still be somewhat pink.) Strain.

Mix eggs and sour cream until smooth. Lightly grease a deep baking dish on all sides (I used 8x8). Start layering ingredients in starting with potatoes. The layers should go in this order: potatoes, ground beef, eggplant, cheese, eggplant, potatoes. Pour sour cream/ egg mixture on top. Sprinkle with remaining paprika and parsley. Place in oven on medium rack.

Bring the oven temperature to 375F, and bake for 45-50 minutes, turning the baking pan once every 15 minutes. If the top starts to blush too much, or too soon, cover with foil and add a few minutes to the total baking time.