Moussaka is a casserole-type dish made by layering potato rounds and ground beef, which are then baked together and finished off with an egg, milk and sour cream topping.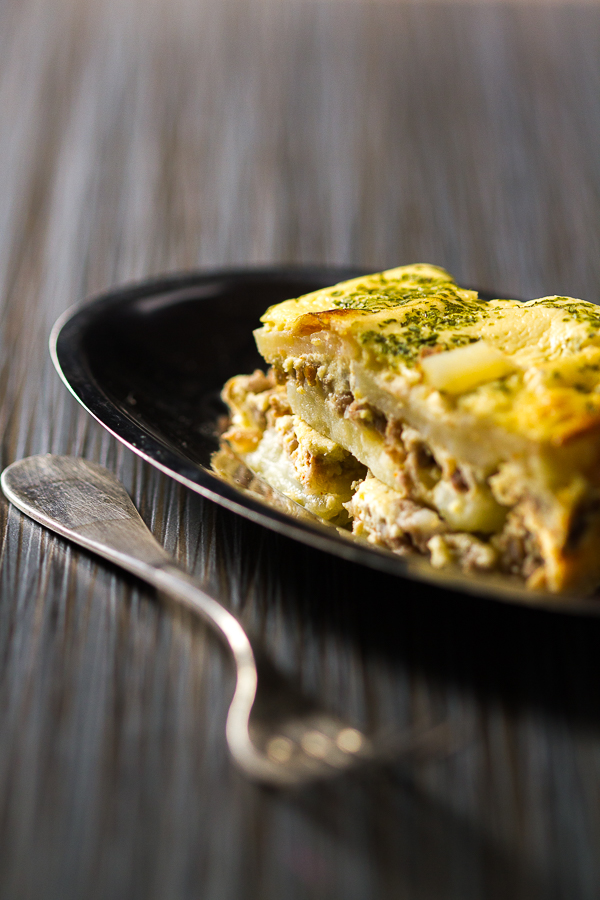 Many, many versions of moussaka exist.
We'll explore them together one by one. For now, I've chosen the easiest we can start with. Once you get the basics down you'll easily substitute ingredients and decide what flavors you like the best. (You'll hear me talk about the basics, because cooking is all about learning the basics. You learn your alphabet, and then you're off to write novels.
It's no secret I'm unimpressed by casseroles. They scream lazy. Moussaka is the exception. You'll invest the same amount of effort and resources as you would into another casserole, but moussaka will taste better. And be easy on the eyes. Colleagues food bloggers know what I'm talking about here. These things aren't the easiest things to photograph.
Moussaka is the first meal I learned to prepare on my own. It was after right college. I was living by myself, my family being an ocean away. Before that time I didn't venture into the kitchen very often. My mom insisted I focus on studying instead of cooking, quite possibly due to having to clean up after my failed cooking experiments.
But there I was on my own, having one of those moments when you have to have comfort food. Something reminding you of home. I called mom, and then sister, to ask for a simple recipe I could do. They both spoke in gibberish (ahem) experienced cook speak. You've heard this language before.
What should I put into this?  A little bit of this and a little bit of that. What temperature should I set the oven to? You first turn it up high, then you turn it down low.
As a result those first few moussakas were unsuccessful. I tell you this because if you have any doubts about your cooking ability, give yourself a second (third/ fourth/ fifteenth) chance. To help you in this effort, I'm submitting this very specific moussaka recipe below. (It's no ajvar (ajver) but it's good.)
If you tried one of my moussakas today you'd lick your fingers. There is no reason why you can't make one that's even better.
By the way, here is another really good moussaka you'll love, via A Canadian Foodie. I particularly loved her story about visiting Bosnia after the floods in 2014, and making meals for the family after a lot has been lost in the calamity. We need so little for perfect moments.
Print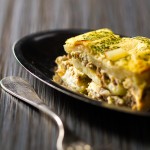 Ground Beef Potato Moussaka
Author:

Prep Time:

15 mins

Cook Time:

60 mins

Total Time:

1 hour 15 mins

Yield:

6

1

x

Category:

Main Course
---
Description
Moussaka is a casserole-type dish made by layering potato rounds and ground beef, which are then baked together and finished off with an egg, milk and sour cream topping.
---
1

–

2

tablespoons oil

1

yellow onion (medium, diced)

2

garlic cloves (minced)

1

pound ground beef (or veal)

1/2 teaspoon

salt

1/2 teaspoon

pepper

1 teaspoon

paprika

2

pounds potatoes (peeled and cut into 1/4-inch rounds)

4 tablespoons

oil

1/4 teaspoon

salt

3

–

4

eggs

14 ounces

sour cream

2

–

3

ounces milk

1

–

2

tablespoons parsley
---
Instructions
Heat oil in a deep pan over medium. Add onion and garlic and stir. After they crystalize, add ground beef, salt, pepper and paprika. Stir well. Simmer halfway until the meat is pink (but not red nor brown). Remove from heat.
In a larger bowl mix potatoes, oil and salt. Mix well with your hands.
Heat oven to 450°F. Layer 1/3 of potatoes into a 8X12 inch pan. Cover with 1/2 of meat filling evenly. Repeat. Top it off with one more layer of potatoes. (In total you'll have 3 potato layers and two meat layers in between.)
Place pan in the oven and bake for 40 minutes. In a large bowl, mix sour cream, eggs and milk until integrated.
Take the pan out of the oven and top evenly with the egg/ sour cream/ milk mixture. Sprinkle with parsley. Return to the oven for another 20 minutes.
---