Fermented Juniper Berry Juice (aka smreka), is a sour and refreshing, lemonade-like beverage, perfect for quenching the thirst on a warm evening.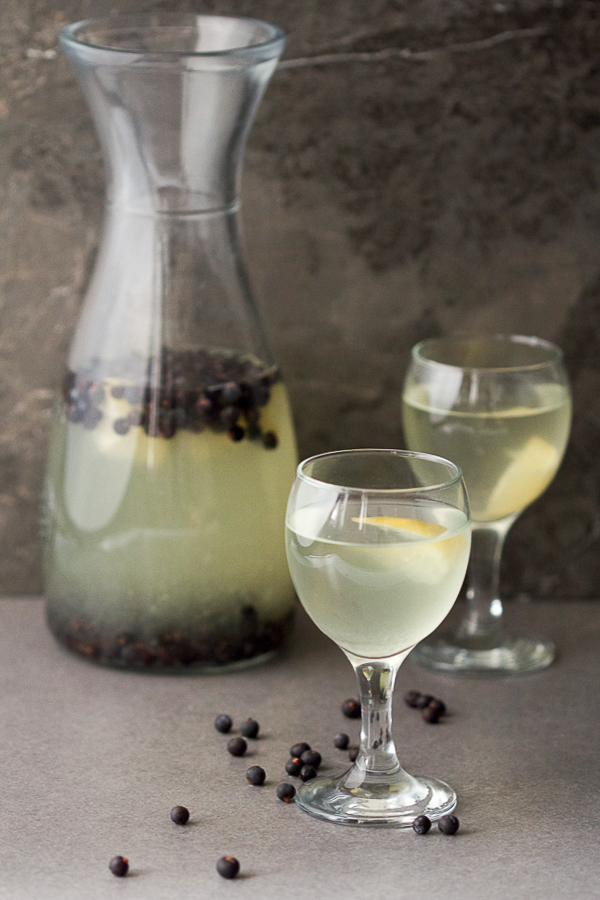 Almost everyone who comes to Sarajevo in late spring is surprised by the variety of unusual yet tasty homemade juices available at local cafes. Come May, there's the ubiquitous zova made out of the elder tree flowers (also known as zova) which blossom around that time. There is also the fantastic rose juice (sok od ruže or djul šerbe), made from local wild rose petals.
And then there is smreka - the fermented juniper berry juice.
Have you tried it? If not, you should! Because smreka is simply perfect.
Although the mention of fermented plants evokes the taste of sauerkraut, think of juniper berry juice as a "more sour than usual" lemonade that can be consumed as is, or made sweeter with honey or sugar. It's very refreshing, and perfect to go along with local desserts such as the walnut stuffed apples (tufahije). I even take it with a heartier main course, such as moussaka.
People take to smreka quickly, and some make their own after returning home. I've had a few requests for a while, and below is the recipe I've used with great success.
(As with anything fermented, there is no rule that's cut in stone. You may like to ferment berries without lemon. You may like to leave the juice to ferment longer than 10-15 days. Or you may think 7 days is enough. Fermenting recipes are more of a framework within which you'll figure out your own preferences. Please note that some readers found the lemon goes bad if the berries are kept in the sunny place while they ferment. This hasn't happened to me, but then again, my window sill, where I usually keep them, is not sunny all day long. It may be better to keep them in shade while they ferment. Use your best judgement.)
In addition to this juice, juniper berry is known for being an active ingredient in several other Balkan delicacies, including the homemade juniper berry brandy (rakija klekovača), as well as gin.
The plant itself is said to have many different health benefits, and is widely used in the area. The juice is an excellent diuretic, and is also recommended as an aid against coughing, asthma, stomachaches and uti's. It's said to be especially effective for stomach problems of all sorts, and is often recommended by the doctors here to patients suffering with kidney stones. When made into oil, juniper berries are excellent to use in massaging areas affected by the rheumatoid arthritis.
P.S. We've done additional interesting beverages before. Do you remember sour cherry liqueur? Or the elderflower cordial? If you don't feel like fermenting drinks, how about some white wine lemonade?
Recipe by Samir Hajdarević.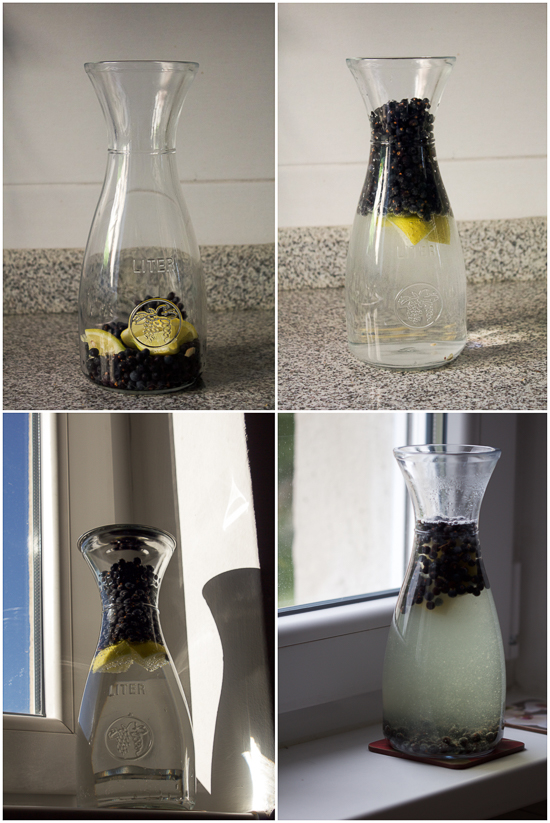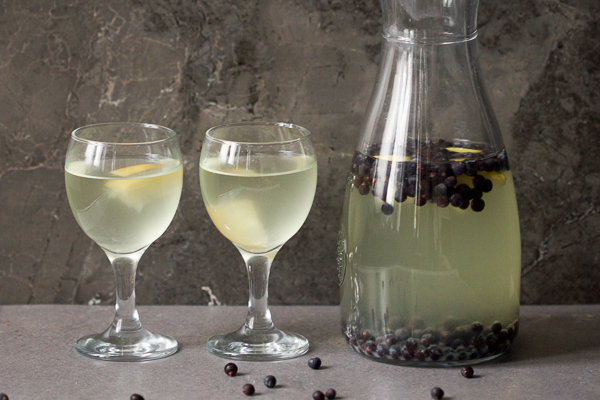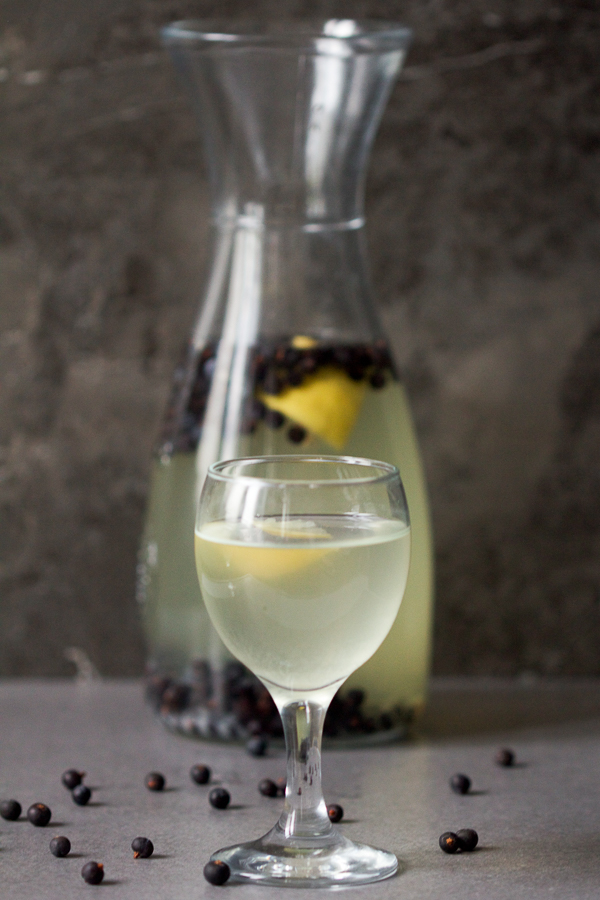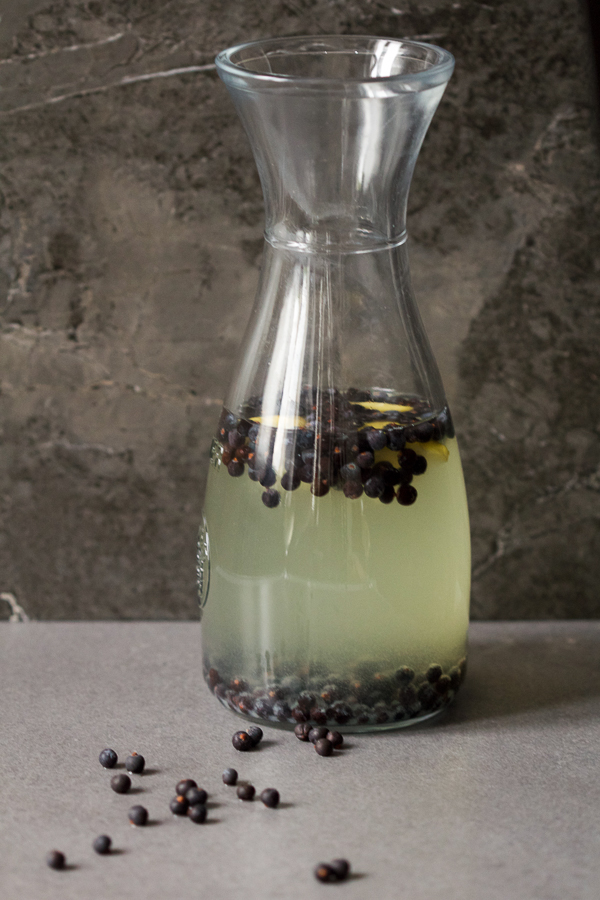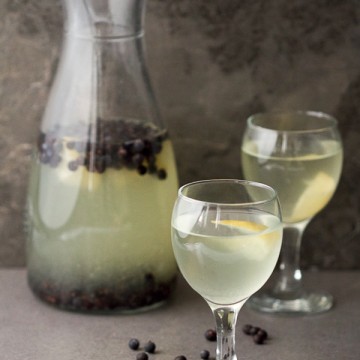 Fermented Juniper Berry Juice (Smreka, Kleka)
Smreka or kleka is juice made by fermenting juniper tree berries. Refreshing and tangy, it's a lemonade-like beverage you'll love making.
Equipment
1 glass jar with lid

volume of 1-gallon volume (or a 3 liter jar if using metric volumes)
Ingredients
2-3

lemons

OR juice of 2-3 lemons, OR 3 tsps sour salt (citric acid or lemon salt)

12-14

ounces

juniper berries

just harvested or dry berries both work

filtered or boiled water

enough to fill the jar with berries

(Optional) a handful or two of blackthorn berries (sloe)

used to give a reddish hue
Instructions
In a clean glass jar add juniper berries and sliced lemons (or lemon salt or juice). If adding sloe add it now also. Fill the jar to the top with filtered or boiled water. Stir very lightly, and tightly close the lid.

Place the jar in your fermentation spot (look below). Leave for 10-15 days. Every couple of days open the jar and stir the contents. You can taste it at this point too, and see if it's to your liking.

During the fermentation process, some juniper berries will sink to the bottom, or even travel up and down in the jar. As the days go by the liquid will eventually take on a minty-yellow hue. (If you put in blackthorn berries/ sloe, this hue will be reddish.) Try the juice and if it's tangy and on the sour side, it is done.

Strain the juice into a glass bottle(s). (Keep the berries, and set them aside.) Cork or cap the bottles and transfer them to the fridge. Keep the juice in the fridge for up to 2 weeks.

When getting ready to consume the juice, taste to decide if the sourness level is to your liking. The drink is healthiest as is, but if you find it too strong, you can dilute with water. Alternatively use mineral water, but this will add a little more carbonation to the juice. If you prefer it sweeter, you can add a teaspoon of sugar, or honey.
Making a second or third batch with the same juniper berries
Take the berries you set aside after straining the juice. (Discard any remaining lemon pieces.) Wash the berries and clean the jar. Return the berries to the jar, and add new lemon pieces (or lemon salt or juice), and filtered water. Stir and screw the lid on again, and repeat the fermentation process.

The second and third time around the berries will fall to the bottom more quickly. When most of them stay on the bottom, and the juice is no longer flavorful, berries are ready to be discarded. This is usually after the second time using the same batch, although sometimes you can get away with using the same batch of berries three times.
Notes
Kahm yeast: You may see white stuff on top of the juice. This is usually kahm yeast. It looks like a layer of a white scrum. It's not dangerous. Simply remove it with a spoon and seal the lid again. (Read more about this in the article.) 
Fermentation spot: Find a relatively warm spot. Terraces and balconies work well. As do tops of cabinets, or warm spots in the kitchen or home. The only requirement is that the spot is relatively warm. (Smreka doesn't have to be exposed to sunlight.)
As the duration of fermenting depends on this spot, you may have to experiment until you find it. And it may not be the same place year-round, as it'll depend on the climate you live in.