Bosnian pot is your typical Balkan stew overflowing with vegetables and meat. You know how each region has a certain saying like "an apple a day," etc.? Well in the Balkans the saying goes you should eat something with a spoon each day. So get your spoons out!
My friends often can't understand why I start dinner with (usually chicken) soup. Most only eat chicken soup when sick. As for me, I'm so used to having it before dinner, the rest of the meal feels dry if I don't. This is why I love stews; they're practically a whole meal in a soup. Add some homemade bread plus sour cream, and I'll take it over cake any day.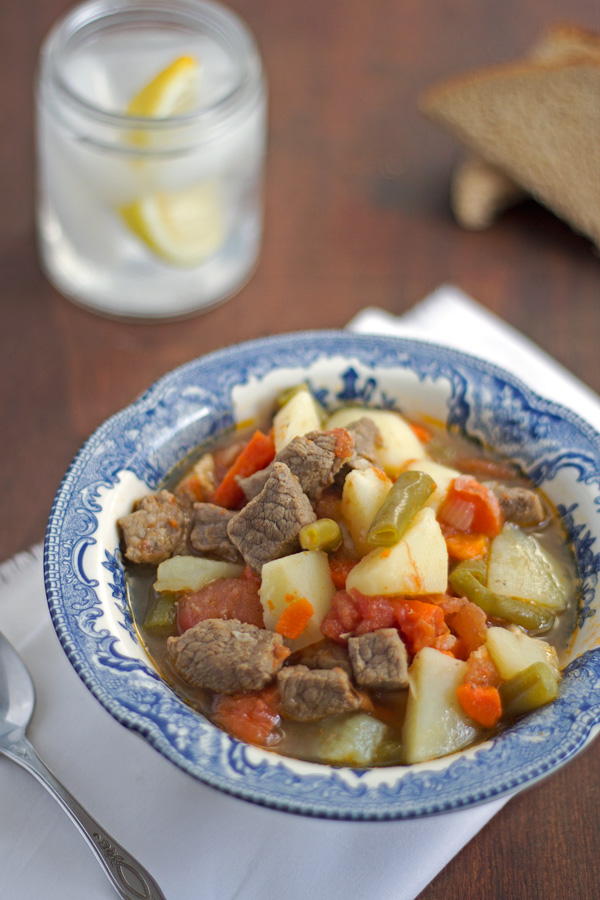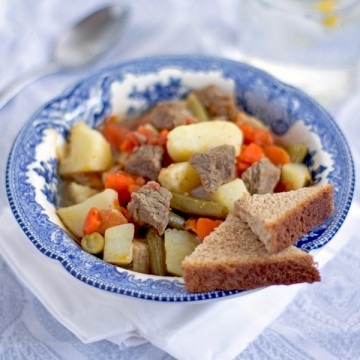 Bosnian Pot Stew (Bosanski Lonac) Recipe
Ingredients
2-3

teaspoon

oil

1

yellow onion

diced

2-3

garlic cloves whole

peeled and pressed

2

pounds

beef stew chunks

diced

3

carrots

large, diced

½

pound

green beans

cut into 1 inch pieces

3

yellow potatoes

large, diced

3 to

matoes

large, skinned and diced, or 8oz can

1

teaspoon

sugar

1

teaspoon

salt

1

teaspoon

pepper
Instructions
Put the oil in a large pot over medium-high heat. When it's hot, add the onion, garlic, and beef stirring occasionally for about 15 minutes. You can add a little water here and there to keep it simmering.

Lower the temperature to medium, add carrots and continue simmering. Every few minutes add another ingredient: green beans, then potatoes, then tomatoes and sugar, all while adding a little bit of water in between.

By this time the meat has been simmering for about 30 minutes, and vegetables a little less. Add 3-4 cups of water (so it covers the ingredients, plus a little more). Add salt and pepper. Mix. Cover with lid, leaving a little bit uncovered. Lower the temperature to low, and leave to cook for 90 minutes.